How Mayors Became America's Infrastructure Mavens
Governors used to lead the push for big projects, but the growing rural-urban divide has brought civic leaders to the fore.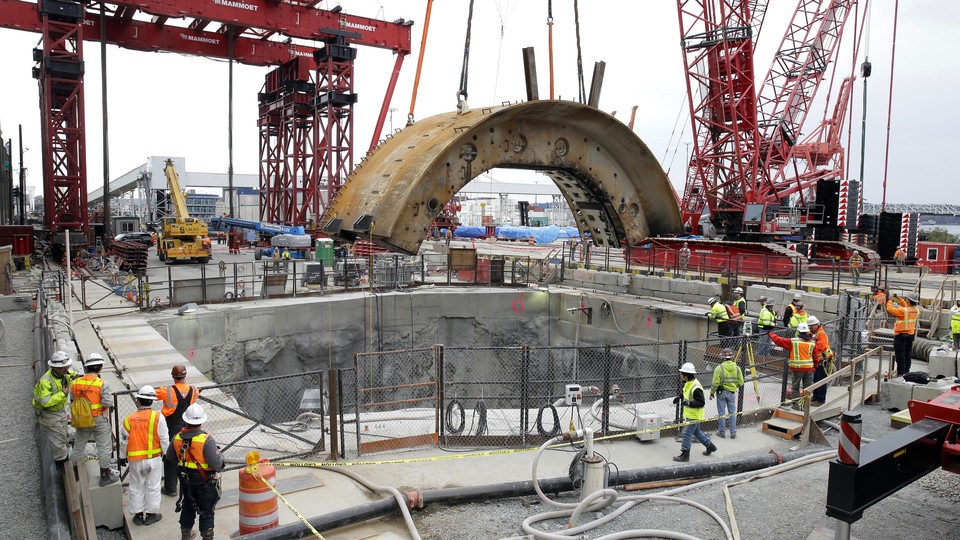 Governors have long been among the nation's loudest advocates for pouring concrete. Interstate highways? New bridges? Major development projects? They love it. When a huge pot of federal money opened up as part of the 2009 stimulus package, states were eager to get their share of the cash and push it toward pet projects, shovel-ready or not.
And that's what makes it interesting to see mayors taking the lead on transportation spending. At an event Monday in Boston, the U.S. Conference of Mayors launched what it says will be the largest coordinated campaign by mayors in some time, pushing Congress to reauthorize the surface-transportation bill and to increase funding for local and state infrastructure projects.
Some of the mayors at the event are the usual suspects—marquee names from liberal states in liberal cities, like Boston's Marty Walsh or New York's Bill de Blasio, who said, "The failure to invest in transportation, the failure to invest in infrastructure, is holding us back." But the push also includes mayors from places like Memphis—blue cities in the middle of solidly red states.
Though it's typical to think of states as either Republican red or Democratic blue, that division overlooks the role of cities, and the massive transformation of rural and urban life in recent years. The rural-urban political divide has never been so stark, as Democrats sort into denser areas and Republicans dominate sparsely populated counties. That's a thorn in Democrats' electoral side—even when more Americans cast votes for Democratic members of Congress, Republicans can still take a majority because so many liberal voters are clustered in cities.
But it also means that big-city Republican mayors have become vanishingly rare. When Governing looked at the field in October, they found that only seven of the 35 biggest American cities have Republican mayors. Meanwhile, Republicans increasingly dominate at the state level, controlling 31 governorships. And since many of those Republicans were elected during the Tea Party wave of 2010 or since, they tend to be ideologically opposed to spending on infrastructure, even when it's on Uncle Sam's dime rather than on the state's. Witness John Kasich of Ohio or Rick Scott of Florida, for instance, who rejected federal cash for high-speed rail projects.
All of that combines to create a situation in which mayors, rather than governors, can take over the dominant role in pushing for transportation spending. Of course, mayors have plenty of concerns of their own, especially in big cities. Major bridges like the one that collapsed in Minnesota in 2007 worry them, as do crumbling urban highway interchanges and failing subway systems. Here in D.C., a major parkway was snarled for much of Tuesday after crumbling masonry fell off a bridge into the roadway. Some of the mayors who are most involved in pushing for more infrastructure money are Democratic mayors in Republican-led states—like Kasim Reed of Atlanta.
Even as the politics change, the results are likely to remain pretty similar. Congress has known about the impending bankruptcy of the Highway Trust Fund for years. The American Society of Civil Engineers has been handing out miserable grades for the national infrastructure for years. President Obama routinely pleads for major projects during his State of the Union address, and big business is usually supportive. And yet ... little happens. Many politicians seem to be genuinely eager to solve these problems but unable to find a way to do so. The road to hell may be paved with good intentions, but if these mayors want to head someplace else, they're going to need to find the funding for asphalt.