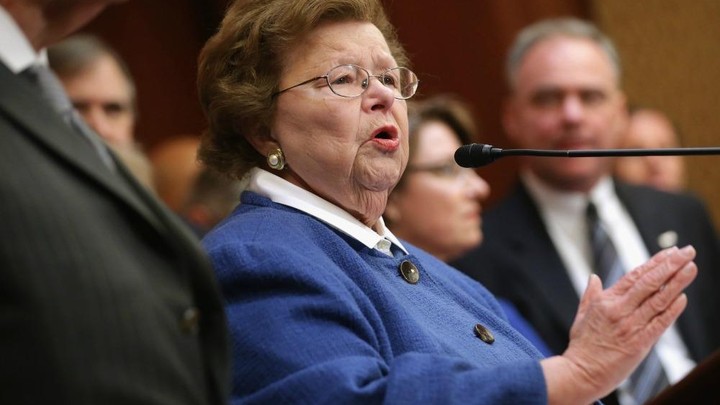 When Barbara Mikulski took office in 1987, there had never been another Democratic woman elected to the U.S. Senate who wasn't appointed or succeeding a deceased husband.
Her win in 1986 was just the beginning of a long, well-respected tenure in Congress, one marked by her trademark tenacity and sharp legislating. And though Mikulski's legislative accomplishments would be enough on which to build a legacy, she's never shied away from that other quality that has so influenced her career: her gender.
When Mikulski first got to the Senate, she told The New Yorker years later, she defied the chamber's dress code and began wearing pants over dresses and skirts in a show of defiant equality. "It was a small step for Barbara Mikulski, but a giant step for womankind," she said.
Mikulski announced Monday that she plans to retire when her current term ends next year.
Mikulski, a five-term Maryland senator known as the "Dean of the Women" for her mentorship of new female members, knows better than anyone that the Republican and Democratic women of Congress—their efforts and their contributions—are inextricably linked to one another. Women voters want their elected officials to be judged on their merits, yes, but they also want important milestones—first woman elected to the House, first woman presidential candidate—to be recognized for the glass-ceiling busters they are, party politics largely aside. There couldn't be a Barbara Mikulski without a Jeannette Rankin or a Rebecca Felton.
And there couldn't be a Mikulski without her counterpart Margaret Chase Smith, the first Republican woman elected to the Senate on her own merit. Before Smith, women sent to Washington to work in the Senate had been appointed to their posts or had assumed them upon the death of their husbands. And it wasn't until Mikulski was elected in the 1980s that Democratic female lawmakers achieved a similar milestone.
Smith first arrived on the Hill when she took over her deceased husband's Maine congressional seat in a 1940 special election. Other women in similar circumstances clearly saw their tenure as a duty, voluntarily leaving Washington once the next election came around; some others who did try for a seat of their own didn't last very long. Maryon Pittman Allen, one of eight female Democratic senators to ascend the Hill before Mikulski, took over her husband's seat in 1978 for only five months before losing reelection.
After that first special election, Smith kept running, and eight years later she was elected to the Senate with 71 percent of the vote, making her the first woman elected to both houses of Congress.
And though Smith's accomplishments were many—she held her seat for four terms until the early 1970s, and became nationally known for her rejection of McCarthyism—she predictably had to withstand sexism throughout her tenure in Congress. During her first Senate campaign, an opponent's wife asked, "Why [send] a woman to Washington when you can get a man?" Such were the prospects of an ambitious woman in the late 1940s.
Twenty years after Smith's first Senate win, the country saw the first-ever contest between two female candidates, when Smith campaigned against Democrat Lucia Cormier during the 1960 election and won. The two made the cover of TIME magazine, but their efforts were degraded when the "ladylike" contest was dubbed a "powderpuff derby."
The second-ever contest between two women—Mikulski, a representative from Maryland's third district, and Reagan administration official Linda Chavez—took place 25 years later, and the word "powderpuff" was not on the table. By 1986, the United States had already seen a credible female vice presidential candidate in Geraldine Ferraro, and the time was ripe for women being taken more seriously than ever as candidates for higher office.
Though the Senate contest, Mikulski's first, was historic, the face-off didn't have everything to do with gender, either.
"It's exciting to see a race in which gender won't be an issue," Celinda Lake, an official from the Women's Campaign Fund, told The Philadelphia Inquirer during the primary, when Mikulski and Chavez were the presumed major-party candidates. Mikulski's record as a representative was on the table, as was Chavez's tenure in the Reagan administration as staff director on the U.S. Commission on Civil Rights and director of public liaison.
The New York Times called both women "strong-willed, aggressive campaigners"—adjectives certainly favorable to the ones given to Smith and her opponent a quarter-century before.
That 1986 contest marked the beginning of almost 30 years of advocacy by Mikulski for her fellow female senators. Fifteen women served in the Senate before Mikulski got there, and 30 followed in the years after she arrived.
Lake was prescient in her interview with the Inquirer three decades ago, anticipating the women that were to come: "This race definitely represents a coming of age of the women's movement."
We want to hear what you think about this article. Submit a letter to the editor or write to letters@theatlantic.com.