House Leaders Want to 'Jam the Senate' With Bipartisan 'Doc Fix' Deal
That's the plan, but House conservatives worry that they're the ones getting a raw deal.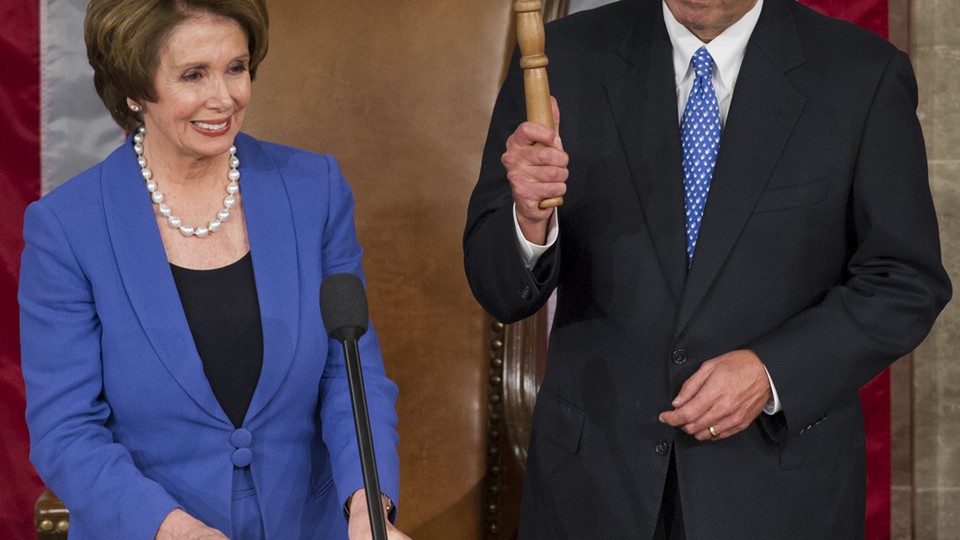 House Republican leaders are working to sell fiscal hawks who might be unhappy with the Medicare "doc fix" deal with Nancy Pelosi that at least they'd be putting the pressure on the Senate if they pass it.
In a closed-door meeting Tuesday, House Ways and Means Chairman Paul Ryan and Energy and Commerce Chairman Fred Upton briefed members on the work begun by the offices of House Speaker John Boehner and Minority Leader Pelosi.
Ryan and Boehner tried to convince their colleagues that they would "jam the Senate" by passing a doc-fix deal with Pelosi's help, said Rep. Tim Huelskamp of Kansas.
But Huelskamp said he thought the intention had been to put House conservatives in a tough spot, citing Boehner's initial negotiations with Pelosi as evidence. The current doc-fix patch expires April 1, leaving little time for Congress to debate and pass any long-term deal.
"He didn't come to us and say, 'How do we fix the doc fix, working with Mitch McConnell?' He went to Nancy Pelosi," Huelskamp said. "This is the first time we've heard about the doc fix. We're in the middle of March. He was sitting down with Nancy first and then he's come back to conference and said, 'Hey, we've got the votes. I'm going to ram it through. Together, we're going to jam the Senate.'
"No," Huelskamp concluded. "It's to jam House Republican conservatives."
But across the Capitol, some Senate Republicans sounded like they might be just fine with getting "jammed."
Senators from both parties said Tuesday that they're content to let the House continue to take the lead on the permanent doc fix, and implied that if a bill could pass the House, it would stand a pretty good chance in the Senate.
"If this [sustainable growth rate] fix passes the House, I think there are a number of us that will encourage the leader to bring it to the floor," said GOP Sen. John Barrasso of Wyoming.
Rep. Joe Pitts of Pennsylvania, chairman of the House Energy and Commerce Subcommittee on Health, said he's gotten the same indication from the Senate.
"What I hear from my friends on the other side of the Capitol is they're willing to go along with this," Pitts said.
The reported deal, which Huelskamp repeatedly said he hadn't seen yet, would ditch the "sustainable growth rate" for Medicare payments to doctors and reauthorize the Children's Health Insurance Program for two years. Its expected costs would be $200 billion, about $70 billion of which would be directly paid for through beneficiary and provider cuts.
That's the expected sticking point for fiscal hawks, and Huelskamp said he thought Boehner might have to violate the Hastert rule—the informal rule that House leadership will put a bill on the floor only if a majority of the House majority will vote for it—to get it passed.
Rep. Steve King of Iowa, another member on the House's conservative flank, also sounded skeptical. He referenced the recent fight over Department of Homeland Security funding, in which most Republicans voted against the funding bill (157 nays) but 182 Democrats voted for it to get it passed.
"They may well have put together a package that's not designed to get more than 50 Republican votes," King said. "That will be a very dramatic thing if that's what comes to pass."
Senators said they're withholding their final judgments until they see the bill, but made clear that the Senate will be taking its cues from whatever the House leadership can put together.
"I'm ready for a permanent fix. I've got to see the details," said GOP Sen. Lamar Alexander of Tennessee, the chairman of the Senate health committee.
Notably, Barrasso—who is a doctor as well as a reliable conservative—seemed to be on board with Boehner's approach to paying for the measure. Asked whether he was concerned that the costs of the package aren't offset within the traditional 10-year window, Barrasso pointed to its longer-term cuts in benefits and provider payments—the same answer Boehner's allies are giving to conservatives.
"I want to see what the House actually can pass. "¦ I'm in favor of completely eliminating the SGR and finding the best way to do it," Barrasso said.
The deal could run into trouble with Democrats, both for its benefit cuts and a two-year CHIP extension. Sen. Ron Wyden of Oregon, the top Democrat on the Finance Committee, told reporters that a four-year CHIP extension remains a priority—but wouldn't say whether it would be a deal-breaker.
"We've got to move on to a modern reimbursement system that will ensure the well-being of Medicare for years to come, but we've got to do CHIP now," Wyden said. "I think the real question is balance. We've got to have a balanced package."
A bill will pass the House only with strong Democratic support, so a longer CHIP reauthorization wouldn't necessarily upend the political coalition around it. But if the House acts next week, senators would have only a few days for debate and amendments—less if they need to send the bill back to the House.
"We'll have enough time. We can read quickly," Wyden said. "Let's see what they put in writing, because they may do that quickly. Let's see what, if anything, is passed in the House. We're just staying open to wait and see actual details."
That means all eyes for the moment are on the lower chamber. But there, pessimism wasn't universal among House conservatives. Rep. Jim Jordan of Ohio, another card-carrying conservative, told National Journal in an interview that he was open to the deal that's being discussed. In particular, he sounded receptive to, if not totally convinced by, the idea—being forwarded by the deficit hawks at Americans for Tax Reform in favor of the bill—that the doc-fix bill's reforms would lead to longer-term savings that the measure might not be credited with in a Congressional Budget Office score.
"There's good and bad. I want to see the four corners of the bill," Jordan said. "Nevertheless, the fact is it looks like it's not all being offset for the full length of the bill, and that's a problem."
Other members of the House Freedom Caucus were lining up in support of the plan. Rep. Matt Salmon said he had heard from some conservatives that the deal was no good because it raised the deficit in the short term.
"But what are we doing every year when we do an end-of-year SGR fix?" Salmon said. "A permanent fix is better than this temporary solution."
---
Daniel Newhauser contributed to this article