Havana-Bound: Cuba Rapidly Becomes a Favorite Member Destination
Lawmaker visits to the island nation were booming even before President Obama relaxed U.S. policies.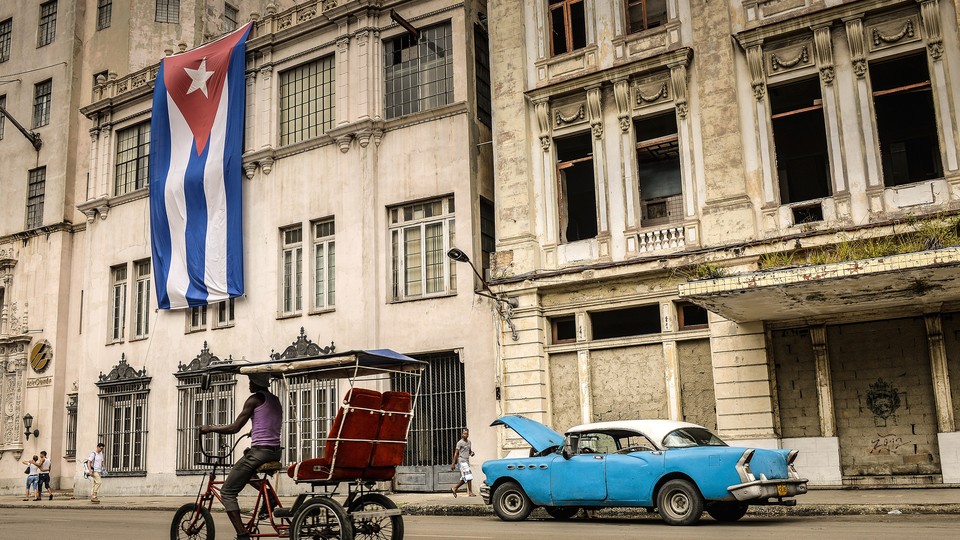 The first wave of American tourists hasn't yet hit the beaches of Havana, but members of Congress are—in record numbers.
Even before President Obama's December announcement of normalization of relations with the country, congressional travel to Cuba had spiked following a 50-plus year standoff between the two countries. A LegiStorm search turns up 16 congressional visits sponsored by outside groups between May and December 2014, more than in the previous six years combined. Ten more House members went on official visits in September.
Cuba was the seventh-most popular foreign destination for sponsored trips for members and staff last year, according to LegiStorm, after not cracking the top 20 the year before. It's the country's first time in the top 10 for congressional travel since 2010—and most of that year's trips were taken by staffers.
As Obama's policy was announced in December, a trio of lawmakers flew to Cuba to bring back Alan Gross, an American government subcontractor who had been jailed for attempts to connect Jewish communities to the Internet. And in February, House Minority Leader Nancy Pelosi led a nine-member delegation to the island. Sens. Claire McCaskill, Mark Warner, and Amy Klobuchar also went on a self-funded trip in February.
"The reason that things have picked up right now is in part because of the attention that the administration has given to the issue, even before Dec. 17," said Sarah Stephens, who led multiple groups last year sponsored by the Center for Democracy in the Americas. "People wanted to be part of that solution and be part of opening things up."
Of course, along with those serious policy questions, members didn't mind the warm weather and sparkling beaches. Asked what surprised her during her trip, Rep. Robin Kelly responded, "Besides that it was so hot?" Spending a few December days in Havana was likely no great sacrifice for the Chicago-area representative. And McCaskill posted pictures of the classic cars she encountered during her trip.
The increased Capitol Hill focus on Cuba, some say, helped pave the way for Obama's deal to renew diplomatic ties. "It's very important that the president recognize that he's got support on the Hill," said Rep. Barbara Lee, who was on three of the Cuba trips last year and has been more than 20 times since the 1970s. "These visits that members take really help with that."
Lee's colleagues are quick to credit her for her relentless push to change the country's Cuba policy. "Barbara Lee, more than any other human being in the United States, has created this atmosphere," said. Rep. Emanuel Cleaver, who took his second trip to Cuba with Lee last year. "Everywhere we went in Cuba, they knew Barbara Lee. She was tough."
Members who visited Cuba for the first time said the experience was eye-opening. "You can read in a book or you can listen to somebody, but when you go and see it for yourself you can answer your own questions and actually meet the everyday people there," said Kelly, who made her first two visits last year. "It's a very poor country. When we went to some of the homes—how tiny they were and what people lived off of."
Many were surprised at how much access they were given to talk to locals—even those who disagreed with the Cuban government. "You are surprised by people being willing to talk to you, nobody is prohibiting you from going anywhere or speaking to anyone," said Rep. Karen Bass, who visited last year for the second time. "People are openly critical of lots of things throughout the country—just like we are in our country."
Cleaver, an ordained Methodist minister, was given the opportunity to preach during one of his visits. "No one asked me what I was going to say," he said. "No one gave me acceptable talking points. I delivered a sermon in Havana and later spoke at the Martin Luther King memorial in Havana with complete freedom to say what I wanted to say, to speak about justice and injustice."
While members were surprised at the access they were granted, they also saw economic and health-care opportunities. Several members of the Congressional Diabetes Caucus learned about a drug that drastically reduces the need for amputations in diabetes patients. "What they learned was that Cuba has some cutting edge treatments that aren't available to Americans," said Pierre LaRamee, the executive director of the Medical Education Cooperation with Cuba, which sponsored the trip. "Here was a critical issue where cooperation between the U.S. and Cuba could be of benefit to both countries."
Others see fertile gound for American companies. "They need to have American goods on the island they can buy from the U.S. at a better and more competitive rate," Lee said. "Members are becoming more interested in Cuba and more interested as we talk about the economic impact."
Cleaver, whose district neighbors Sprint's headquarters in Overland Park, Kan., noticed few Cubans had cell phones and later learned that only 1,200 such devices existed on the island at the time. "For me, that was an open door for U.S. telecommunications companies to begin to push toward normalization," he said. "They were willing and anxious to do business with the United States. "¦ The Netherlands and Canada are Cuba's chief trading partners. We're 90 miles from Cuba!"
Meanwhile, lawmakers say they're not the only ones interested in traveling to Cuba. They're hearing from constituents who are eager to visit the island, and they credit those requests with sparking congressional interest. And they expect more of their colleagues to start planning their own visits as well. "I think the spike will happen," Bass said. "If it was 16 last year [on sponsored trips], it's going to be double or triple that this year."
Stephens, whose group sponsored multiple trips last year, said demand is booming. "We have more requests than we can respond to," she said, even though they already have several trips in the works.
As Americans and their lawmakers start to see the country firsthand, the members who have already been expect the White House's policy change to start paying dividends. "The greatest change will come when American tourists are out in Cuba spending money and Cubans can visit their relatives in the U.S.," Cleaver said. "You can't hold back the sunshine. "¦ It's been the forbidden island, and whenever anything is forbidden it automatically attracts interest. More and more members of Congress are going to go every year."