Has California's Leading Latino Politician Missed His Moment?
Antonio Villaraigosa decided not to run for Senate and may run for governor in 2018. But his path might be blocked by newer rising stars.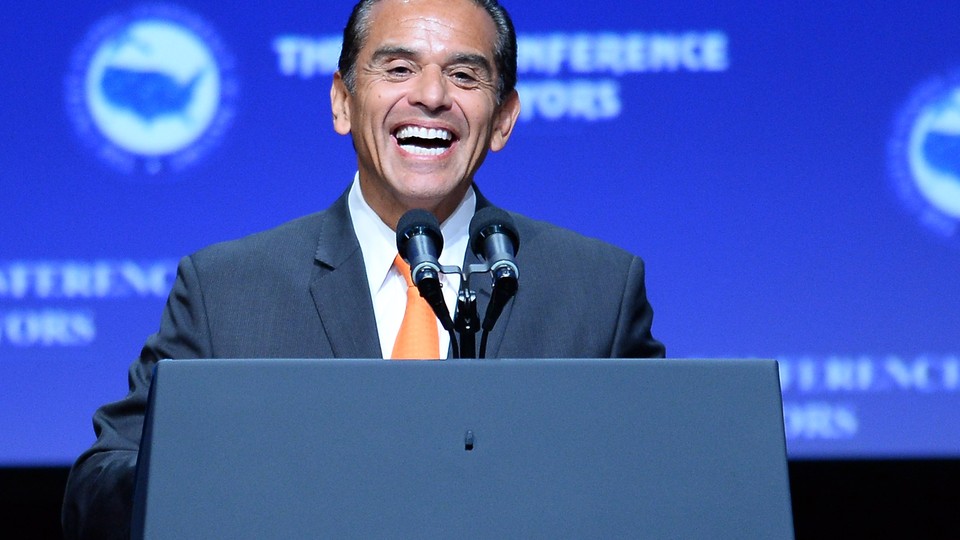 Antonio Villaraigosa may be sitting out the Senate race, but the ambitious former Los Angeles mayor hasn't closed the book on his political career. The Democrat's statement last week that he would not run for retiring Sen. Barbara Boxer's seat hinted that his eyes remain on California's 2018 governor's race—and the possibility that the state's booming Latino population can finally lift one of its own into high office.
Yet while Villaraigosa might fare better in polls against someone other than state Attorney General Kamala Harris, the leading Democratic Senate candidate, many of the problems that would have plagued a Villaraigosa bid for Senate may continue to haunt him. Villaraigosa, who Time magazine named one of America's 25 most influential Hispanics in 2005, has long appeared to be the Latino Democrat best poised to take advantage of the population changes in California. But those fast changes have also promoted a new set of rising stars as Villaraigosa mulls a third decade in elected office.
"Mayor Villaraigosa was a great mayor for Los Angeles and I know he has great plans for the future, which we're all interested in, but as soon as [Harris] called and asked for support, it was easy to give," said Long Beach Mayor Robert Garcia.
Garcia, a 37-year-old Peruvian-American immigrant, is Long Beach's youngest mayor and an early backer of Senate frontrunner Harris. Like a number of Harris supporters, he's a fan of the mayor. But when Garcia talks about the future of the Democratic Party, he focuses on the newcomers.
"Latinos—and I think I can speak for a lot of us—we just want the best candidate, it's not so much about electing a Latino to elect a Latino," Garcia said. Harris, he added, "has a great record as attorney general, she's dynamic, she's a woman, and would also be very historic running for the Senate."
Many Latino leaders saw Boxer's retirement as a prime opportunity to elect California's first Latino senator, and Villaraigosa has long been a political standard bearer for the community. But even though he and his advisers studied polling showing him doing very well with Hispanic voters, Harris—who is half-African-American and half-Indian—kept Villaraigosa from consolidating minority support. According to a source familiar with Villaraigosa's deliberations, Villaraigosa's support from black voters, always high in his mayoral runs, bounced significantly in polling matchups against white Democrats like Lt. Gov. Gavin Newsom, who already has started a 2018 gubernatorial campaign.
That made 2018 look like a better bet, especially considering his longer-term interest in being governor. Villaraigosa considered, but decided against, running for that office in 2010.
"He's kept his options open," said Mickey Ibarra, a political consultant who founded the Latino Leaders Network, which hosted Villaraigosa as a keynote speaker for its annual awards ceremony last month. One attendee shouted "governor!" when he took the podium. "I've had several conversations with Antonio, and it's clear the choices between 2016 and 2018 are very different races," Ibarra said. "He's said all along he's very interested in considering the possibility of the race for governor."
In fact, Villaraigosa was really exploring both races simultaneously over the last month. Some donors who already had signed on with Harris suggested they'd instead support him in a gubernatorial bid, according to the source close to Villaraigosa, pushing him toward the later opportunity.
But Villaraigosa can't necessarily count on being a minority unity candidate over a dozen years after Time noted his rising influence. He may be avoiding Harris, but there are other figures on the rise in California who might pique the interest of voters and some of those donors. There's Villaraigosa's popular successor in Los Angeles City Hall, Eric Garcetti; Rep. Xavier Becerra, who is still considering jumping in the Senate race; and new Secretary of State Alex Padilla, to name just three Latino Democrats. And by 2018, Villaraigosa will have been out of office for five years, with his name-recognition dropping by the day.
"Just like with Harris in 2016, I think you'll have a lot of really talented young elected officials out there who a lot of people will see as the future of the Democratic Party in California and maybe nationally," said Oscar Ramirez, a top Latino Democratic donor who threw his support behind Harris early on in the Senate race. "Regardless of what cycle he runs in, there's still going to be a whole host of challenges for him."
In the meantime, allies point out that Villaraigosa can stay active politically as a Latino surrogate for Hillary Clinton's presidential campaign. And, according to a recent poll conducted by the Los Angeles Times and the University of Southern California, he's still one of the best-known politicians in the state—better known, actually, than either Harris or Newsom. But Villaraigosa's path forward has more obstacles than when he was rising through his state's political ranks.
"I think he certainly would be one of the top contenders out there, but I think there's a lot of great Latino leaders besides the mayor, like Congressman Becerra, or other folks that are really high-profile "¦ Alex Padilla, who I'm a huge supporter of," Garcia said. "I think there's going to be a lot of names in the future, and quite frankly, four years is a long time from now, so a lot can happen between now and then."