Harry Reid's Top Aide Told White House to "˜Back Off' on Strong Net Neutrality
The Senate Democratic leader's former chief of staff favored a more lenient approach to regulations.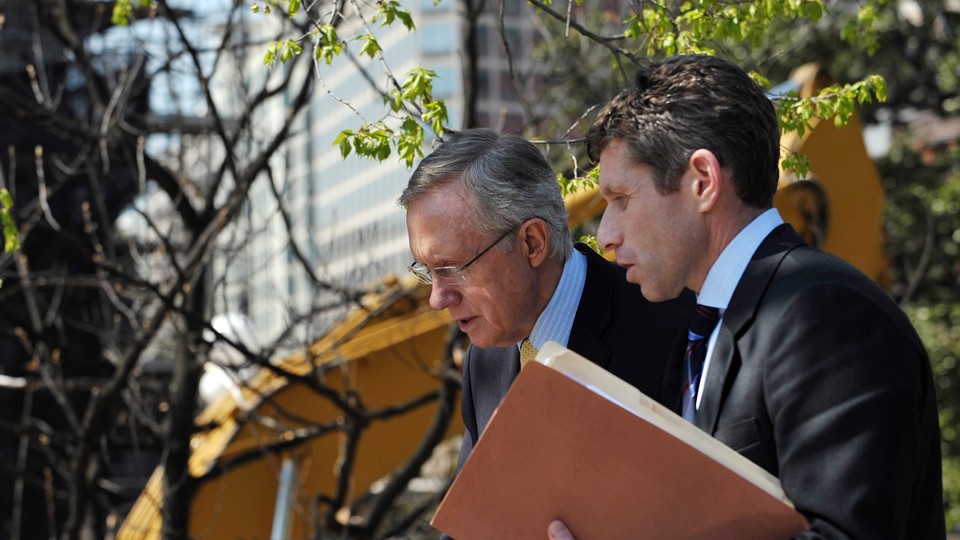 The top aide to Senate Democratic Leader Harry Reid was quietly lobbying the White House last year against tough net-neutrality rules, according to internal documents released Tuesday.
The emails, made public by the House Oversight Committee, contradict the ultimate position publicly taken by President Obama—and Reid himself.
In an email to Federal Communications Commission Chairman Tom Wheeler on May 15, 2014, David Krone, Reid's chief of staff at the time, wrote that he "spoke with the WH [White House] again last night and told them to back off Title II [of the Communications Act]." The section of the 1934 law would give the FCC broad powers and allow it to treat Internet providers more like heavily-regulated phone companies. "Went through once again the problems it creates for us," Krone wrote.
Wheeler also initially favored a more-lenient approach. The same day as Krone's email, the FCC voted to seek public comment on a plan that would have avoided using the expansive regulatory powers under Title II.
That plan provoked a massive public backlash, with many net-neutrality advocates warning it would open the door to Internet providers creating special "fast lanes" for sites that could pay more.
In a follow-up email to Wheeler on the same day, Krone said that Jeffrey Zients, the head of the White House Economic Council, was "overreacting" to the plan. "My main point to the WH is how can you declare today that regulations written in the 1930s will work fine for 2014 technology," Krone wrote. "Let Tom do his job and this will be fine."
But the White House apparently ignored Krone's advice. In November, Obama himself got involved in the debate, calling for the FCC to enact the "strongest possible" rules, relying on Title II. And it wasn't until last month, when the FCC had already settled on its approach, that Reid endorsed the president's plan.
Under intense public pressure, Wheeler also ultimately settled on the tougher approach. The FCC approved the new regulations last month.
Krone, who stepped down from Reid's office earlier this year, had clashed repeatedly with the White House. In a November interview with The Washington Post, Krone blamed the defeat of Democratic congressional candidates on Obama's unpopularity.
A spokesman for Reid did not respond to a request to comment Tuesday.