Harry Reid Will Retire
The longtime Senate Democratic leader, battered by election losses, won't run again in 2016.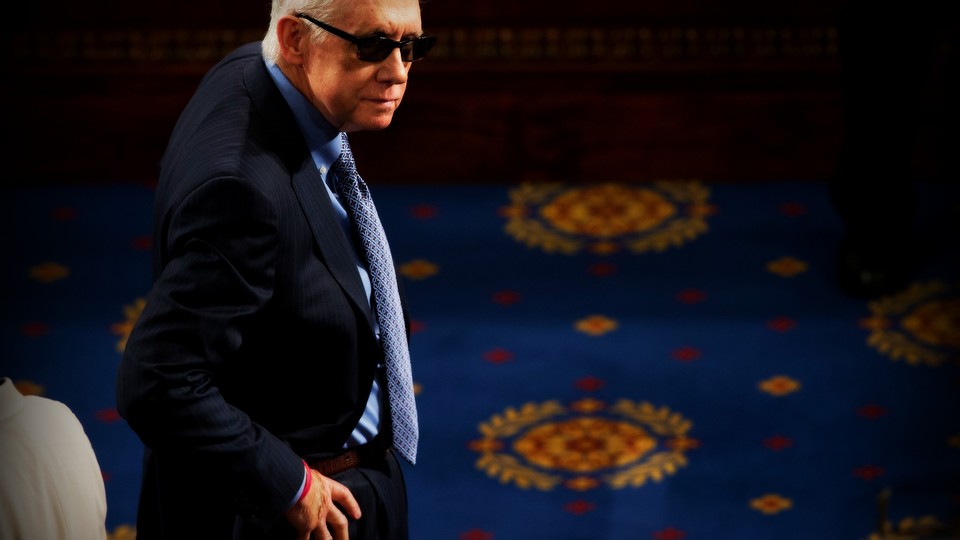 Harry Reid, the longtime Democratic leader in the Senate, won't run for reelection in 2016, he announced on Friday. His departure will end an era marked equally by significant achievements—passage of the 2010 healthcare law being foremost—and long periods of gridlock that frustrated lawmakers and the public alike.
The news of Reid's retirement was both a surprise, and not: The onetime amateur boxer, now 75, has been battered in the last several months, politically by the loss of the Democratic majority and physically by an exercise accident that left him blind in one eye. Yet he had insisted in recent weeks that he would seek a sixth term representing Nevada. In a video statement and an interview with The New York Times, Reid said neither setback caused him to quit, although he said the eye injury has given him "down time" to ponder his future. Rather, he cited the practical political concern that his expensive reelection campaign in Nevada would drain resources that Democrats could spend in competitive races elsewhere. "We have to make sure that the Democrats take control of the Senate again," Reid said. "And I feel it is inappropriate for me to soak up all those resources on me when I could be devoting those resources to the caucus, and that's what I intend to do."
The news will also set up closely-watched races to succeed Reid both in Nevada and as Democratic leader in the Senate. Reid's deputies, Senators Charles Schumer of New York and Dick Durbin of Illinois, have been eyeing his post for years, although Schumer is seen as the favorite.
First elected in 1986, Reid became Democratic leader in 2004 after the leader at the time, Senator Tom Daschle of South Dakota, lost his bid for re-election. He won a close campaign for reelection in 2010 that many political forecasters expected him to lose. Reid was facing another difficult race in 2016, but like most retiring politicians, he said he would have won. "The path to reelection is much easier than it probably has been anytime that I've run for reelection," he claimed in the video (a statement that pundits would likely dispute).
After shepherding much of President Obama's agenda through the Senate early in his term, Reid has served as the president's shield in recent years, preventing votes on legislation passed by the Republican majority in the House that Obama would otherwise have vetoed. He engineered a significant change in the Senate's filibuster rules late in 2013 to make it harder for Republicans to block the president's nominees. And while he complained for years about Republican obstructionism when he was majority leader, he has quickly adopted some of the same tactics as minority leader to stymie the GOP Congress.
Reid said he will continue as party leader until he leaves office, and he offered a warning to his "friend Senator McConnell," the Republican majority leader: "Don't be too elated," he said. "I am going to be here for 22 months, and you know what I'm going to be doing? The same thing I've done since I first came to the Senate."