Harry Reid Goes Down Fighting
With the bruised-and-battered Democratic leader's resignation, the Senate loses one of its toughest and most fascinating characters.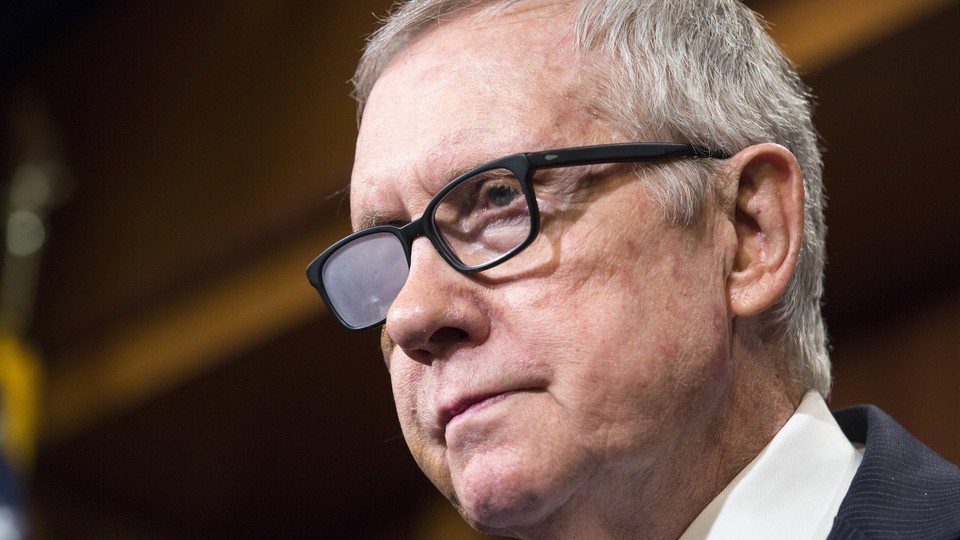 Nobody ever thought Harry Reid would retire, and that includes Harry Reid. Not long ago, when a reporter for CQ Roll Call asked him what might happen when he left office, Reid retorted, "If I drop dead?" He added, "I mean, I will someday. It's just a question of if I do it while I'm here." To everyone who knew him, Reid seemed like one of those creatures of the Capitol who would only ever leave the Senate feet first.
And yet, on Friday, the morning after a long night of largely pointless Senate budget votes, the 75-year-old minority leader suddenly announced the end of his nearly five-decade political career. In January, Reid had fallen while exercising at home, shattering his facial bones and leaving him blind in one eye. The exercise-band accident, he said in an online video, had "caused us for the first time to have a little down time," and that period of reflection had led him to conclude that it was time to go.
"We've got to be more concerned about the country, the Senate, the state of Nevada, than us, and as a result of that, I am not going to run for reelection," Reid said. Though he insisted his departure had nothing to do with his injury, it was hard to avoid the impression that Reid—who has survived many things in his life, from a hardscrabble upbringing to a car bombing—had, in the end, been felled by a rubber band.
Reid has always been a paradoxical figure. His public image, if he has one, is largely as a shambling bumbler, pallid and reed-voiced and prone to verbal gaffes, like the time he praised Barack Obama for his lack of "negro dialect" or called George W. Bush "a loser." Reporters who cover Reid—I was the political writer for his hometown newspaper, the Las Vegas Review-Journal, for three years—are accustomed to the difficulty of turning his garbled utterances into something resembling sentences. "He's been wildly successful in spite of it, but generally speaking, you never knew what might come out of his mouth on any given day," one former Reid aide told me. Another former aide, Rebecca Kirszner Katz, who served as Reid's communications director, recalls that Reid would turn to her after every press conference and say, "Okay, tell me everything I did wrong." "And what a list that was!" she added.
But Reid's image among political insiders is different: He is known as a canny behind-the-scenes mastermind, a political puppeteer whose micromanagement knows no bounds. In Nevada, a small state with a provincial political culture, Reid built the Democratic Party into his personal machine, recruiting and funding candidates years in advance to defeat up-and-coming Republican politicians who might someday oppose him. His political maneuvering has helped him survive despite being personally unpopular. In the Senate, Reid carries a list of his Democratic colleagues in his pocket, jotting in the margins the favors requested and owed. As a result, his caucus has been fanatically loyal to him. "Each and every member knew that the only thing he cared about was protecting the caucus as a whole," former Reid aide Jim Manley told me.
Politicians love to play up their humble roots, but Reid's up-from-nowhere story is hard to beat. He was born in 1939 in Searchlight, Nevada, a blighted little speck in the desert south of Las Vegas whose days as a gold-mining boomtown were already long past. Reid grew up in a shack with no running water, learned to swim at a whorehouse down the road, and hitchhiked 45 miles each way to the nearest high school. His parents were drunks who often fought, and his father eventually killed himself with a shotgun to the head. The closest thing to religion in the Reid home, he wrote in his 2008 memoir, was a quotation from F.D.R. that his mother had pinned to the wall: "We can. We will. We must."
Encouraged by his high-school boxing coach, the late Nevada governor Mike O'Callaghan, Reid won a football scholarship to a Utah junior college and went on to become a lawyer. Along the way, he met a Jewish girl named Landra Gould, whose father disapproved of the union. To take her out one night, Reid had to punch his future father-in-law in the face. The pair eloped, moved to Utah, and converted to the Mormon faith together.
As a lawyer, Reid specialized in what he termed "the cases nobody would take"—the cocktail waitress railroaded for bad checks she didn't write, the illegally evicted prostitute. While serving as a casino regulator in the 1970s, he wore a wire for the FBI to capture the bribery attempt of a man named Jack Gordon; the tape ends with Reid choking the man, shouting, "You son of a bitch, you tried to bribe me!" Years later, Landra found a bomb in the family car.
That a man with this background should eventually become the majority leader of the U.S. Senate speaks to an almost unbelievable level of toughness and focus. True to his adopted faith, Reid eschews caffeine and alcohol (official photos often show Reid at conference tables with the president and other leaders, his place the only one without a coffee cup). He seems uninterested in the normal human pleasures, or in anything that doesn't directly advance him toward his goals, and rarely socializes. In 2007, when Queen Elizabeth II made a state visit to Washington, Reid was one of the few to be invited to an exclusive soiree. He turned it down to spend his usual quiet evening at home with Landra.
Katz recalls the time she was reading Reid phone numbers for a series of radio interviews, and kept getting the numbers wrong. With his characteristic bluntness, he turned to her and said, "Do you have a learning disability?" When she said yes, he responded, "Well then, you just have worked twice as hard to get here." Katz told me: "That man respects hard work more than anyone I've ever met."
Despite his gamesmanship, Reid's ascension was somewhat accidental. He became Democratic leader in 2004 when then-Minority Leader Tom Daschle failed to win reelection in South Dakota, and he became majority leader in 2006 when Democrats captured the chamber with unexpected wins in Missouri, Montana, and Virginia. Reid is the sort of person who makes it his business rarely to be surprised, but he was surprised that election night. Interviewing him for the paper after the returns were in, I found him on the verge of tears. Manley told me that when Claire McCaskill's victory in Missouri was announced, Reid kissed the television.
Reid grew more liberal over the years as he became more closely aligned with the national Democratic Party. He declared that he would eliminate coal plants, renounced his once-tough stance toward illegal immigration, and came out in favor of gay marriage. Having voted for the Iraq war, he eventually became a forceful critic of it. In the Senate, his relationship with the Republican leader, Mitch McConnell, grew increasingly toxic: As the New York Times put it recently, "Instead of seasoned senators guiding policy, the two often seem more like aging uncles fighting at the family dinner table over who put too much garlic in the potatoes while the rest of the guests sit sullenly waiting to eat." Even Democrats became increasingly critical of the way the Senate had stalled under Reid's leadership. On Friday, Reid said he wants New York Senator Chuck Schumer to succeed him as Democratic leader.
Back home, Reid's legacy will include putting Nevada on the presidential-primary map—in 2008, Reid arranged for the state to vote fourth, after Iowa, New Hampshire, and South Carolina, and before Super Tuesday—and stopping the proposed Yucca Mountain nuclear-waste repository outside Las Vegas. Reid survived a tough reelection fight in 2010 against a little-known Republican, Sharron Angle, by deploying his trademark ruthlessness—Reid's son Rory, for example, who was simultaneously running for governor, got no help from his father and wound up losing by double digits.
But Reid's machine faltered in 2014, when Republicans won every state office and both houses of the legislature. In 2016, Reid would have been the top target of national Republicans and of the Koch brothers, the billionaire conservative activists whom Reid has excoriated in sharply personal terms. Without Reid on the ballot, Democrats will not have to deal with his personal unpopularity and political clumsiness, but the party bench is painfully thin. Reid told Nevada's public-radio station Friday that he was encouraging Catherine Cortez Masto, a well-regarded former state attorney general, to run to succeed him. Brian Sandoval, the popular governor, would be the strongest Republican candidate but is said not to be interested; other GOP prospects include the state Senate majority leader, Michael Roberson.
Reid can be erratic, and he doesn't always win. In 2011, he turned his annual address to the Nevada legislature into a bizarre tirade against the state's legal brothels, a momentary crusade that went nowhere. He takes care of his enemies as much as his friends: After his 2010 reelection, which the conservative Review-Journal had bitterly opposed, the paper's editor and publisher were suddenly and mysteriously ousted. Reid bears some of the blame for the increasing partisanship and gridlock in Congress, and his outbursts were sometimes over the top, as when, in 2008, he declared, "I can't stand John McCain," or when he falsely claimed in 2012 that Mitt Romney had paid no taxes. The late Washington Post columnist David Broder was no fan of Reid, calling him "a continuing embarrassment thanks to his amateurish performance."
Yet behind the pasty, ill-spoken facade was a complex and fascinating man. Without the job to which he applied such single-minded focus for so long, what will Reid do? For Reid loyalists, who were given no warning before Friday's announcement, it's hard to imagine. "Can you imagine the guy as a lobbyist?" Manley asked, with a bark of a laugh. "I don't think so."
In his video announcing his retirement, Reid vowed to make the most of his remaining time in office: "My friend Senator McConnell, don't be too elated," he said. "I am going to be here for 22 more months, and you know what I'm going to be doing? The same thing I've done since I first came to the Senate." He didn't go on to say what that was, but as the camera panned across photos of a young Reid in boxing gear, it was easy to fill in what he meant: fighting.