GOP Voters Back Obamacare Fix. GOP Governors, Not So Much.
A poll finds widespread support for restoring the Affordable Care Act's insurance subsidies if the Supreme Court invalidates them.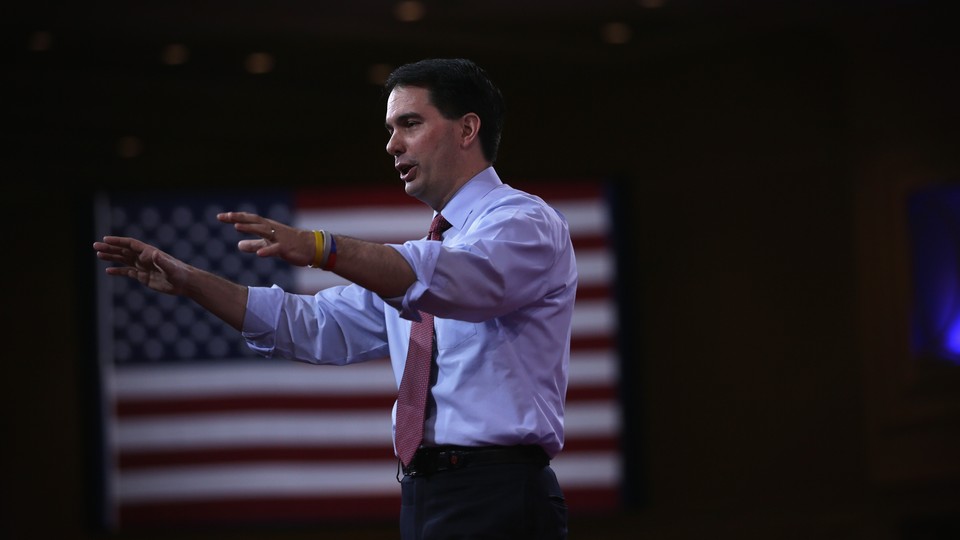 Republican governors have said they won't help save a key piece of the Affordable Care Act if the Supreme Court strikes it down. But Republican voters want them to, according to a new poll.
The Supreme Court will decide this summer whether to invalidate Obamacare's insurance subsidies in the 34 states that didn't set up their own exchanges. If it does, more than 7 million people would likely lose their coverage, and some states' individual insurance markets could spiral into chaos.
By wide margins, people who live in those states want their governors and legislatures to step up if the court sides with Obamacare's challengers, according to the Kaiser Family Foundation's latest tracking poll.
Nationally, 70 percent of those polled said states should set up their own exchanges if the court rules that only state-run exchanges can offer subsidies. The results were essentially the same (69 percent) when Kaiser separated out answers just from people who live in the 34 states where subsidies are at risk.
In the states where people could lose their subsidies, even a majority of Republicans—58 percent—said states should set up their own exchanges if the court rules against Obamacare.
Support for establishing state-run exchanges is considerably lower, though, among a key group of Republicans: the governors who would have to do it.
"That responsibility doesn't fall in the hands of the states or the governors, it falls in the hands of the leaders right here in Washington," Wisconsin Gov. Scott Walker said recently.
Florida Gov. Rick Scott also is opposed to creating a state-run exchange.
"This is a federal program, it's a federal problem," Scott said last month.
Several of the states that would be hardest-hit by an anti-Obamacare ruling are critical to the 2016 presidential race—they're either battlegrounds, launching pads for likely candidates, or both. Florida, for example, would see the biggest losses in insurance coverage, and those losses would come right in the midst of a presidential primary that probably will feature two Floridians.
Theoretically, Congress could step in to restore Obamacare's subsidies, at least partially or temporarily. That would take the pressure off states, but a congressional solution would be enormously difficult: Republicans would have to agree to a plan salvaging Obamacare's most expensive provision, and President Obama would have to swallow whatever concessions they demand in return.
Several prominent congressional Republicans, including Rep. Paul Ryan and Sen. Orrin Hatch, have said they're working on contingency plans if the court does invalidate Obamacare's subsidies.
The public supports that option but doesn't have much faith in it, according to the Kaiser poll.
Overall, 65 percent of the poll's respondents said that if the court strikes down most states' subsidies, Congress should pass a law ensuring that they're available nationwide.
But just 17 percent said they're confident Democrats and Republicans "can work together to resolve the issues created by the ruling." Nineteen percent said they're confident Republicans and Obama could work together on a solution.
A congressional fix also would be unpopular with Republicans, who seem to prefer state action. While 58 percent of Republicans said states should establish their own exchanges, just 39 percent said Congress should intervene to make subsidies available in every state.