Giffords's Gun-Control Group Plots Path Forward After Rough 2014 Debut
After few victories and a big controversy last year, Americans for Responsible Solutions is focusing on analytics to help it win future campaigns.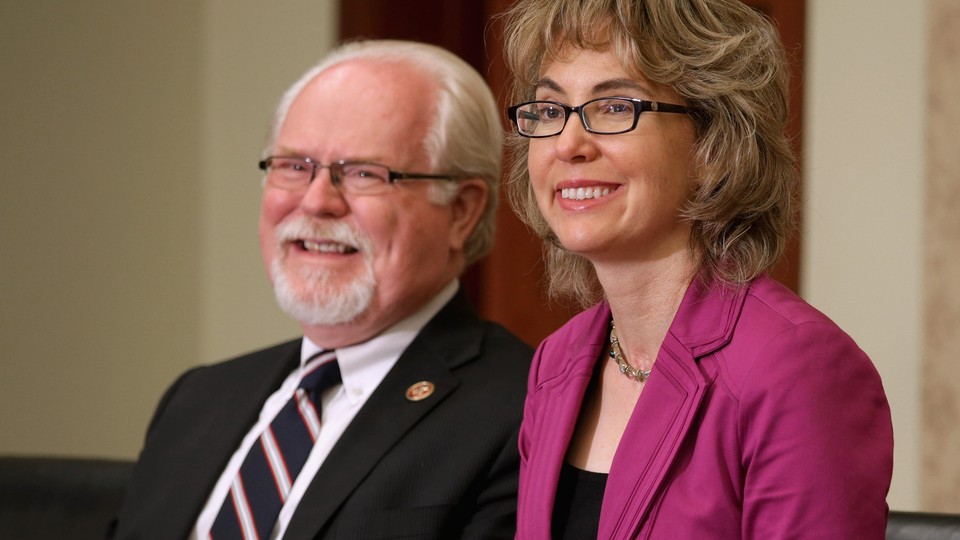 Americans for Responsible Solutions, the group founded by former Rep. Gabrielle Giffords, entered the last election hoping not only to help their candidates win, but to put the issue of gun violence front and center in campaigns around the country. But overall, it lost more House and Senate races than it won, gun issues were rarely viewed as a hot-button priority, and in the one campaign where ARS made a big splash, it was for the wrong reasons.
Democratic Rep. Ron Barber, who succeeded Giffords in her Arizona district, lost his race despite more than $2 million spent by ARS. And perhaps the group's most high-profile act of 2014 was to run a TV ad The Arizona Republic's editorial board called a "vile "¦ nasty piece of work." The TV spot, which accused Republican Martha McSally of supporting policies that made it easier for stalkers to get guns, only spent a week on the air before ARS pulled it down.
Now, the former congresswoman's group is trying to apply lessons from the last election to find more success in future ones. The episode in Arizona demonstrates the biggest challenge going forward: Put gun issues in the spotlight, but avoid a backlash that motivates gun-rights supporters. To that end, ARS is investing in analytics of the sort President Obama's political campaigns popularized.
Last year, the analytics firm HaystaqDNA interviewed thousands of voters across the country about gun issues and used that data to determine which voters ARS should target with mail and digital ads—and which voters to avoid.
"For most groups, it's just a better focus of resources. For ARS, it's absolutely critical to its mission," said HaystaqDNA president Michael Simon, who managed analytics for Obama's 2008 campaign. "There are people to whom that issue is anathema. They couldn't afford to make mistakes."
For what it's worth, Simon said he thinks it's unlikely the backlash over ARS's ad contributed much to Barber's narrow loss, though it's the moment that stands out most in a campaign decided by only 167 votes. Simon said his firm's research found that ARS helped sway "a few thousand" voters.
By investing in analytics, ARS is taking an approach that has recently become mainstream in presidential and statewide races but hasn't worked its way as firmly into issue-advocacy yet.
"ARS has really taken on a scientific approach," Simon said. "They're able to go to a donor or activist and tell them, this is how many people we persuaded."
But it's also beneficial that ARS has learned which voters to avoid: the conservatives who will be more motivated to vote against the group's candidate by seeing ARS ads during the local news instead of missing a quieter flow of mail to their neighbors' houses.
"It's a question of avoiding traps where it could be counterproductive," said Robert Spitzer, a professor at the State University of New York at Cortland, who has written about gun politics.
One of the group's 2014 success stories came in the mail. In Washington state, ARS supported a ballot initiative requiring background checks for all gun purchases and opposed another initiative that would have legally undermined the first.
"There was, to some extent, confusion among voters about what the laws actually were," said ARS spokesman Mark Prentice. "And some voters believe that laws were stronger than they actually are."
ARS launched a targeted direct mail campaign to 245,000 households, offering details about the current laws and proposed laws to voters it thought it could win over and skipping households that wouldn't be receptive to the message. In a survey, it found that support for their favored measure increased by more than 8 percentage points among people who got their mail, while support for the other ballot measure dropped by 5 points.
In the end, ARS came up with two victories in Washington: The background check initiative passed, and the opposing one failed.
Compared with the group's losses in the House and Senate, that may have seemed like a minor victory. But it indicates a path of least resistance for gun-control groups: Whereas candidates who support reforms like expanded background checks can be painted as anti-gun activists, ballot measures allow groups like ARS to stick to the specifics, debating the exact merits of a law.
That doesn't mean they'll favor ballot initiatives at the expense of spending in congressional or gubernatorial races, Prentice said. But after a rough first election cycle, it's one area that offers promise.
"We'll be strongly considering future ballot initiatives," he said.