For GOP, Changing Washington Isn't So Easy After All
Republicans face the same question they asked of Obama: What happened to hope and change?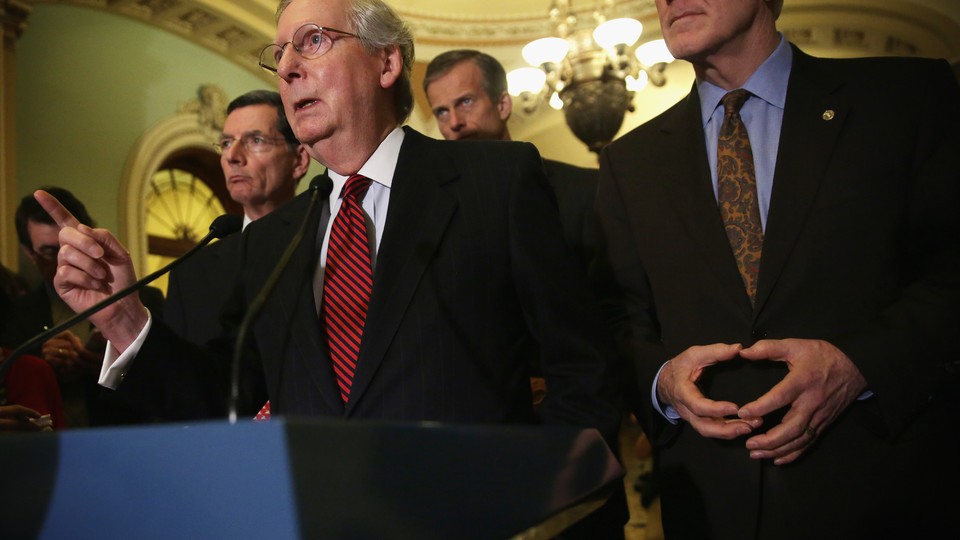 The new crop of Republican members in the House and Senate were elected to do one thing: fundamentally transform Washington. On the trail, they pitched big ideas and promised major action—beginning to overturn Obamacare, reforming the tax code, and reducing the national debt.
But now that they're in the nation's capital, they've become mired in the slow-moving, finger-pointing, tactical-delay life of #ThisTown that they once railed against. They've found themselves talking about procedure, regular order, and cloture votes on motions to proceed to even just freaking begin discussing a bill—much less passing one.
The frustration is palpable. With a two-chamber majority in their hands, new members—and the old guard—promised they'd turn Congress around by implementing major reforms and passing key legislation. So far this year, the House and Senate have managed to agree on just three bills—one has already been vetoed by President Obama and another was a seven-day extension of Homeland Security funding passed Friday after a meltdown on the House floor.
The irony in all of this is that Republican members are running into the same realities as the very man whose failings helped many of them to get elected in the first place. Obama, too, came to Washington with grand ideas of changing the way Washington works. And just as Republicans are now learning, he quickly found out just how difficult that is to do.
This is the reality of Washington and now members are coming face to face with it. As former New York Governor Mario Cuomo famously told The New Republic: "You campaign in poetry; you govern in prose."
For the new Republican majority, the bulk of their blame lies with the Senate, where conservative legislation has, for years, gone to die. That was all supposed to change this year; yet even with a majority, Republicans are tied down by the necessity of getting six Democrats to vote with them in order to move anything through the chamber.
"The problem is sometimes elevating expectations to the point that are unrealistic," Rep. Mario Diaz-Balart said last week. "The lesson is that we can do a lot, we can change a lot, we can contain the president a lot of different ways. But we have to remember that most things in the Senate require 60 votes."
Sen. John Thune, the Republican conference chairman, said Friday that expectations for the new majority may have been set too high. "I think that you always have to keep expectations at a realistic level, knowing that it takes 60 in the Senate to do anything and you've got a Democrat president who has elected to veto most of what we send him," Thune said.
Sen. Patty Murray, the No. 4 in Democratic leadership, laughed when asked if Republicans had underestimated just how difficult it is to get things done in the Senate, even with the majority. "I think I could characterize it that way exactly," she said.
To be fair, Republican Sen. Richard Burr of North Carolina and even Democrat Sen. Tim Kaine of Virginia emphasized, it's still early. Republicans have only had control of Congress for seven weeks, and, in the GOP's mind, Burr said, members are still "dealing with the leftover mess from the last Congress."
In the first two months of the new Congress, Republicans have passed a reauthorization of the Terrorism Risk Insurance Act, which leaders abandoned at the end of the last Congress. Then they took up the Keystone Pipeline, an issue that has been rumbling around the Senate for years but couldn't get past the 60-vote mark. Now, they're stuck trying to fund the Homeland Security Department, another issue leaders punted on last year after tough negotiations.
Once they get over those hurdles, it's possible that they will begin to get to work on big issues. But even then, Thune urged caution. "I think we need to realize that it's going to be a very heavy lift to get big things done absent the presidential leadership," Thune said. "But we're going to do everything we can on our end to keep the ball moving down the field."
Senate President Pro Tempore Orrin Hatch, a Utah Republican, said he thought the message to new members, and the public, had been clear. "I think everybody knew it was going to be tough. The Senate is always a tough place because you've gotta have 60 votes to pass anything that may be slightly controversial—or worse," he said, chuckling.
The Senate's not the only one to blame. House Republicans have fought among themselves over the speakership and anti-abortion legislation, and they pulled an education reform bill Friday.
The fight over DHS and Obama's executive actions on immigration doesn't help. Yes, fighting the presidential actions on immigration is a Republican priority, but continued intraparty fighting over the Homeland Security bill is only delaying the GOP's ability to move on to other things.
Rep. Marlin Stutzman, a Republican from Indiana, pointed to the divide between House leadership and their conservative members that was exacerbated by the DHS fight. "We've got to be able to trust them, and they've got to be able to trust us," Stutzman said of leadership. "And once that trust level is high and people are more comfortable, that's when more things will get done. ... If we're not on the same page, we'll never be able to accomplish anything with the president."
As for doing something about the Senate, frustrated members of the House's class of 2010, in particular, have called on Majority Leader Mitch McConnell to just change the rules, a bold move to reform Washington in line with the kinds of promises they made on the campaign trail. But over in the Senate, virtually no Republican thinks that's a good idea, even Sen. Ted Cruz, the tea-partier who was himself elected just three years ago.
Sure, changing the rules could help Republicans now and could certainly hurt them later. But more than that, there's a desire to protect the institution, to maintain the way things have been for years. One of the biggest reasons members blew up over then-Majority Leader Harry Reid's invocation of the nuclear option in 2013 wasn't what he did, but the way he did it. Members didn't care so much that he changed the rules to a simple majority—that had been the precedent followed in the Senate since its inception. They were angry because Reid used a parliamentary maneuver to change them with only a simple majority rather than a two-thirds majority. What's more illustrative of a stagnant and institutionalist body than that?
After campaigning to overturn Obama's then-expected and now-actual "executive amnesty," freshmen find themselves no closer to blocking the immigration order than they were as public citizens. Senators have now voted five times to try to defund the order and in the past few weeks have found themselves talking about Senate procedure more often than the big issues they came to Congress to resolve.
"Unfortunately, Democrats played politics with our national security and actually blocked Republicans' numerous attempts to fund DHS weeks ago," freshman Sen. David Perdue, a businessman-turned-politician, said in a procedure-filled statement on Friday. "This gridlock is why Georgians are so frustrated with Washington and why they sent me here to try to make a difference."
Emphasis on "try." Without Democratic cooperation, there's little Perdue and his colleagues can do. This isn't exactly the way things were done when Perdue was the CEO of Dollar General. Still, Perdue is looking on the bright side. He pointed to both the TRIA and the Keystone bills as "meaningful" reforms. "I'm proud of that," he said.
But with a veto on Keystone, and another dozen veto threats awaiting them, there isn't much room for optimism in this Republican majority. At least for the time being. Freshman Sen. Cory Gardner, who moved over from the House this year, said last month that the pacing has been the hardest adjustment for him. "I don't know what kind of time frame they're on here, but they need to move off of glacial," he joked.
Republicans aren't alone in their frustration. New Democratic members are equally as fed up with how much the small-ball of Washington has dominated their time in Congress. "I ran because I wanted to make a difference, I want to get things done for people," two-term Rep. Patrick Murphy, a Democrat from Florida, said. "I just talked to my people back home, and they're just so tired of the Republican-Democrat, the petty fight. It seems like bigger issues that need to be debated, and we're sucking up so much time and diverting it from what should be talked about. It's just frustrating."
Hatch, who has spent more than four decades in Washington, sympathizes.
"Look, we all hope that we can do better. We all hope that we can get this machine moving better than it is right now, but that's just the nature of this beast," Hatch said.
---
Alex Brown and Daniel Newhauser contributed to this article