For Democrats on Iran, Timing is Everything
Robert Menendez tries to hold the line against Mitch McConnell's efforts to speed up the vote on Iran sanctions.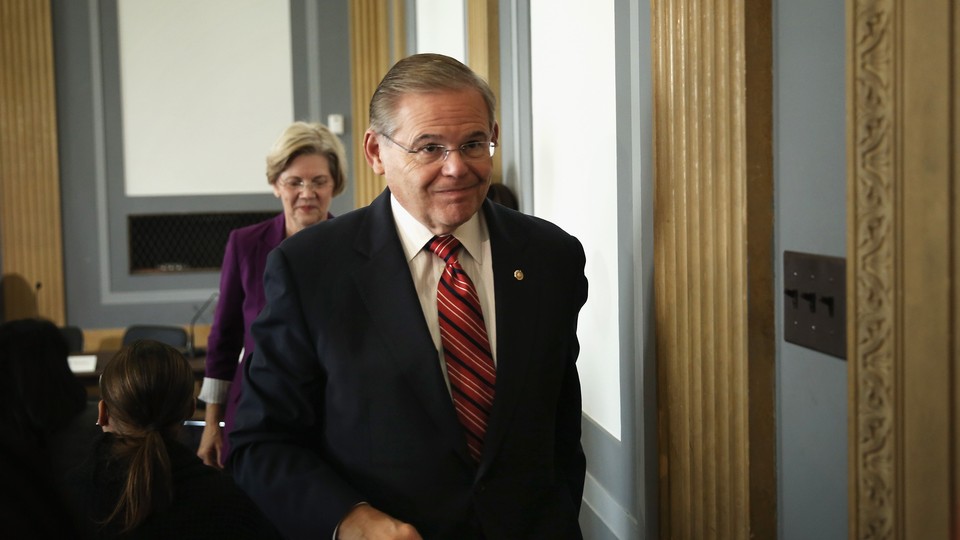 Just hours after Israeli Prime Minister Benjamin Netanyahu addressed Congress Tuesday, Senate Majority Leader Mitch McConnell vowed that Congress will bring up legislation next week to force any Iran-sanctions deal worked out by the White House, whom Netanyahu mistrusts, to first go through his congressional allies.
But McConnell may have put the cart before the horse. Democrats are willing to buck the White House by supporting congressional action on Iran, but they want to do it on their own schedule. And key hawkish Republicans are saying there's no reason not to give Democrats what they want.
McConnell needs the Democrats—specifically Sen. Robert Menendez—to get an Iran bill passed and either come close to or surpass a veto-proof majority.
Menendez, the top Democrat on the Foreign Relations Committee, and the entire Democratic conference promised the administration earlier this year that they would wait until after March 24, the deadline for negotiators to come up with a framework of a deal with Iran, before acting.
Ten Democrats, including Menendez, wrote McConnell Wednesday insisting that he hold off on the vote and wait for the committee to finish its work on the bill later this month. Their argument: March 24 is merely the deadline for a framework, and the final deal won't be done until June. There's plenty of time for Congress to act, so what's the rush?
"We in good faith agreed to introduce this legislation and take it through the committee process and to the floor so that Congress—which was responsible for bringing Iran to the table in the first place to negotiate—would have a role in reviewing the agreement before it goes into effect ... because, as I said last night, a deal cannot be built on trust alone," an irate Menendez said on the floor Tuesday night, threatening to filibuster his own bill. "Now, I was talking about Iran; I did not know that I was talking about our deal to pass a bipartisan review act."
But Republican leadership is sticking to its timeline, insisting that a bill will hit the floor next week, likely on Tuesday. Rather than waiting for the committee to finish its work, McConnell has filed a placeholder and will substitute in Senate Foreign Relations Chairman Bob Corker's bill if and when there is one. It's the same procedural workaround Republicans used to get the Keystone pipeline bill on the floor. "We're going to bring it up," Senate Majority Whip John Cornyn said Wednesday.
Yet Republicans on the committee—including Corker—say they're happy to concede to Democrats' demands on timing and wait until the end of March to consider the bill in the full Senate. Corker said Wednesday that his committee hadn't even scheduled a markup on the bill yet.
Committee members on both sides of the aisle say they've gone through a bipartisan process on the Iran bill and want to keep that era of good feeling going. But McConnell's move could, as Menendez said Wednesday, poison the well.
"I want to get a bipartisan vote to let the administration and Iranians know Congress will be involved in terms of lifting the sanctions. I don't want to create a problem for Democrats. If we have to wait until after the 24th—they've insisted on that—I'm willing to wait," GOP Sen. Lindsey Graham said Wednesday.
"I understand Mitch wanting to move forward, but this is not about partisan politics to me; this is about world order," Graham added.
Corker dismissed any concerns of divisions within the conference or the Senate more broadly on the issue, arguing that next week's vote was merely a procedural tactic, not a political one. McConnell knows that next week's cloture vote will fail, Corker said. But by bringing it up now, he'll save Congress two days of work when they eventually bring up the legislation again, likely after March 24, he explained.
But that rhetoric was markedly different from what leadership said on Wednesday. Rather than treating next week's vote as a procedural maneuver, the No. 2 Senate Republican took to the floor to hammer Menendez and his fellow Democrats for threatening to filibuster the bill over the timeline issue.
"In other words, [Menendez] opposes voting on his own bill because of the Senate procedures and the process. I don't know how you explain that back home. Good luck with explaining that to your constituents," Cornyn said.
Leadership does have some allies on the committee. GOP Sen. Marco Rubio said he agrees that the legislation should pass through Congress as soon as possible. "[Iran needs] to know that a bad deal isn't going to work, that the Congress has a right to weigh in on it, and is not going to be voting in favor of approving a bad deal," Rubio said Wednesday. "I believe it gives our administration more leverage to get a better deal for America and the world."
Regardless of the divisions, Republicans will not be able to move forward with the Iran-deal approval bill without the cooperation of Democrats. If leadership moves forward with a cloture vote next week, likely on Tuesday, it will fail, allowing the committee to continue its work and setting up a shorter series of votes on the legislation after March 24.
In the interim, Corker and several of his fellow committee members on both sides of the aisle said that the two parties were working well together and that they expect to gain even more cosponsors on the legislation by the end of the month.
"We think the best way to do this bill [is] bipartisan—tons of sponsors," Democratic Sen. Tim Kaine said. "And we think we can get a whole lot more sponsors if we put it through committee. "¦ There are a number of people who don't want to sign on to the bill until after March 24."
Already, members are nearing the numbers they'll need to pass the final legislation through the full Senate, forcing the administration to hit pause on any deal with Iran for 60 days while Congress decides to either approve of the deal, disapprove, or take no action.