Florida Democrat Hits Home-State Governor Over Climate Gag Rule
Bill Nelson's budget amendment would prevent "˜muzzling' of climate-change terms.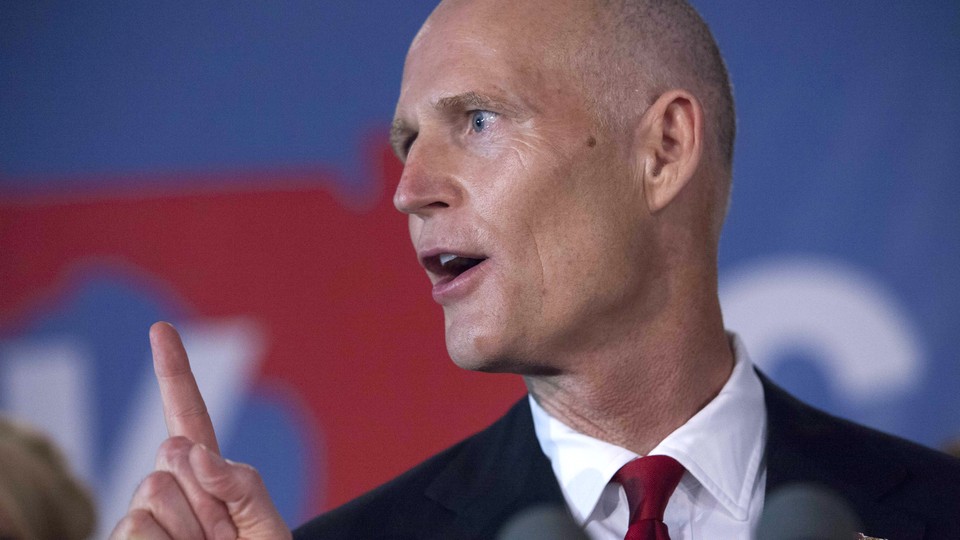 Florida Gov. Rick Scott is seeing some in-state fire over his reported ban on state agencies using the term "climate change."
Democratic Sen. Bill Nelson has introduced an amendment to the Senate budget that would prevent any ban on federal agencies and employees from talking about climate change.
In a speech Thursday introducing the amendment, Nelson said it was a pushback about "news reports "¦ that indeed some folks are trying to muzzle scientists from speaking about the science involving the oceans, the atmosphere, the climate, and the weather."
"Can you imagine if we were going to muzzle researchers at the National Institute of Health and censor them, saying they couldn't use medical terms like 'asthma' [or] 'cancer'? What if that were off limits?" he asked. "That's not even a question we would consider."
The senator from Florida's amendment and speech are thinly veiled swipes at Scott. Earlier this month, the Florida Center for Investigative Reporting reported that employees and contractors had been told by supervisors to not use specific terms related to climate change or global warming.
Scott has denied that such a ban was in place, but allegations from former state employees have snowballed. Last week, an Environmental Protection Department official said he was put on leave and told to get medical clearance for discussing climate change and the Keystone XL pipeline. And a widely shared video shows the state's chief of emergency management avoiding saying "climate change" in a state Senate hearing.
Nelson's amendment would specifically block the Senate from adopting any measure that would censor a federal employee or agency from using "terms common in scientific literature describing atmospheric, climate, weather, or oceanic processes."