The United States vs. Bob Menendez
The federal government will reportedly bring corruption charges against the New Jersey Democratic senator, long the subject of accusations.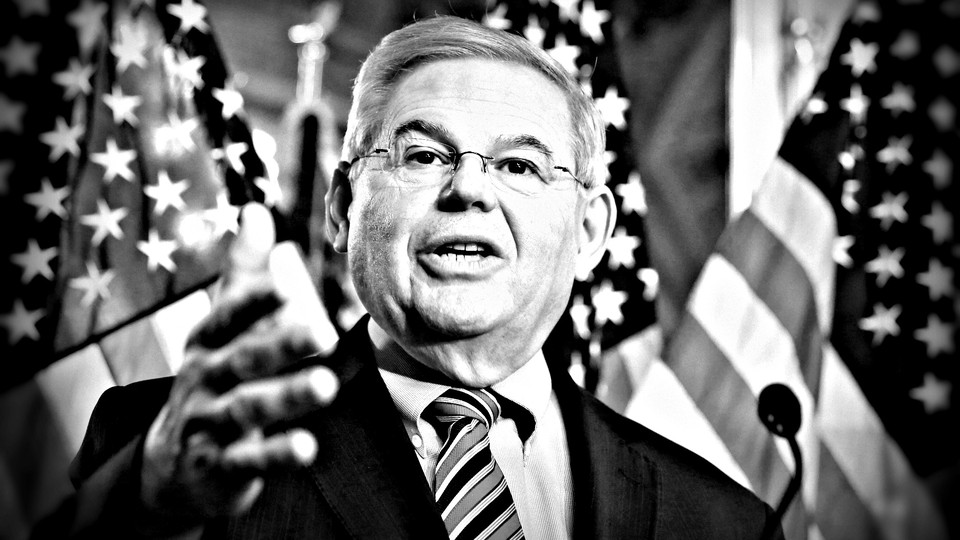 For years, Senator Bob Menendez has faced a steady stream of news reports suggesting that he was using his position inappropriately. Up to now, none of those had stuck—but it looks like the New Jersey Democrat's luck may have run out.
CNN broke the story Friday afternoon that federal prosecutors are close to charging Menendez with using the power of his office to assist a friend and donor's business interests, in exchange for gifts. The feds are homing in on Dr. Salomon Melgen, a Florida ophthalmologist who has given generously to Democrats and is the highest-billing doctor in the Medicare program nationwide.
Menendez has been accused of improperly taking flights on Melgen's plane, and in 2013 repaid $58,000 in flights from 2010. He has also been accused of intervening on behalf of the doctor when he was investigated for overbilling, and of inappropriately weighting the scales in favor of a contract in the Dominican Republic for a port-screening company Melgen owned. In December, The New York Times reported he had helped to get an immigration ban overturned for a wealthy Ecuadorean family that contributed to Democrats.
"He's always been skipping along, but had a lot of problems just nipping at this heels," said Brian Murphy, a professor at the City University of New York who tracks New Jersey politics. "It's not surprising it was this [Melgen] case, but there were five different things I can think of off the top of my head that if you were calling me saying Menendez was going to get indicted for this, I wouldn't be surprised."
A call to Menendez's office Friday was not immediately returned, but his office released a statement insisting he'd done nothing wrong. The senator has pushed back vigorously against any accusations in the past, and is in the midst of a pitched battle with the Justice Department. Menendez claims that his actions and documents are covered by constitutional protections extended to members of Congress conducting their duties.
Menendez—who is in his second term as a senator, and served in the U.S. House from 1993 to 2006—is one of the White House's top frenemies in Congress, and any charges would add to an already contentious relationship. For the last two years, while Democrats held the Senate, he was chair of the Foreign Relations Committee. A staunch backer of the Israeli government, he repeatedly moved to strengthen sanctions against Iran while negotiations over that country's nuclear program were ongoing, much to Obama administration's annoyance. (Menendez and other Democrats eventually backed down.) As a Cuban-American, he has also been a fierce critic of Obama's move to normalize relations with the Communist government in Havana. And he clashed with the White House over the Authorization for Use of Military Force against ISIS.
There are plenty of waggish jokes here about how corruption is standard-operating procedure, but Menendez has been part of an unusual slow-burning scandal. Just before the November 2012 election, the Daily Caller reported—in what looked like a botched oppo-dump—that Menendez has traveled to the Dominican Republic with Melgen, where prostitution is legal, and hired prostitutes there. The story backfired. Menendez cruised to reelection, and the FBI ended up investigating the source of the allegations. But the story seems to have brought more attention to Menendez, too, as reporters and investigators started to look into the senator's dealings.
It's not Menendez's first scrape with the law—in 2006, a young Republican U.S. attorney was accused of launching an investigation into Menendez right before an election in an attempt to sway the result. The investigation went nowhere, but the prosecutor, Chris Christie, did. If Menendez were forced to step down or was removed from office, Christie—now governor and himself dogged by scandal—would have the chance to fill the seat temporarily, until a special election was held. That would allow Republicans to pick the seat up, at least temporarily. But the Garden State hasn't elected a Republican to the U.S. Senate since 1972.