Ethics Committee Launches Investigation of Ed Whitfield
The panel will probe whether his wife, a Humane Society lobbyist, improperly influenced his legislative work.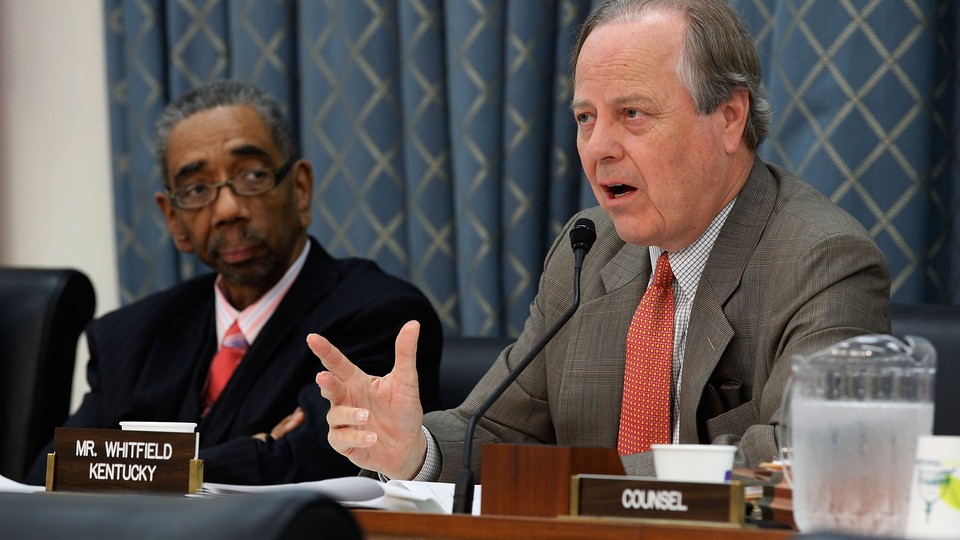 The House Ethics Committee has launched a full-fledged investigation into whether Rep. Ed Whitfield violated the chamber's rules by allegedly letting his wife use the power of her husband's office to aid her work as a lobbyist for the Humane Society Legislative Fund.
The Office of Congressional Ethics—an independent, nonpartisan entity—did an initial probe of the matter and formally referred it last June to the House Ethics Committee for further review. On Friday, the committee announced it was forming an investigative subcommittee to probe the Kentucky Republican's actions.
From 2011 to 2014, Connie Harriman-Whitfield allegedly lobbied Congress on bills, some of which Rep. Whitfield sponsored or cosponsored, related to her work with the Humane Society. She also allegedly contacted his staff on behalf of her lobbying efforts, and husband and wife reportedly had meetings together with other congressional offices in regard to the lobbied legislation, according to the Office of Congressional Ethics.
This could be problematic because if the House member let his wife lobby him and his staff and/or granted special favors to her as a lobbyist, he could have violated House rules and standards of conduct, the OCE asserted in its referral to the Ethics Committee.
"I look forward to fully cooperating with the committee in its examination of my conduct during the last Congress concerning my legislation to stop the soring of Tennessee Walking Horses," Whitfield said in an emailed statement Friday. "The allegation that my wife lobbied my office or my staff to convince me to introduce and pass the legislation is absurd. This is an issue I have followed for many years. I introduced the Prevent All Soring Tactics (PAST) Act because in my humble opinion it was the right thing to do."
Whitfield has been open about his wife's connections to the Humane Society and has defended these interactions, as Politico first reported in December 2013.
"I don't view that as an ethics violation because it's an issue that I've been involved in since I've been in Congress, and this is a practice that must be and should be stopped," he told Politico. "There's a big difference in my mind of getting financial gain for some financial institution, to trying to prevent cruelty to animals."
In the same story, he noted that "any person has the right to file a complaint with the Ethics Committee if they think we are violating House ethics laws."
Rep. Kenny Marchant, R-Texas, will chair the investigative subcommittee, and Rep. Ted Deutch, D-Fla., will be its ranking member. Reps. Barbara Comstock, R-Va., and John Carney, D-Del., will serve as the two other members on the newly formed committee.