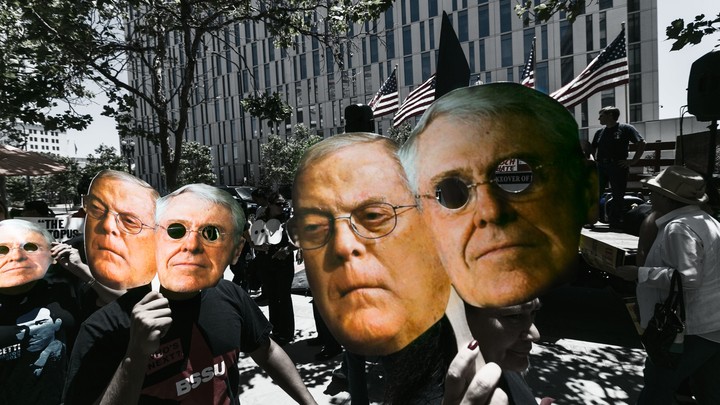 Here is the thing the Koch brothers wish their critics understood: They just want to help people.
"Everything we do is designed to help people improve their lives, whether you're talking about our business or our philanthropy," Mark Holden, the senior vice president and general counsel for Koch Industries, told me recently from his office in Wichita, where the multibillion-dollar international manufacturing conglomerate that Charles and David Koch inherited from their father is headquartered. "We think a free society, consistent with classical liberalism and individual liberties, is the key to success for everyone, and that's what drives a lot of our activities. And criminal-justice reform is good for all of us—the rich, the poor, and everyone else."
Though the Kochs are best known—and, to liberals, notorious—for the massive amounts of money they pour into politics, they have lately been calling attention to a less polarizing crusade: an attempt to address what they term "the overcriminalization of America." But not everyone is convinced that their efforts are quite so sincere.
Critics such as Robert Greenwald, director of the documentary Koch Brothers Exposed, suspect that the push to roll back the criminal code is really just the brothers' deregulatory agenda by another name. Indeed, Charles Koch, the company's chairman and CEO, has said he became interested in criminal-justice reform after a grand jury's 1995 indictment of a Koch refinery in Texas for 97 felony violations of environmental law. The company spent six years fighting the charges and eventually settled with the government for $10 million. Seen in this light, the criminal-justice pitch is just another attempt to manipulate the political process to advance the company's financial interests. That's the view of the liberal group American Bridge, which maintains the anti-Koch "Real Koch Facts" website. "Their own bottom line isn't just an important factor in their activity, it's the only thing," a spokesman for the group, Ben Ray, told me.
This is the question that has always swirled around the Kochs and their political efforts—the massive juggernaut of funding for conservative activism and candidates that critics dub the "Kochtopus": Are the brothers sincere ideologues dedicated to a libertarian vision for America? Or are they simply trying to tilt the political system to favor themselves and their companies?
Various tentacles of the Kochtopus have been involved in criminal-justice issues for about a decade; during that time, Charles Koch has quietly made contributions amounting to seven figures to the National Association of Criminal Defense Lawyers, money that has been used to provide lawyers for poor defendants. In 2011, the group honored Koch Industries with its annual Defender of Justice award. "They are in complete agreement with us on the fundamental policy—to make the Sixth Amendment a reality for every person in the country," said the association's executive director, Norman Reimer.
But the Kochs' advocacy has become more vocal in recent months, from public statements to new partnerships with such groups as Families Against Mandatory Minimums, the American Civil Liberties Union, and even the liberal Center for American Progress. The bid for more attention for the reform effort has received overwhelmingly positive attention, and coincides with a new PR push to show Koch Industries in a friendlier light, including a "We Are Koch" national television campaign that casts the company as heartland job creators—prompting the Kochs' critics to suspect a whitewash. After all, the investment in criminal-justice reform pales in comparison to the hundreds of millions the Kochs and their donor network have spent electing Republicans, many of whom don't share their views on civil liberties, Greenwald noted. "Certainly the scales tip against the impact of this, except from the press point of view," he said of the reform push.
And yet the Kochs have found many willing partners on the left for this effort, even among their erstwhile critics. In 2011, the civil-rights activist and former Obama administration adviser Van Jones cited the Kochs as emblematic of the "economic tyranny" plaguing America, declaring, "We will not live on a national plantation run by the Koch brothers." He appears in the Koch Brothers Exposed (tagline: "The 1% at its very worst"). But Jones has welcomed the Kochs' support for his new Cut50 project, which aims to halve the prison population over the next decade. At a recent panel discussion in Washington, he sat next to Holden and gave him a hug. Koch Industries has agreed to participate in an upcoming conference Jones is sponsoring on prison reform. When I asked Jones if it made him uncomfortable to team up with people he's previously depicted as villains, he responded, "When you've got more than 2 million people behind bars, I'll fight alongside anybody to change those numbers."
Jones is also a noted environmental activist, and I pressed him on whether he thought the Kochs were really interested in improving the lot of minorities and the poor. Wouldn't relaxing some laws or drastically reducing the size of government, as the Kochs' libertarian philosophy aims to do, make it more difficult to hold corporations to account? As long as the policies they're advocating are the right ones, Jones replied, "I'm not going to spend a lot of time trying to figure out if their motives are pure." He added, "We are going to fight the Koch brothers tooth and nail on every aspect of their environmental agenda where we don't agree, and we are going to fight alongside them on every piece of criminal justice legislation where we agree. That's how democracy should work."
To allies like Jones, it doesn't matter whether the Kochs are acting in good faith as long as their assistance stands to help the cause. In a neat illustration of the way this issue crosses partisan lines, the ACLU's campaign against mass incarceration is supported by both the Kochs and liberal financier George Soros's Open Society Foundation. Anthony Romero, the ACLU's executive director, acknowledged that some of the group's liberal members aren't thrilled about the Koch partnership: "There's always some unhappiness whenever you work with, quote-unquote, the enemy," he told me. But particularly with Republicans in control of Congress, he said, validation from the likes of the Kochs is the key to moving the issue forward. "Having the Koch brothers involved fundamentally changes the landscape. It gives legitimacy to this issue as a proper field of inquiry for Republican political leaders," he said.
The Kochs' activism fits within a broader trend on the right. Where once Republicans could reliably be stereotyped as tough-on-crime and Democrats as squishy bleeding hearts, recent years have seen many in the GOP question the old dogma of lock-'em-up, spurred by the party's increasingly libertarian bent and a desire to control spiraling prison costs. The 2012 Republican Party platform discarded its old plank endorsing the War on Drugs for one that emphasized prisoner reentry and rehabilitation; at the 2014 Conservative Political Action Conference, then-Texas Governor Rick Perry headlined a criminal justice panel at which he urged, "Shut prisons down. Save that money." As The Nation noted approvingly, Perry "has become one of the more aggressive prison reformers in the country," and he's been joined by Republican governors or former governors in Pennsylvania, Ohio, and New Jersey.
Bipartisan efforts at criminal-justice reform abound in Congress. Republican Senator Rand Paul has teamed up with Democrat Cory Booker to propose making it easier for juvenile and nonviolent offenders to have their records expunged, while Republican Mike Lee is working with Democrat Dick Durbin to reduce mandatory-minimum sentences. Republican Representative James Sensenbrenner of Wisconsin—who once led the charge to impeach Bill Clinton and was the principal proponent of the Patriot Act—is working on a comprehensive package of reforms to address such issues as asset forfeiture, sentencing disparities, and the restoration of rights to young offenders. Two other leading Republican senators, John Cornyn of Texas and Rob Portman of Ohio, are also involved in the issue. Yet the issue's prospects remain uncertain—criminal-justice reform isn't one of the areas House and Senate leaders most frequently mention as potential goals.
Holden, the Koch counsel, is a spike-haired Massachusetts native who once worked as a jail guard—seeing youths from his blue-collar neighborhood on the other side of the bars, he says, made a deep impression. He takes issue with the notion that the Kochs only want to pad their own pockets, pointing out that they take many positions "contrary to our short-term economic self-interest": opposing corporate tax breaks; opposing ethanol subsidies, even though Koch is in the ethanol business; opposing the Cash for Clunkers program, even though the company makes auto parts; supporting the Keystone Pipeline even though it will not touch the company's refineries.
"The way we've always viewed ourselves is different than the caricature in the political media," Holden told me. "We view ourselves as willing to work with people of good faith on any issue we believe in." So far, when it comes to criminal justice, no one they've reached out to has refused to work with the Kochs, he added. "We haven't had any doors shut in our face," he said. "We're getting people to understand us who didn't know us before."
We want to hear what you think about this article. Submit a letter to the editor or write to letters@theatlantic.com.
Molly Ball
is
Time
magazine's national political correspondent and a former staff writer at
The Atlantic
.