Divided on Iran, Democrats Unite Against GOP Letter
Even the minority party's hawks thought writing to Tehran was the wrong move.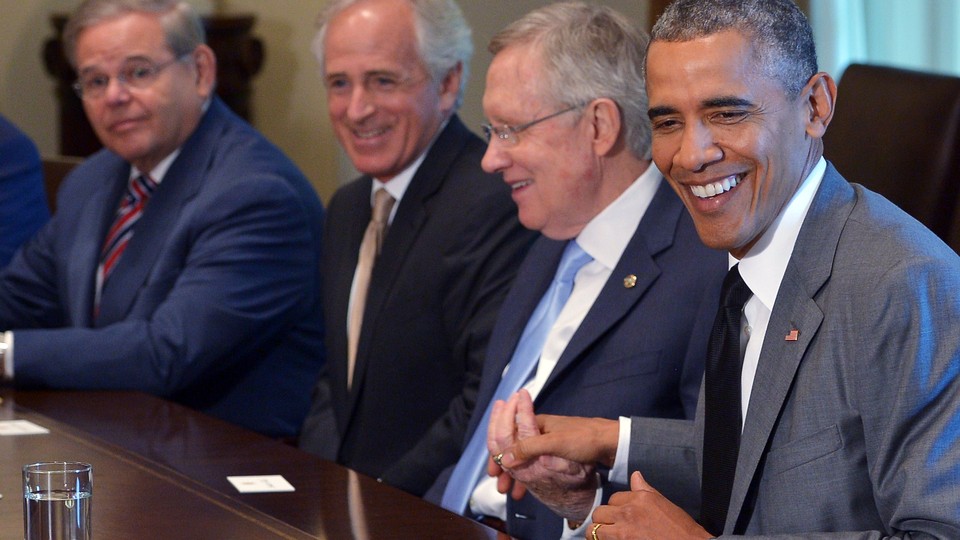 When it comes to Iran, the Senate has its Republican hawks and its Democratic hawks. But only the former thought it would be a good idea to send a letter to Tehran warning it against cutting a nuclear deal with the Obama administration, and now those in the latter camp aren't happy about it.
A total of 47 Republicans signed a letter to Iran's leaders, warning that any deal with President Obama might not outlast his presidency. On an issue that divides them, Democrats appear united in their response—including some members who have been willing to break publicly with the White House.
Sen. Robert Menendez, the Senate Foreign Relations Committee's ranking member, said the Iranians don't need a letter "to be told that which they know about our government, that this government, meaning the Congress, will have a say at some point."
"As far as I am concerned, you saw that it was a partisan letter, [that] tells you everything about it," said Menendez. (The New Jersey Democrat reportedly faces federal corruption charges, and some Republicans—including Sen. Ted Cruz—have even suggested that Menendez is being punished by the Obama administration for his position on Iran.)
(RELATED: For Democrats on Iran, Timing is Everything)
Menendez and Senate Foreign Relations Committee Chairman Bob Corker have put forth a bill that would require a congressional review of any nuclear agreement with Iran. The Republicans' letter doesn't necessarily make it harder to support this bill, said Sen. Ben Cardin, D-Md. "I think the timing on that is the critical part—when we take it up," said Cardin, a Senate Foreign Relations Committee member.
Freshman Sen. Tom Cotton, R-Ark., led the charge on crafting the letter, which was signed by all but seven of the upper chamber's Republicans. The letter, originally reported by Bloomberg, says Obama will "leave office in January 2017, while most of us will remain in office well beyond then—perhaps decades," and if Congress doesn't approve the agreement, the next president could "revoke such an executive agreement with the stroke of a pen."
The frustrations over the letter come a week after some Democrats, including at least eight senators, boycotted a Israeli Prime Minister Benjamin Netanyahu's speech to a joint session of Congress that urged the United States against striking a nuclear weapons deal with Iran.
(RELATED: Netanyahu Delivered Just What Obama Feared)
Corker said his focus is on getting the bill through the chamber, and his signature was noticeably absent from the letter sent to Iranian leaders. Cotton called him over the weekend, Corker said, to let him know the letter was going out.
"We had a very civil conversation, and I appreciated the fact that he called before he sent it out," Corker told reporters Monday. "He understands that my role in this is a little different and unique and respected it."
Still, some Democrats say the letter politicizes foreign relations and makes compromise among the two parties tougher. Critics on Monday included Senate Minority Leader Harry Reid and Minority Whip Dick Durbin. The letter is "unprecedented," "reprehensible," and plays politics with foreign relations, Democrats say, and Republicans are trying to cut the legs out from Obama as he attempts to forge a deal with Iran over the country's nuclear program.
(RELATED: Harry Reid Goes Off on Republicans Over Iran Letter)
"I can't even imagine the uproar if Democratic senators [had been] writing to Saddam Hussein in the lead up to the Iraq War," Sen. Chris Murphy of Connecticut told National Journal. "So my hope is that this galvanizes Democrats behind an effort to support negotiations, because Republicans have made it crystal clear that this has nothing to do with the merits of the deal. This has everything to do with undermining the president."
That doesn't mean lawmakers won't support sanctions on Iran if the administration fails to reach an agreement.
"If the negotiations fall apart, I support imposing new sanctions," Murphy said, "and the only difference within the Congress is whether you pass legislation now or you pass legislation after the negotiations fall apart, so I think we're all pretty unified in the fact that if negotiations don't work then we're going to move forward on a new round of sanctions."
"I don't think there's any question," Cardin said, "that if there's no agreement, there's going to be tougher sanctions. I don't think there's any questions about that, and the administration will support us on it."
---
Ben Geman contributed to this article