Detroit Is a Dream Come True for Iraqi Refugees
When you've grown up in Baghdad and been driven out of your home by militants, even America's most struggling city is a welcome sight.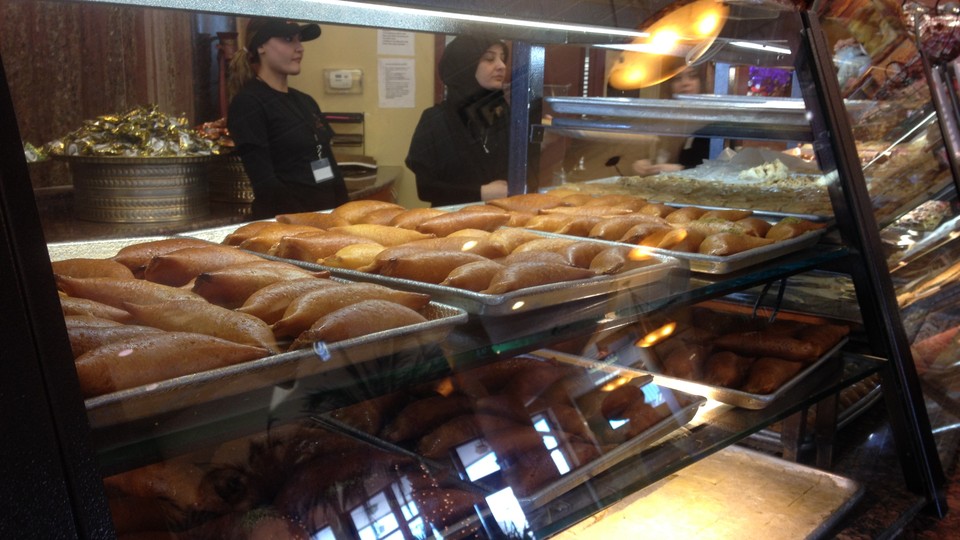 DEARBORN, Mich.—Detroit's ravaged neighborhoods don't seem to faze Zaid Al Saady. Then again, he's from Baghdad and has dreamed for years of moving to Detroit.
Al Saady spent 10 years washing U.S. Army uniforms for a military contractor in Baghdad. Then Shiite militiamen accused him of spying and threatened to kill his family if he continued working with American troops. One militant sprayed his apartment with bullets and then burned it down. But Al Saady refused to quit his job, choosing instead to hide his family outside Baghdad and apply for refugee status in the United States. His mother, who also worked for a U.S. contractor, had already been approved as a refugee and resettled in Michigan.
It took years of waiting, but finally, in early spring 2014, Al Saady got the call: A United Nations refugee officer confirmed that he, his wife, and their three children would be joining Al Saady's mother in the Detroit suburb of Dearborn, home to the largest Middle Eastern community in the U.S.
Al Saady won't forget the date he arrived in Detroit: May 14, 2014. "I had to pinch my cheeks. I thought, 'Am I really in the United States?' " Al Saady says in Arabic through an interpreter at his new home in Dearborn.
Detroit's suburbs have absorbed tens of thousands of Iraqi refugees in recent years after violence erupted in the wake of the war. The established Arab community in Detroit has made it the top destination for Iraqi refugees—and that, in turn, has made Michigan one of the states receiving the largest influx of refugees.
From 2010 to 2014, Michigan saw a 38 percent increase in the number of refugees moving to the state, according to data from the Health and Human Services Department. The vast majority are fleeing Iraq, where they faced violence and retaliation for working with U.S. troops during the war, like Al Saady, or because they belong to a religious minority. The number of Iraqi refugees arriving in Michigan nearly doubled in the last four years, with 2,751 arriving in 2014.
The growing number of refugees exacerbated the economic strain on Detroit communities as it struggled during the Great Recession. Refugees had trouble finding work, and staff was stretched thin at the social service agencies that help families resettle in the area. In 2008, the State Department started limiting Iraqi resettlement to Detroit to those who had immediate family members there. But many of those Iraqi refugees who have been resettled elsewhere in the years since still end up moving to Detroit anyway, says Mihaela Mitrofan, refugee-resettlement program manager for Lutheran Social Services of Michigan.
"With everything that's happening with ISIS, we anticipate another wave of refugees from Iraq and also Syria," says Mitrofan.
Since the middle of 2007, Lutheran Social Services has resettled more than 8,000 Iraqi refugees in the Detroit area. Christian Iraqis are usually integrated into the large Chaldean community in the northern Detroit suburb of Sterling Heights. Chaldeans are a Catholic minority group in Iraq.
Muslim Iraqis, like Al Saady, are usually sent to Dearborn, a suburb just southwest of Detroit that has provided a home for Arab-Americans of Lebanese, Palestinian, Yemeni, and other backgrounds for nearly 100 years. Lutheran Social Services runs a small office on the city's main drag, above a hookah bar and across the street from a halal grocery store.
One LSS staff member, Arjwan Khadoori, helped 13 Iraqis resettle in Dearborn this past January. Khadoori tracked down housing, took them to buy groceries, and guided them through the process of registering for Social Security cards, Medicaid, driver's licenses, and food stamps. Each person also receives $925 in federal cash assistance to help tide them over until they find work.
Another staff member, Jawhar Altahesh, persuades employers to hire the refugees. This can be tough, he says, especially in an area with such high unemployment. Sometimes employers will accuse him of taking away jobs from Americans. Even Arab-American Muslims might not want to hire women or Shiite Muslims.
"I tell them that's against the law," says Altahesh, "but it doesn't matter."
From November through January, the Dearborn office helped find full-time jobs for 30 of 50 refugees seeking employment in Wayne County.
Shatila, a Lebanese-owned bakery ("Sweets of the Middle East from the Heart of the Midwest"), has hired at least 30 Iraqi refugees in the past year, according to Atlahesh. The women work in the 4,000-square-foot factory in Dearborn, mixing dough and grinding nuts to make pastries, including Shatila's famous baklava. Men work as drivers, delivering the baked goods to Shatila's retail locations. A2Z Facility Maintenance, an Iraqi-owned floor cleaning and remodeling business, has hired another 300 Iraqi refugees since 2009.
Altahesh helped Al Saady find a hotel housekeeping job one month after he arrived. Soon, however, the Iraqi found a closer, better-paying job, working the assembly line at a local warehouse, packaging car motors and headlights that are shipped across the world.
Al Saady proudly shows off his work badge after returning home from his shift one recent evening. He makes $1,200 a month now, enough to cover the $550 rent for their two-bedroom apartment on the second floor of an old brick duplex. The threadbare apartment is an upgrade from their home in Baghdad, he says, pointing out that it has heating and air conditioning. He recently bought a flat-screen television, which the family gathers around to watch Netflix movies and Tom and Jerry cartoons.
His wife, Zainab Al-Saffar, says its a relief to be able to do things she was prohibited from as a woman in Baghdad, such as calling the cable company or allowing a male repairman into the house when her husband isn't there.
The 27-year-old is soft-spoken and smiles shyly, revealing her missing two front teeth. She knocked them out recently after slipping on ice and slamming her face into the sidewalk. She's still getting used to Detroit winters. The biggest culture shock, she said, is in how Americans regard women, children, and the elderly.
"Over there, no one cares about old people or children," says Al-Saffar, who is pregnant with their fourth child. "This one," she indicates, "will be American."
Her husband already considers himself American. U.S. soldiers in Iraq and native Detroiters have treated his family far better than than his own countrymen, he says. The United States might even give him the opportunity to finish high school. And his children will have opportunities he could have never imagined back in Baghdad.
"Maybe one will be a doctor and another a teacher," he said. "Or maybe one will join the Army."