Despite Party's Official Stance, Some Republicans Still Won't Put Staff on Obamacare Exchanges
Not all of the party's committee heads plan to change their aides' insurance—party policy or not.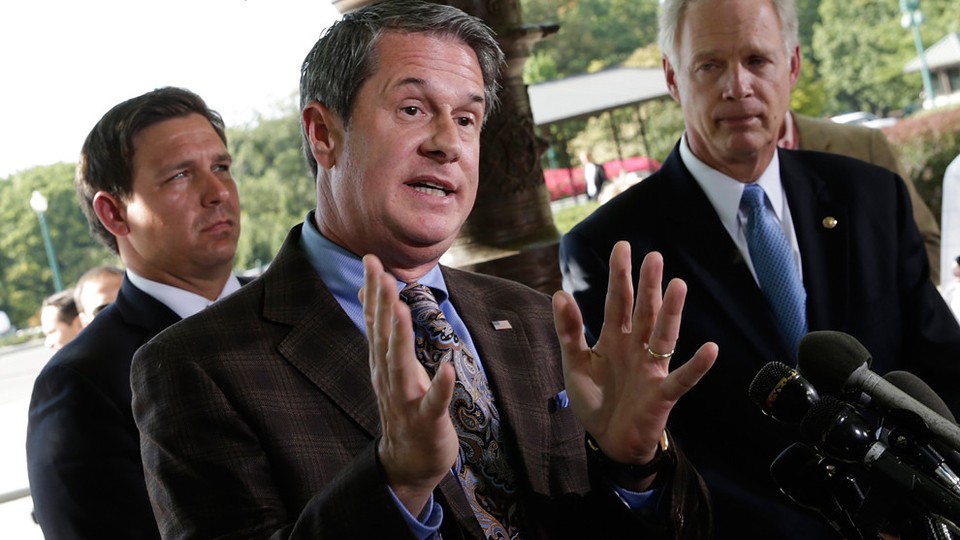 "The only health plans that the Federal Government may make available to Members of Congress and congressional staff ... shall be health plans that are created under this Act ... or offered through an Exchange established under this Act. "¦ The term 'congressional staff' means all full-time and part-time employees employed by the official office of a Member of Congress" —The Patient Protection and Affordable Care Act of 2010
Five years later, Republicans are still arguing over exactly what "official office" means.
In a closed-door vote in December, Senate Republicans unanimously decided that all their employees should get health insurance through Obamacare's exchanges. And the Republicans meant all employees: those in their personal offices in Washington, those in their personal offices at home, and—most controversially—those who work for the Republican half of Senate committees.
But there was a twist: The GOP rule was nonbinding. And, despite the decision, not all Republican committee chairs plan to follow along.
(RELATED: Here's How the GOP Wants to Replace Obamacare)
National Journal asked Republicans on the Senate's 20 committees about their staffs' health-insurance arrangements. Eight declined to comment, either explicitly or by ducking a month's worth of phone calls and emails. Eight replied saying their staffs bought insurance through Washington's small-business exchange. At least four committees still allow their employees access to the Federal Employees Health Benefits Program, just as they did before the Affordable Care Act was passed. And of the four Republican senators who lead committees whose staffs are still on the federal program, only one has committed to moving his staff off of the program and onto an exchange.
Kansas's Pat Roberts, who took over the Senate Agriculture Committee this Congress, will move his staff off of the FEHB program and onto the exchange in September, the next time members can change insurance arrangements for their staffs. (Senators' most recent opportunity to change their staffs' insurance arrangements came last year, before the GOP caucus rule was passed.)
And Maine's Susan Collins, the top Republican on the Special Committee on Aging, doesn't plan to move the committee's employees off the FEHB program this year, Jen Burita, committee spokeswoman, wrote in an email.
Wyoming's Mike Enzi is the head of the Budget Committee, another panel whose staff can still get insurance through the FEHB program. Max D'Onofrio, Enzi's press secretary, said the committee plans to continue to "follow the law," meaning there are no immediate plans to change insurance. He declined to say what they would do in September.
Mississippi's Thad Cochran, who now heads the Appropriations Committee, will consider later this year whether or not to move the panel's staff onto the exchange, according to committee spokesman Stephen Worley.
(RELATED: (Not So) Happy Anniversary, Obamacare!)
Even if Cochran, Collins, and Enzi don't move their committees' staffs, the vast majority of Republican Senate employees will still be off the FEHB program and on the exchange. Republicans, and indeed all members of Congress, have overwhelmingly moved their personal-office staffs onto the exchange. But even the small number of committee holdouts still vexes some members of the Republican caucus.
Louisiana's David Vitter—who has waged a years-long campaign against what he calls the "Washington Obamacare Exemption"—led the charge for GOP senators to pass their caucus rule. Committees that don't move their staffs to the exchanges at the first possible opportunity, Vitter told National Journal, are violating the party rule.
In fact, he wants to go a step further: Vitter says congressional employees are currently getting a "Washington exemption" to the health care law because staffers are on the small-business exchange, which allows employers to contribute to the plan. He wants them all put on the individual exchanges, a move that would make them ineligible for employer contributions.
Republicans' intra-caucus struggle is a reminder of the extraordinary political sensitivity surrounding questions over where members of Congress (and their staffs) get their health insurance—especially relating to Obamacare.
During the crafting of the law, some Republicans pushed to make participation in the exchanges mandatory for members and their employees. Anything less, they argued, would be hypocritical: Why should members of Congress mandate that some Americans participate in the exchanges if they aren't willing to do the same? And since the law passed, they've eagerly looked for examples of Democrats—or their political allies—looking to avoid the exchanges.
(RELATED: 5 Years In, 5 Busted Predictions About Obamacare)
Democrats say the law's insurance exchanges aren't intended for those who work for a large employer. Senate Democrats do not have any intraparty rule like the one Senate Republicans passed in December; instead, Democrats give individual members discretion over which staffers should be moved to the exchanges and which should still be allowed access to their pre-Obamacare federal insurance. Republicans' December resolution explicitly challenged Democrats to adopt the everybody-on-the-exchange policy, but there are no signs that the Democrats will adopt the GOP policy.
And the criticism runs in the opposite direction as well: Democrats have pounced on Republicans for joining the exchanges, or getting any other benefits from the Affordable Care Act, accusing them of benefiting from a law that they tried to block and have voted dozens of times to repeal.
Sen. Ted Cruz, the Texas Republican who once prompted a government shutdown in an effort to defund the law, took criticism from some Democrats this week after announcing he would buy insurance through the exchange. He was previously insured through his wife's position at Goldman Sachs, but she is stepping down from that role after Cruz officially joined the 2016 presidential race on Monday. (Cruz, for his part, said that he was following the law, even if he disagrees with it. His office later added that he won't take the federal contribution to his insurance plan.)
The question of insurance for congressional staffs, particularly committee staffs, has been particularly controversial, in part because of the law's wording. The law says "official office" and makes no mention of "committee office," which has been left open to interpretation—and years of disagreement. Officially, the federal Office of Personnel Management, says members of Congress can determine who among his or her staff work for the "official office," effectively giving members of Congress the leeway to decide which staffers should be on the exchange and which should remain eligible for the FEHB program.
(RELATED: If Cruz Is "on Obamacare," So Are His 2016 Rivals)
Sen. Chuck Grassley, an Iowa Republican, who is among those who pushed to put congressional staffs on the exchanges while the Affordable Care Act was being drafted, says he intended for all congressional staffers to be put on the exchanges.
He says that the law as passed, however, leaves a loophole. "In the big black hole of [then-Majority Leader Harry] Reid's office, they wrote new language, and that's what we're dealing with now," Grassley told National Journal, "and basically, the short answer to your question is: They screwed up what we were trying to do in the Finance Committee." (Reid's office declined to comment on Grassley's criticism.)
For the people actually most directly affected by the change, the results remain uneven. There's no single answer as to whether the 13,733 Congress members, staffers, and family members who have signed up for Washington's small-business exchange as of February 8 are better or worse off than before.
For some GOP staffers, circumstances have meant hefty health-insurance bills. A GOP Senate aide based in a state office said the change has meant paying about $2,500 more a year "from my own wallet."
"I don't like it," the aide said, "but I would say it's in the same boat that millions of other people are in. Putting you in that boat, you sort of learn what it is. I don't think anybody's happy about it, but it is what it is. You accept it, and you move on."
Broadly, however, the net-change faced by congressional employees depends on their individual circumstances."I think [FEHB and the small-business exchange are] both going to give good options and stable coverage for these workers," said Linda Blumberg, an Urban Institute senior fellow, "but it's always difficult when you're asked to change from something if it's something that you liked."
That's a lesson Republicans are learning, and one that they've enjoyed watching Obamacare's architects stumble over in the past few years: When a patient likes her insurance, it's tough to tell her that she doesn't get to keep it.
---
Priscilla Alvarez contributed to this article