Democrats Say Clinton Needs to Calm Supporters, Donors
Dems are relieved Clinton will finally take questions on the controversies swirling, but they know the story won't end here.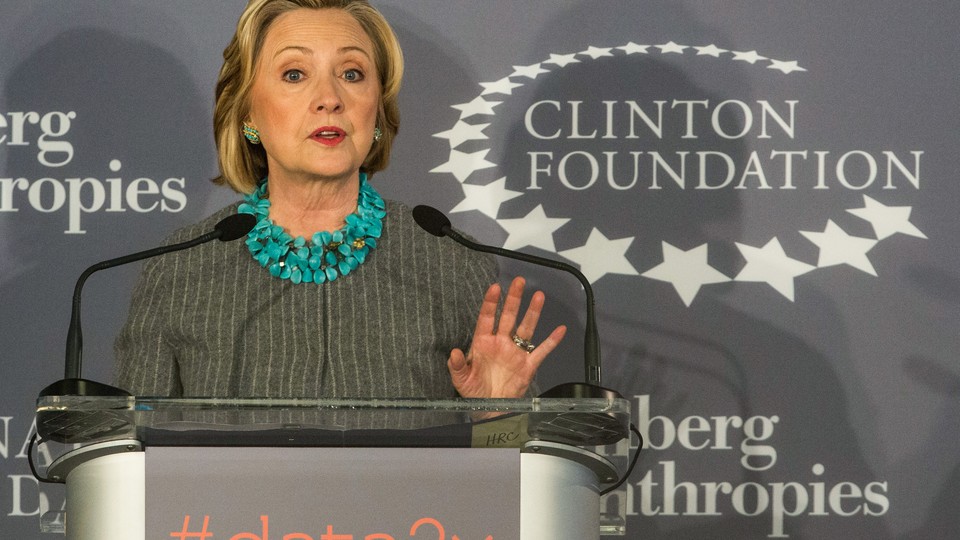 Hillary Clinton's plan to respond to damaging news that has taken the air out of her pre-campaign blitz was met with a single reaction from Democrats: It's about time.
More than a week has passed since The New York Times reported that the former secretary of State conducted all of her official business on an unauthorized, homebrew email server. Even more time has elapsed since news that her family's foundation was taking foreign donations.
Now, party operatives and strategists are welcoming the first signals they've seen from Clinton World, saying Clinton must speak publicly about these controversies if she intends to reclaim the news cycle before her expected campaign launch in April. Equally important, Clinton needs to calm the fears of Democratic supporters and donors who might be getting skittish about the strength of her campaign.
But Democrats acknowledge that while her actions will help, this planned press conference will not be the end of questions about her actions and motivations. In other words, even Clinton's supporters realize the story isn't going away.
Since the email story broke, the carefully choreographed set of public appearances meant to build momentum in the final weeks before her expected campaign announcement have been completely overshadowed. Her speech to the 30th anniversary gala of the pro-Democratic women's group EMILY's List, along with the long-planned launch of her "No Ceilings" report on global female equality and participation, were noteworthy more for her continued silence about the swirling controversy than the substance of her speeches.
"The Clinton team understands that the act of taking the questions and answering them will in and of itself demonstrate a seriousness of purpose to addressing the issue and, as a result, provide a pivot point to move forward," Democratic strategist and former Clinton White House aide Chris Lehane wrote in an email. "She and her team know that the forum where she takes questions about the emails is less important than the substance of what she says."
Democrats also say the press conference will help move Clinton to the public posture she will need as a candidate, ready to speak with voters and be more willing to answer questions.
"To a degree, this has nothing to do with the emails themselves," said Jim Manley, a longtime Democratic aide. "It gets to their need to show a bit more transparency as she moves toward her election campaign."
Still, the greater incentive for speaking with the press may be to reassure top Democratic supporters who see in the email controversy flashes of the Clinton scandals of the 1990s, according to some sources, many of whom have realized (and acknowledged) in recent days that they don't have a Plan B in 2016. By showing she can weather the storm and answer tough questions about her decisions, Clinton might help quiet the fears of those within her own party.
One such prominent Democrat, Sen. Dianne Feinstein of California, told NBC's Meet the Press on Sunday that she thinks Clinton "needs to step up and come out and state exactly what the situation is."
"They probably feel like there are some Democrats across the country that are expressing concerns—probably not rank and file, but "¦ party leaders, donors," said veteran Iowa Democratic strategist Norm Sterzenbach. "People just want to hear from her right now "¦ the goal is probably to calm those fears, and I'm guessing she'll be successful at doing that."
"I think it makes sense, and I believe she will do well," a former Clinton staffer said of the upcoming press conference, noting that she's effectively handled press conferences like this one in the past. "I imagine she can fairly quickly lower the temperature here."
Still, Democrats said, this won't be the end. Clinton and her team will likely be dealing with the effects of these revelations long after this week's events, and Republicans certainly will keep bringing the issue up.
"This story is going to continue to exist, just like Benghazi and other issues—Republicans are going to talk about it all the way until the election and beyond," Sterzenbach said.