Democrats Expect Free-for-All in Maryland to Replace Mikulski
Party strategists say an unusually deep bench of potential candidates makes predicting the Senate primary an impossible task.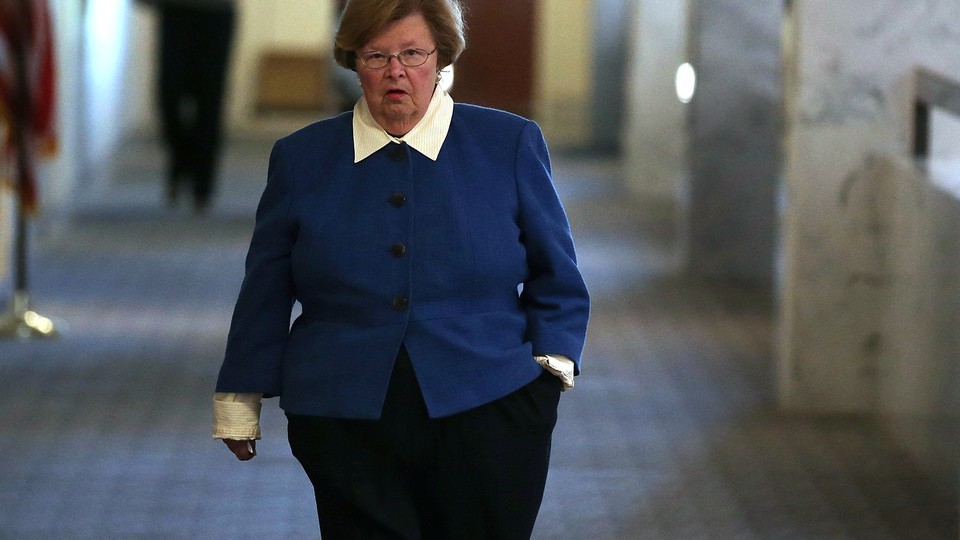 Maryland Democrats have about 12 months to accomplish something they put off for nearly 30 years: finding a logical successor to Barbara Mikulski.
The longtime senator's sudden and unexpected announcement Monday that she would retire has the party bracing for a chaotic primary to replace her, with up to a dozen candidates seriously considering a bid and no obvious front-runner to anoint.
Interviews with Democrats from across the state reveal that the behind-the-scenes maneuvering candidates usually undertake in anticipation of a major statewide opening has not occurred here, with nearly every in-state operative and leader expressing surprise that Mikulski won't return.
And few expect party leaders—already reeling from the stunning defeat of their nominee in last year's governor's race—to guide the process. Instead, the state's unusually deep bench of candidates will undertake a free-for-all battle whose outcome even veteran Democrats described as utterly unpredictable.
"It's a perfect example of what happens when a vacuum gets created," said John Willis, former Democratic secretary of state in Maryland and professor of government and public policy at the University of Baltimore. "This is the biggest reshaping Maryland Democrats have had probably since 1994."
Party insiders speculate most of the state's Democratic congressional delegation—including Reps. Donna Edwards, Chris Van Hollen, John Sarbanes, and Elijah Cummings—as well as Baltimore Mayor Stephanie Rawlings-Blake, and U.S. Labor Secretary Thomas Perez—are all likely to look closely at the race. Rep. John Delaney tweeted his interest in a bid Monday, while sources close to Anthony Brown, last year's gubernatorial nominee, say he also is"seriously" considering it.
The one candidate who could clear the field, or at least come close, is former Gov. Martin O'Malley. But the former Baltimore mayor, who is exploring a presidential campaign, is seen as an unlikely candidate for legislative office.
Democrats say anyone from the early list of would-be senators would make for a strong contender. But complicating their decisions, strategists say, is that they would also make viable challengers in 2018 to newly elected Republican Gov. Larry Hogan, who Democrats think will be vulnerable during an election year less hostile to the party.
Like in California, where talented candidates such as Lt. Gov. Gavin Newsom passed on an open-seat Senate race while eyeing a run for governor in 2018, candidates might decide to delay their move for higher office. It adds another dollop of uncertainty to an already fluid process, especially because four months ago, Democrats didn't think either race would be in play.
"Everyone thought Anthony Brown was going to win three months ago, and they certainly thought Barbara Mikulski was going to run for Senate, so the idea that there's a camp of people that are going to wait to run for governor and a camp of people who want to be in the Senate—that just doesn't exist here because all of what's happened in the last four months is so destabilizing," said one Democratic strategist, who requested anonymity to judge the race candidly. "It's not as if there's a really long process where people had to stake their claim in one race or the other."
Democrats say it's difficult, if not impossible, to handicap the field. Interest will be high in finding a woman to replace Mikulski, the longest serving woman in Congress history, and the primary's large black electorate could push for a minority to hold the post.
But ideologically, Democrats say they see few major differences among the list of candidates, particularly within the congressional delegation.
"All of our delegation makes very valuable contributions in different areas. If you were looking at a short list, you'd expect all seven of them to be great senators," said Maryland State and DC AFL-CIO President Fred Mason. "We work well with our whole delegation, seven members."
The size and shape of the eventual field could ultimately determine who wins. A half dozen serious candidates—a scenario at least one Democratic strategist considered possible if not likely—could mean that the eventual winner would need just barely more than 20 percent of the vote. With few political differences between candidates, geography may end up playing an outsized role in paring down the field. Baltimore has traditionally claimed a stronghold over statewide Democrats, but several of the top candidates in this race tout Montgomery County ties. Multiple candidates from any one area could cancel each other out.
National Republicans were quick to declare the open seat an instant "pickup opportunity" in a state they put into play during last year's governor's race. Early names on the recruiting list include Rep. Andy Harris, Anne Arundel County Executive Steve Schuh, and Howard County Executive Allan Kittleman.
But the GOP's challenge in 2016 could be much steeper in next year's race, during a presidential year where turnout patterns are favorable to Democrats. Last year's gubernatorial race featured unusually low turnout even for a midterm race, with neither Hogan nor Brown receiving as many votes as Mitt Romney received in 2012. (Both of them combined to earn barely more than the 1.6 million votes Barack Obama earned during his re-election in Maryland.)
Hogan strategist Russ Schriefer cautioned his party from getting too excited about Maryland's prospects in a presidential year, but agreed that 2014 changed the way his party should view the race.
"Particularly after Hogan's upset victory, there's a sense that you can cobble the coalition together," said Schriefer. "It continues to be about the ability to have blue-collar Democrats, the 'Hogan Coalition,' believing that [Democrats'] standard bearer is more of the same."
Given the prospect of higher Democratic turnout for a ticket topped by Hillary Clinton, though, "it's tougher," Schriefer said. "And believe me, the governor's race was tough."