Democrats' Chance to Draw Kevin McCarthy Out of a Job
California's congressional districts may be about to get invalidated, offering Democrats a chance to write the House Republicans' Majority Leader into trouble.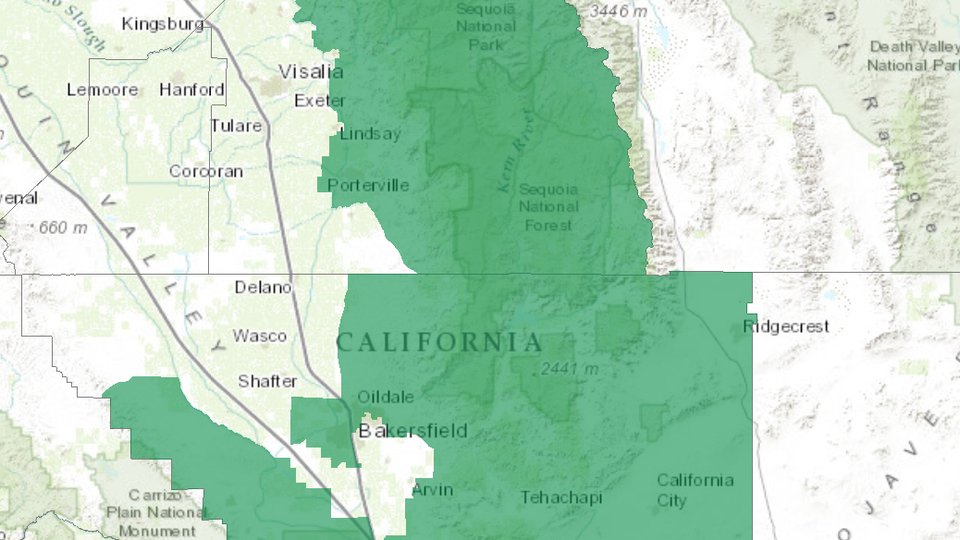 With a little help from the Supreme Court, California Democrats could get a shot at knocking Kevin McCarthy out of office.
McCarthy, the House majority leader, second only to Speaker John Boehner, currently represents a safe Republican district in California's Central Valley. But that map may be about to change: The Supreme Court is currently weighing a case that could invalidate the state's current district boundaries and hand the state's Democratically controlled Legislature the authority to redraw the map.
That would include McCarthy's district, and Democrats have several options for redrawing it that make Republicans nervous. "The real opportunity for shenanigans from Democrats is to mess with McCarthy," said Mike Madrid, a California GOP consultant.
Two strategies stand out: Democrats could either move McCarthy into the same district as neighboring GOP incumbent David Valadao, or they could turn McCarthy's current district into swing territory by roping in nearby Hispanic Democrats, an electoral counterweight in a district that currently consists mostly of non-Hispanic white conservatives.
The first option would create an internecine struggle between California Republicans, forcing McCarthy to run in a moderate district where Valadao has survived as a pro-immigration reform Republican. As of last cycle, Valadao's district was 72 percent Hispanic, and in 2012, 55 percent of voters in the district favored President Obama over Republican nominee Mitt Romney.
The second option would see McCarthy and Valadao each keep a district of his own, but would make McCarthy's district much tougher turf for the five-term representative. That may not be enough to run the majority leader out of office, but it would create challenges for a candidate who has had an easy path to reelection in recent cycles. In 2012, McCarthy got 73 percent of his district's vote, and this November, he took home just shy of 75 percent. (Representatives for McCarthy did not reply to requests for comment for this story.)
So why haven't Democrats done this already? California's most-recent district map was drawn by an independent commission, an effort by state voters to combat gerrymandering by a partisan Legislature. The validity of that map is sitting before the Supreme Court, where plaintiffs are arguing that the Constitution permits only state legislatures to draw such maps. In oral arguments Monday, the panel's conservative justices appeared skeptical that commission-drawn districts were in keeping with the Constitution.
And if they do get a chance to redraw the map, Democrats will have more leeway than before, thanks to the Supreme Court's 2013 decision invalidating portions of the Voting Rights Act. The law previously prohibited states from diluting minorities' political influence in certain districts, but that language was weakened as part of the Court's ruling. Valadao, whose district neighbors McCarthy's, includes a county that previously placed those restrictions on congressional lines, which is why his district takes an odd shape to include as many Hispanic voters as possible.
Democrats haven't specifically said they'll go after McCarthy, but they appear very much aware of the political opportunities if the Supreme Court wipes the map clean and hands them the pens. "It'll be Christmas in March if it happens for us here," said Steven Maviglio, a California Democratic consultant. "Despite all pretenses, I'm sure it'll be as partisan as they can make it."
But as tempting as Democrats might find it to target McCarthy, there are drawbacks as well. The party's top priority in redistricting will likely be to defend the state's many Democratic incumbents. And so if Democratic voters are being moved out of Valadao's district for political purposes, the party may decide to bypass an attack on McCarthy in order to provide a more friendly electorate to Democratic Reps. Jim Costa and Lois Capps—both of whom have faced close elections in recent cycles.
For now, all plans are on hold pending a ruling from the Supreme Court. The case before the Court actually started in Arizona, where the Republican-controlled Legislature is suing the state's voter-created, independent commission for drawing districts. But if the Court does strike down Arizona's system, it will almost certainly take down California's district boundaries—as well as those of several other states that handed their maps to independent commissions—and set up a chaotic political struggle as parties jockey to move the lines on the map to their advantage.
The Supreme Court is expected to issue a ruling late this spring.