Democrats Aren't Rushing To Defend Hillary Clinton
After e-mail revelations, some Democrats are dodging questions more than offering Clinton cover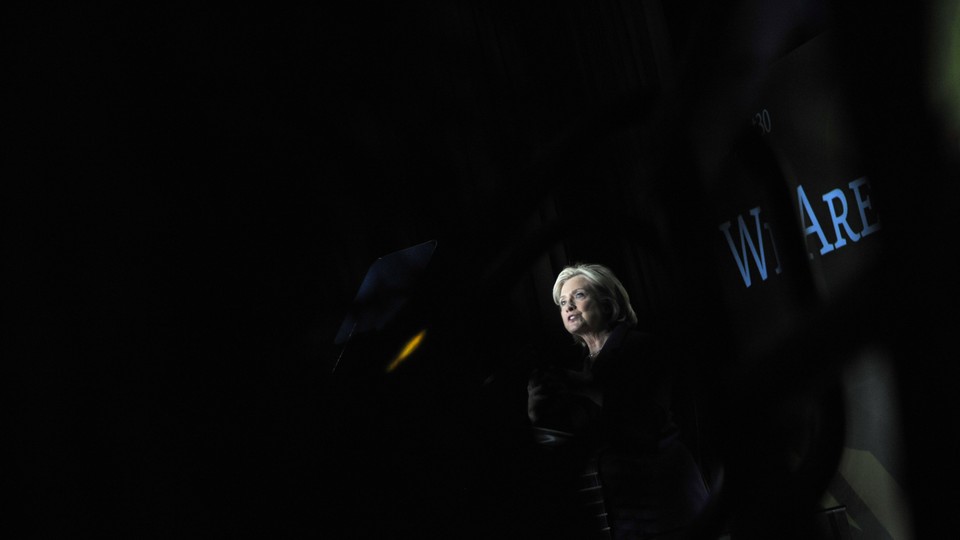 Everyone in Washington is talking about Hillary Clinton's use of a personal e-mail account during her four years as secretary of State and her homebrew computer server. Everyone, that is, except for many Senate Democrats.
As operatives, strategists and opposition research groups rush to her defense, some Washington Senate Democrats are remaining silent for the moment, saying they've been too busy with the week's packed schedule to be fully briefed on the crisis du jour.
Democrats have a difficult line to walk. They don't want to be seen hitting their strongest contender to keep the White House, but that does not mean they are rushing to shield her from criticism either. For more than a dozen senators, the easiest thing to do was to shrug off questions about Clinton's private e-mail or the fact she was running them through her own server.
"[I've] been busy with other things around here, like Prime Minister Netanyahu and ISIL and things like that," Sen. Ben Cardin of Maryland said on the way to a midday floor vote. "So I haven't looked at it yet."
(RELATED: The New, Scary Question Facing Democrats: If Not Hillary Clinton, Then Who?)
Sen. Elizabeth Warren of Massachusetts—who has built a reputation of rarely taking press questions in the hallway—kept her head down as she bristled through corridors of the Capitol basement with a crowd of reporters moving briskly to keep up.
Sen. Kirsten Gillibrand of New York asked "can we talk about it later? I have to go to my vote," she said before offering up a press staffer's name. Sen. Amy Klobuchar of Minnesota also said she was in a rush to get to votes.
A few—including Sens. Barbara Boxer, Chris Murphy and Tom Carper—came to Clinton's defense. It's not unusual for a secretary of State to use a personal email address, they said, and a law that only allows government officials to use private email accounts if they adhere to specified stipulations went into effect after Clinton left her cabinet post.
"I'd be surprised if a number of secretaries of State hadn't done that for as long as we've had email," Carper, of Delaware, said. "That's all I'm going to say."
"That's a nothing burger. Total," California's Boxer said. "There isn't one secretary of State that ever did that because the law didn't change until after she left, so they're making a mountain out of a molehill."
But most Senate Democrats who stopped to answer reporters' questions outside the Senate on Wednesday pleaded ignorance on the issue.
As Virginia Sen. Mark Warner strode through the Capitol basement, headed to cast a vote on the upper chamber's floor, he said he needed to understand more before commenting.
Montana Sen. Jon Tester was near the elevator a few minutes later, offering a similar answer: "I'm really not up to speed on that," he said. "I'm really not. I'm sorry."
New Hampshire Sen. Jeanne Shaheen repeated the same refrain later, saying "I don't know enough about it to appropriately respond."
(RELATED: Hillary Clinton Still Doesn't Get It)
As the elevator doors closed, Sen. Chris Coons of Delaware said at about 11:30 a.m. Wednesday, "I literally don't know anything about her home internet system."
And as Sen. Ron Wyden—a strong advocate for government transparency—headed toward the Senate office buildings, he said he was busy at the Supreme Court all Wednesday morning.
"I haven't had a chance to go through that. "¦ I'm going to have to go onto health," as other reporters waited to ask their questions. "I just don't have time for that one," Wyden said, indicating the question could be revisited after he'd had more time to read the latest Clinton news.
Senators Claire McCaskill and Joe Manchin, however, neither avoided the question nor toed the party line. While, McCaskill too wanted to know more, she said she is "focused" on making sure the information is publicly available somewhere.
"The most important thing is to make sure the information was archived in some way and made available in some way," McCaskill said. When probed by a reporter as to what happens if the e-mails are not archived somewhere, McCaskill said, "It has to be now."
Manchin also had heard the news. He wants to see what other facts, if any, come out of the controversy, but "it sounds like somebody made a mistake."
But did that mean Clinton herself made a mistake? "I don't know. We'll find out," he said. "I guess that someone must have advised her that this is how other people have operated." It's a position he's been in himself, Manchin said, when he asks advisors what to do, and they respond with how a task was performed previously.
"So, I don't know," Manchin said. "I don't know the facts. I really don't know the facts."
Even Rep. Elijah Cummings, the ranking member on the Select Committee on Benghazi, said he was still wading through the news and was unsure how it would affect his committee's probe. He said, however, that his job on the committee has never been simply to protect his party's potential presidential nominee.
"We will see, but I want to be clear, I am not trying to defend Hillary Clinton," Cummings said. "I am trying to defend the truth "¦ we have some things we are going to try and figure out."
(RELATED: Meet the Non-Clinton Clinton Defense Team)
Already, Cummings' counterpart, Republican Rep. Trey Gowdy of South Carolina, said he would take all legal recourse to get Clinton's emails.
"We've had new revelations even before this, we just have not trumpeted them," Gowdy said. The committee was preparing Wednesday to subpoena emails on Benghazi from Clintonemail.com accounts and staffers' personal accounts, The Washington Post reported Wednesday afternoon.
Rep. Raul Grijalva of Arizona said Clinton needs to respond quicker to avoid revisiting the issue.
"I hate the idea that it would revitalize this whole Benghazi investigations when they were dead, and they were not only conclusive, nothing was found," Grijalva said. "So the sooner the participants in this case, Hillary and the State Department, provide full disclosure, the better off we're going to be."
Some top House Democrats, such as Reps. Joe Crowley and Steve Israel, were quick to Clinton's defense.
"I don't believe that the secretary of state should be responsible for figuring out whether it was dot gov vs. dot com, and quite honestly I don't think most Americans wake up in the morning thinking about it," Israel, the former Democratic Congressional Campaign Committee chairman, said. "I'm sure the Republicans will now create a special select committee on dot gov, that's what they do, and nobody should be surprised that they're responding the way that they are."
The Clinton controversy highlights a major vulnerability that has plagued the Clinton family before. As Hillary Clinton attempts to rebrand herself and gear up for a retooled 2016 campaign, Republicans will continue to paint her as a political machine, a politician so overtly concerned about her rise to the Oval Office that she was willing to safeguard every correspondence to protect her public persona.
(RELATED: Maybe Hillary Clinton Should Retire Her White House Dreams)
"The Clintons always have a way of not telling us something that is bad news," said Republican Sen. Lindsey Graham of South Carolina.
Potential 2016 Republican challenger Sen. Rand Paul said that the emails fit a pattern of behavior.
"I think we need to be very careful about elected officials obeying the law," Paul said. "The thing that concerns me more than the emails is the fact that she has been receiving money from foreign countries ... the Constitution specifically prohibits people from taking gifts while in office."
Sen. John McCain said Clinton could have simply avoided the controversy by not sending emails, the policy he holds.
"I don't email at all," McCain says. "I have other people and I tell them to email because I am just always worried I might say something. I am not the most calm and reserved person you know? I am afraid I might email something that in retrospect I wish I hadn't."
Correction: An earlier version of this story misidentified Rep. Steve Israel. He is the former Democratic Congressional Campaign Committee chairman.