Club for Growth Promises to Back Republicans Who Buck Boehner
After an establishment group promised to air ads targeting members who vote against extending funding for the Homeland Security Department, the club struck back.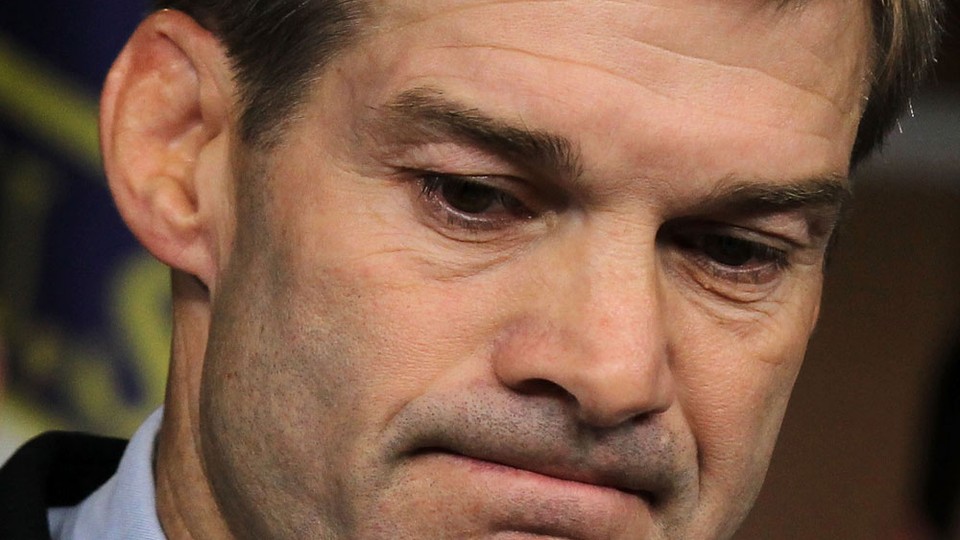 The Republican establishment is going back to battle with the party's right wing—this time over the anti-John Boehner rebellion brewing in the House.
First, the American Action Network, establishment GOP nonprofit, said it would launch ads targeting House members who have blocked funding for the Homeland Security Department in a bid to block President Obama's executive orders on immigration. The group will spend $400,000 on Tuesday and Wednesday on TV, radio, and digital ads urging the lawmakers to vote for a bill to fund the department.
"Some in Washington are willing to put our security at risk by jeopardizing critical security funding," the TV ad's narrator says, showing images of what appear to be terrorists. "That's the wrong message to send to our enemies." A similarly worded radio ad will air on The Rush Limbaugh Show and The Sean Hannity Show.
Reps. Tim Huelskamp, Jim Bridenstine, and Jim Jordan are all being hit with the broadcast ads. The American Action Network will also launch digital ads pressuring nine other antiestablishment Republicans—Reps. Raul Labrador, Morgan Griffith, Mark Meadows, Ted Yoho, Louie Gohmert, Mick Mulvaney, Tom Rice, Jody Hice, and Barry Loudermilk—to support the funding.
But the Club for Growth, a group with antiestablishment ties, struck back Tuesday, saying it would back the lawmakers who have bucked the speaker over DHS funding, even though the group has not officially taken a position on the funding bill.
"What's next? Will Speaker Boehner run ads against House conservatives who oppose raising the debt ceiling or support eliminating the corporate welfare slush fund that is the Export-Import Bank?" McIntosh said. "We have a message for those House Republicans who might be targeted: If the Speaker of the House attacks you for standing up for economic freedom and limited government, the Club for Growth PAC will have your back."
The intra-party struggle will come to a head later this week, when House GOP leadership will likely hold a vote on a bill that funds DHS but does not affect Obama's immigration efforts. Boehner's critics lack an apparent route to block that vote, which will likely pass, but they're not holding back in their criticism of his leadership. "So he just caved in there," Huelskamp said of Boehner. "Guess he forgot that a number of us had recommended that this was a poor strategy back in December."
The Senate Conservatives Fund also responded by sending a fundraising email to supporters to raise money for Huelskamp, Bridenstine, and Jordan.
This post has been updated to include the Senate Conservatives Fund's entry into the foray.