Chuck Schumer's Path to Democratic Leader Looks Clear
Durbin won't run, and Reid has endorsed the New Yorker to succeed him.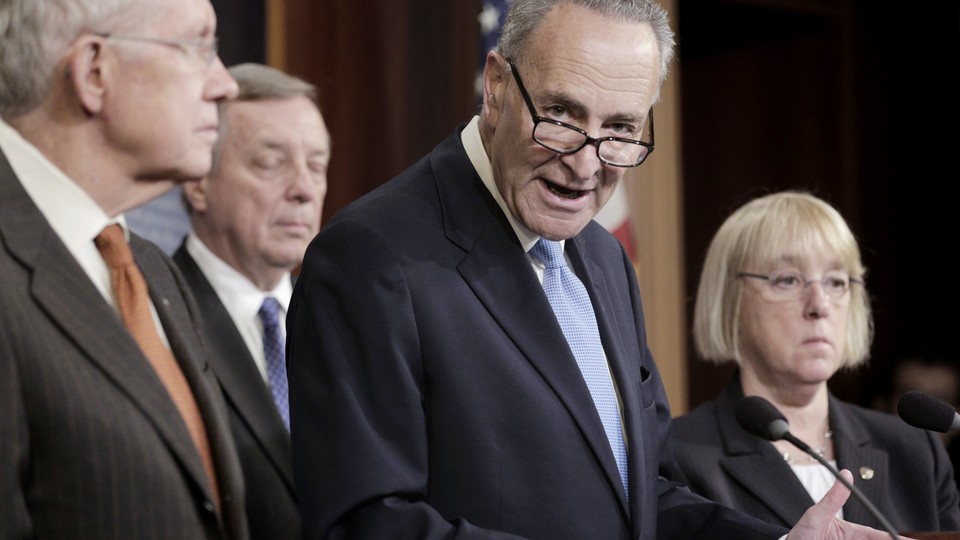 The race to be the next Senate Democratic Leader was over before it began.
There are only two Democrats in the Senate who have been viewed as legitimate candidates to succeed retiring Sen. Harry Reid in the party's top slot: Dick Durbin of Illinois and Chuck Schumer of New York. And before the dust had cleared on the day Reid announced his exit, the field was down to one: Schumer.
"Senator Durbin told Senator Schumer late last night that he wasn't running for Leader, and that Schumer has his support," a Durbin spokesman said Friday afternoon. "Durbin intends to run again for Whip and has Senator Reid's support. He's been speaking with senators this morning."
Reid had already given Schumer his blessing. "I think Schumer should be able to succeed me," the departing leader told The Washington Post Friday morning.
And Schumer, in a press release that already sounded like a victory speech sent out from his office Friday afternoon, declared: "I am honored and humbled to have the support of so many of my colleagues and look forward to our Senate Democratic Caucus continuing to fight for the middle class."
A source close to Schumer said Friday that when the No. 3 Democrat learned of Reid's retirement plans Thursday, the Minority Leader encouraged him to make calls to shore up support among the conference. Despite the budget vote-a-rama on the floor that kept members in the chamber for more than 13 hours on Thursday afternoon into early Friday morning, Schumer spent his downtime on his flip-phone calling around for commitments from fellow Democrats. By mid-day Thursday he had commitments "from the overwhelming majority of the caucus," the source said.
Schumer, with his brazen delivery of the Democrats' political message and much-lampooned love of the TV cameras, had long been considered the front-runner. He is also credited by both Republican and Democratic aides with helping to smooth ties between Reid and Majority Leader Mitch McConnell, who have a frosty relationship.
Durbin's disinterest in the top job won't come as a surprise to many in the Democratic conference, who long assumed that Schumer was next-in-line for Reid's job. The minority whip led Senate floor operations for the Democrats while Reid was recovering from his serious January exercise accident., but repeatedly stated at the time that he was simply filling in, and his stance at the front-left lectern on the Senate floor, Reid's usual spot, was not an audition for the top job. Asked by National Journal in January whether he'd lost interest in eventually replacing Reid, Durbin quipped: "That assumes I was ever interested in it."
Durbin, the minority whip, led Senate floor operations for the Democrats while Reid was recovering from his serious January exercise accident. He repeatedly stated at the time that he was simply filling in, and his stance at the front-left lectern on the Senate floor, Reid's usual spot, was not an audition for the top job.
Much to the chagrin of their staffers, Durbin and Schumer also are frequently portrayed as rivals. They deny they are competing with one another. Yet they have been viewed as the two potential leaders-in-waiting for years, even as they were longtime roommates in a famous Capitol Hill group house.
(RELATED: Harry Reid Will Not Seek Reelction in 2016)
Current and former Democratic aides say that both Durbin and Schumer have outstanding relationships across the caucus. One former aide noted, however, that Schumer has spent a lot more energy than Durbin courting the newer members. And Schumer has kept the Rules Committee top Democratic slot—which includes power over perks such as office space—specifically to keep in touch with senators and their needs. Those facts, combined with Durbin's past insistence that he does not want to be Democratic leader, made it clear even before Friday that Schumer probably had the post locked up.
Reid announced Friday that he will not seek reelection in 2016, after consulting with his wife, who has had her own health problems, battling breast cancer in 2011. Reid also said that withdrawing from the race—which was poised to be tough—would free up resources for other Democrats seeking Senate seats and help his party regain the majority.
Reid's retirement next year will set off a flurry of shuffling for Democratic leadership in the Senate. Durbin and Schumer are obvious choices for the top spots. The only question is who will be No. 1. Patty Murray of Washington is also in a position to take on a leadership role. She and Durbin took the lead in Democratic messaging and floor procedures during the recent budget debate, and she has twice run the Democratic Senatorial Campaign Committee.
Other possibilities for promotions include Jon Tester of Montana, who currently heads the DSCC, and Elizabeth Warren of Massachusetts, who helps devise Democrats' policy objectives. Amy Klobuchar of Minnesota, Debbie Stabenow of Michigan, and Mark Warner of Virginia also hold leadership spots that could change in the next Congress.
(RELATED: Democrats Have a Harry Reid Problem)
GOP aides see Schumer as the better choice, although they are not privy to the inner workings of the Democratic caucus, which is where Durbin shines. They certainly prefer Schumer over Reid. One GOP aide had this to say about Schumer: "He's a highly partisan, ideological, hard-driving, trash-talking "¦ dealmaker. Ha. He fights with gloves off, but at the end of the day—in every way unlike Reid—he wants to get something done."
Senate leaders—majority and minority—have arguably the hardest jobs in Congress. Compared with their counterparts in the House, they have very little power to move legislation because they consistently need cooperation from the opposing party. And in Democrats' case, the Republicans have been a tough nut to crack. Reid managed to hold on to the top spot in the Senate in part because he has made sure that members of his own party are taken care of above all else.
"The reason why he has been leader so far is that in the end, each and every member of his caucus knows that everything he does is to protect the caucus—from [ultra-liberal] Bernie Sanders to [moderate] Joe Manchin," said Jim Manley, a former aide to Reid and longtime Democratic Senate staffer who now runs his own consulting firm.
When Reid was majority leader, he not only had to be versed in each member's pet policy areas, he also had to keep track of minutia like flight schedules, Manley said. Senators from the West Coast greatly appreciated it if he would wrap up Senate business on Fridays by 1 p.m. That, combined with ensuring that they weren't faced with damaging votes on Republican ideas, made Reid's job particularly tough.
It's common for Senate Democrats to settle these leadership issues without contentious elections in their caucus. The last time there was a serious, ballot-counting contest for the Senate Democratic leader was in 1994, when Chris Dodd of Connecticut challenged Tom Daschle of South Dakota. Daschle won by one vote.
This article has been updated with news Friday afternoon.