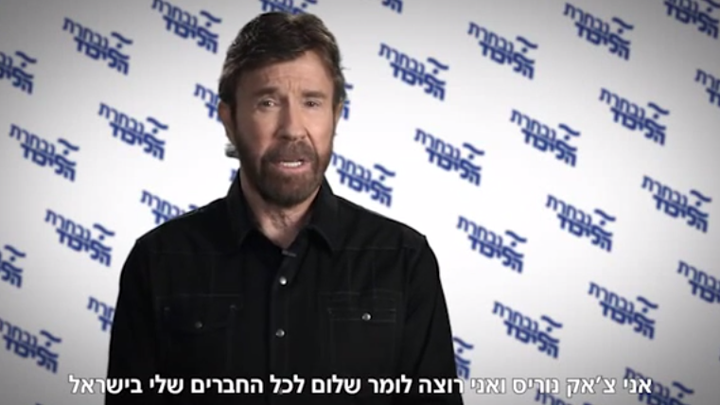 Israeli voters will cast their ballots Tuesday to decide who their next prime minister will be: their current prime minister, Benjamin Netanyahu—who has recently slipped in the polls—or Isaac Herzog, a Labor Party leader.
Time to bring in the Hollywood talent.
On Monday, Chuck Norris and Jon Voight—American actors known for their roles in action franchises such as Walker, Texas Ranger and National Treasure, respectively—released videos supporting Netanyahu's reelection campaign.
"I have done three movies in Israel—Delta Force being my favorite—and I formed many friendships while there," Norris said in his video, subtitled in Hebrew. "That's why it's so important to keep a leader who has the courage and vision to stand up to against evil forces that are threatening not only Israel but the United States."
This isn't the first time Norris has cut an ad endorsing Netanyahu—he made another in 2013.
In a video posted to Mike Huckabee's Facebook page on Monday, Voight went further, echoing comments about President Obama that Rudy Giuliani made a few weeks ago.
"President Obama does not love Israel. His whole agenda is to control Israel, and in this way he can be friends with all of Israel's enemies," Voight said. He added that those who believe "deal-making is the solution to what Israel faces are as wrong as Neville Chamberlain believing he made a peace deal with Hitler. We must learn from history where the true danger lies."
Netanyahu's election comes on the heels of a contentious address he gave to Congress earlier this month, which played out after much sniping between the White House and congressional Republicans. On Monday, Netanyahu took a hard line on his country's national security, telling a local news agency that there will be no Palestinian state if he gets reelected.
Update: Netanyahu sent out this tweet Monday afternoon.
Thank you for the campaign support @chucknorris ! http://t.co/ZdNIVrUHRn #israelex

— Benjamin Netanyahu (@netanyahu) March 16, 2015
We want to hear what you think about this article. Submit a letter to the editor or write to letters@theatlantic.com.
Emma Roller
is a former staff correspondent for
National Journal
.