Capitol Hill Sledders Stick It To the Man
"Sled Free Or Die," proclaim peaceful protesters just wanting to have some fun in the snow.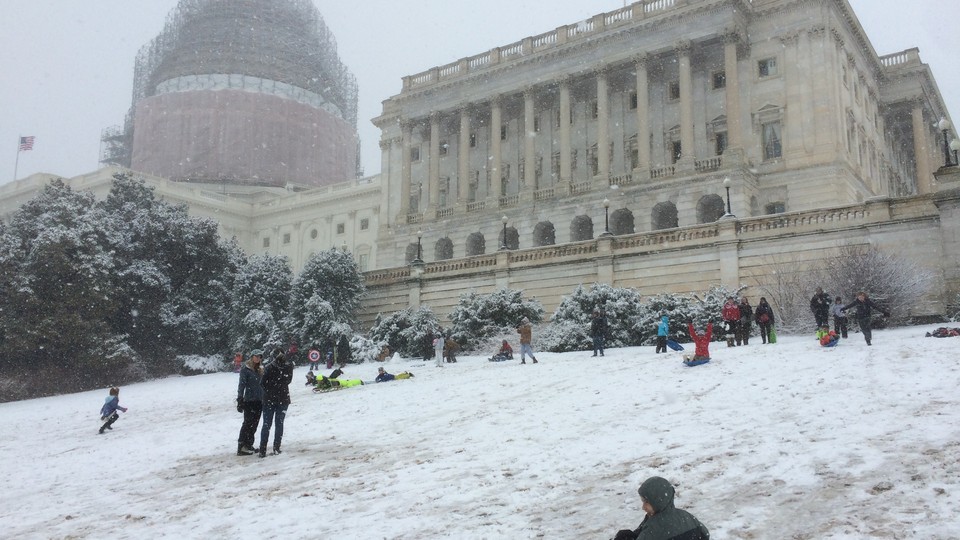 The slope of Capitol Hill isn't all that steep, the snow wasn't all that deep, and throngs of reporters stood gawkingly in the way. But on this snow day, nothing was going to stop a few dozen children and their parents from asserting their right to sled.
"I think we can declare victory," Lyndsey Medsker, the organizer of Thursday's "Sled Free or Die" sled-in protest, said an hour into the event. Since 2001, the Capitol Hill police has banned sledding on the grounds. Seeing the forecast this week, Medsker posted a petition on Change.org to overturn the policy. D.C. Delegate Eleanor Holmes Norton also took up the cause, requesting police lift the ban, but to no avail. Disappointed, Medsker thought a dose of snowy civil disobedience might work instead.
At least twenty sledders showed up to the sled-in Thursday afternoon, some with protest messages like "let us sled" emblazoned on their little luges. "There are really serious problems out there in the world," Medsker says. "I thought this was one little thing I might be able to change."
"Can we go home now?" her son, Finley, said during our interview. Apparently, sticking it to the man is tiresome work.
Capitol police were on scene and informed sledders of the ban, but made no efforts to stop the activities. Medsker suggest that it was the media attention that scared them off. Aside from print reporters, film crews from CNN, CBS, and even the UK's Sky News were there to capture the action. An hour and a half after the protest began, Holmes Norton declared victory on Twitter (she was not in attendance):
No enforcement of #sledding ban on Capitol Hill today. Thank you Capitol Police!

— Eleanor H. Norton (@EleanorNorton) March 5, 2015
Capitol police on scene did not respond to questions from National Journal. Calls for comment to Capitol police have not been returned. A spokesman for U.S. Senate Sergeant at Arms Frank J. Larkin said Larkin has no comment at the present time. Yesterday, Larkin, who also is the chairman of the Capitol police board, reaffirmed the sledding ban. "The Capitol grounds are not your typical neighborhood hill or playground," Larkin said in a statement.
Tell that to the kids. Backed up by parents, they were unfazed about breaking the rules.+ Brandon Ashley, 30, a hill staffer, at the sled-in on Capitol Hill, March 5, 2015. "It's very much about liberty," he said of the protest. "Kids have fun, that's what it comes down to." (Brian Resnick)
"I was a little bit nervous at first, but then I saw a lot of people here so I was less nervous," Elizabeth Petty, 9, said from the top of the slope.
Her mom, Trish Petty, said the day provided a good lesson for her daughter. "We talked about civic pride," she said. "If we let them say no to this, and no to that, and no to everything—then we have no rights." Petty and other parents commented that as residents of Capitol Hill, security concerns often intrude into their lives.
"This is our neighborhood and we want to sled," Kat Cummins, a Capitol Hill resident, said. "The kids are cooped up all day, there is no school. This is their public space."
Her daughter, Cate McGreggor, 8, took a moment to think about what she would do if Capitol Hill police asked her to stop sledding. "I would want to keep sledding a lot," she said. Because "it's cool."
Heather Hill, a 29-year-old Capitol Hill resident, came with a makeshift garbage bag sled. To this reporter's eyes, it didn't seem to be the most effective vehicle, though she did get down the slope in fits and starts. When asked about how the ride went, she responded: "It felt like a version of freedom: fast, short and sweet."