Can Technology Get More Students Through College?
Officials at Virginia's largest community college are turning to data analytics in the hopes of boosting graduation rates.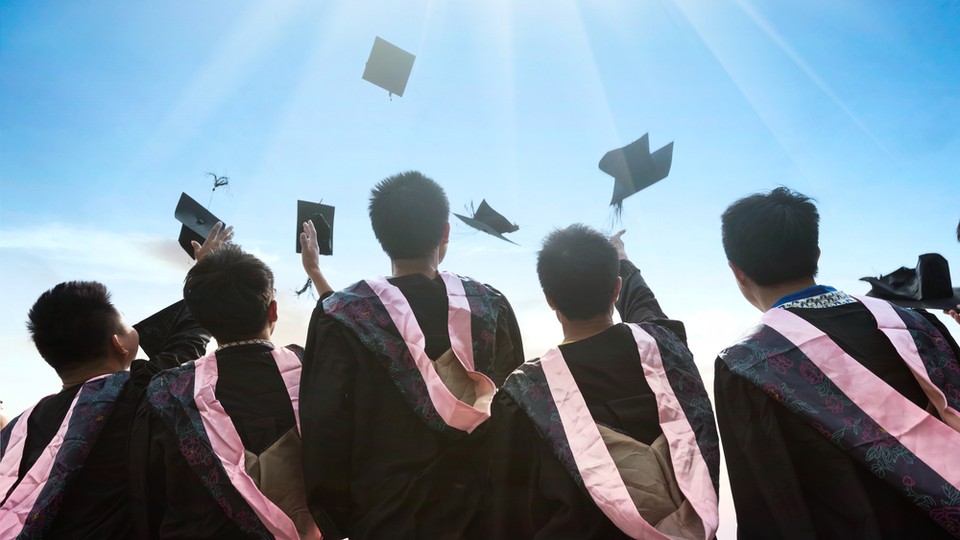 ANNANDALE, VA—The immediate concern of the first-year student who had come to meet with Whitney Hammond, an advisor at Northern Virginia Community College, was whether failing a math class would affect her financial aid. But as the student unraveled her worries, it became clear that math wasn't her only problem. "I'm tied up right now," she kept saying. "The only time I study is when I come home from work, at 11 o'clock at night." She said she worked long hours to help pay her mom's bills. And while she was a business major, she was more interested in studying art.
Northern Virginia Community College (NOVA) recently introduced an advising system—complete with digital tools—designed to help advisors like Hammond keep students on track to earning a degree. It's one of many changes the college has made after reviewing both internal data on first-time students and national research. And it makes NOVA part of a trend among colleges and universities to embrace data analytics as a way of more pinpointing the obstacles that prevent so many students from reaching graduation.
This year, Next America will be following NOVA's efforts to raise its graduation and retention rates. With about 78,000 students across its six campuses, NOVA is the largest public two-year college in Virginia. It's where many graduates of T.C. Williams High School, which we're also following, enter college. Fifty-five percent of NOVA students are African-America, Asian, or Hispanic, and many are the first in their families to go to college.
Nationally, community college graduation rates are low. One-in-five first-time students studying full-time are able to earn a two-year degree within three years, according to federal statistics. Over the past decade, NOVA has raised its graduation rate from 12 percent to 23 percent.
There are few barriers of entry for community colleges: They have minimal admission requirements and charge relatively low tuition. But that doesn't mean an easy path for students to chart. NOVA offers 76 different two-year degree majors and 68 shorter certificate programs. Students who want to transfer to a four-year university need to be on top of their intended university's requirements to make sure that their transcript fulfills them.
Many community college administrators want to find ways to help students navigate their way to a degree and, if desired, a successful transition to a four-year school. But it's not easy to keep track of such a fluid student body. The majority of NOVA students attend part-time. Some disappear for a semester, reappear the following fall, and then disappear again. Students don't have to tell anyone when they switch degree programs, which often prolongs their time at the college.
In an effort to get a handle on helping students, NOVA administrators are using data to detect and address the challenges students face. That's unusual for a community college, says George Gabriel, vice president of NOVA's Office of Institutional Effectiveness and Student Success Initiatives.
"Data guys are sometimes almost like a back-room operation" on some campuses, Gabriel tells me on a recent visit to NOVA's administrative campus. His portfolio includes the rehauling of NOVA's advising and tracking system, and he's constantly pushing the college to base more decisions on data, with the full backing of NOVA's president. At the administration's weekly "cabinet meeting," Gabriel leads discussion on the first two agenda items: student access (essentially, enrollment), and student success (retention, transfers, and graduation rates).
NOVA's institutional research team digs into all the data the college routinely tracks—like enrollment numbers, transfer rates and course grades—and assesses external data such as local employment patterns as well. They track student surveys and are constantly looking to identify pitfalls.
For years, NOVA graduates had been telling the university that the advising system needed an overhaul. Counselors were widely available, but that didn't stop students from discovering—at the last minute—that they were missing key credits and couldn't graduate as planned. The college assigns each student a faculty advisor, but some students have no idea who their advisor is.
NOVA started to assess the resources available to new students in 2007, when it joined Achieving the Dream, a network of community colleges primarily funded by the Lumina Foundation. NOVA piloted an orientation for first-time students and studied whether participants were more likely to return the following semester. Then in 2010, as part of its re-accreditation process, NOVA set a goal of improving advising for first-time students.
The new approach, called GPS for Success, launched college-wide last year. NOVA hired advisors, like Hammond, who each manage a caseload of first-year students. The college also made changes based on its Achieving the Dream research. Now all first-time students have to take a placement test and enroll immediately in any necessary remedial courses. They must attend orientation, meet with their first-year adviser before registering for classes, and take the college skills course.
These improvements to more traditional guidance activities are just the first step. NOVA recently purchased a computer system called AgileGrad that allows faculty and advisors to share electronic notes on meetings with students. It allows students to plot out the courses they'll need to graduate, and chat with advisors online. And like all Virginia community colleges, NOVA has started using an early alert system called SAILS, or Student Assistance and Intervention for Learning Success. It allows faculty members to send a student and advisor an alert at the first sign of academic struggle.
From her cozy cubicle, decorated with memorabilia from alma mater George Mason University, Hammond can meet with students in person or check on their progress online. "I get that on a daily basis," Hammond says of SAILS alerts. She's found that double intervention—an alert from a professor and a conversation with an advisor—can be powerful.
The business major who dropped by in February had come by during walk-in hours; she wasn't on Hammond's caseload. Ideally, the new systems will give advisors more information about students they haven't worked closely with before, allowing them to give better advice and have deeper conversations.
It's too early to tell whether the GPS for Success program will help students graduate, or whether the digital tools are paying off. Not all faculty use the SAILS system yet, and not all advisers are taking notes in AgileGrad. There will always be students who don't read their email, and there will be students who face challenges that the college can't address.
But administrators believe data-driven changes will make a difference in raising completion rates. Gabriel would like to go even further, integrating NOVA's student data to create predictive algorithms that identify at-risk students or detect early academic or financial warning signs. Ideally, he'd also have the school collect behavioral data, like whether students are attending class or what they're saying on social media.
That kind of data collection is controversial, says Gabriel. But if the college had more information, it might be able to help students chart a better direction. "That type of very proactive support to students—that's the only way community colleges will succeed," he says.
Next America's Education coverage is made possible in part by a grant from the New Venture Fund.
---
Libby Isenstein contributed to this article