Budget Fight Gives Van Hollen a Chance to Court Liberal Skeptics
The top Budget Committee Democrat has a platform he can use in his Senate primary battle with Donna Edwards.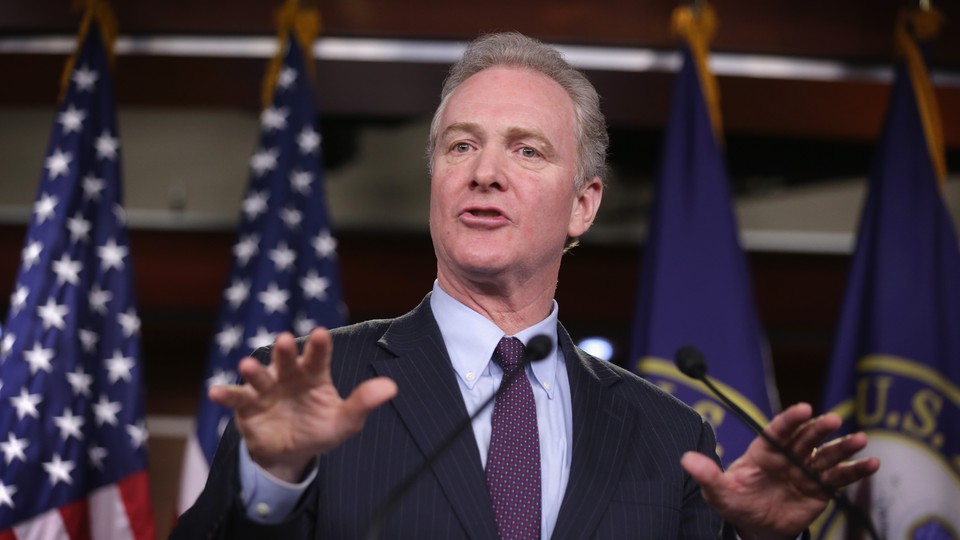 The pattern in recent years has been the same: Republicans release a budget, Chris Van Hollen attacks it. But this year is different—Van Hollen has something to prove, and another job in his sights.
The ranking member on the House Budget Committee has spent recent days bashing the GOP's budget plan at every opportunity—in press conferences, news releases, and sit-downs and conference calls with reporters. He also released the Democrats' own budget plan Monday afternoon, calling it a blueprint for "broadly shared prosperity."
In the nascent stages of his Maryland Senate campaign, Van Hollen's budget role is a neatly-timed opportunity to win free media as a defender of progressive values—even as some liberal groups line up behind Rep. Donna Edwards. "Our budget is a budget to reward Americans who are working hard every day to get ahead," he said in a Monday press call. "Republicans turn back the clock and disinvest in America."
To Van Hollen and his allies, the budget battle illustrates his clout on fiscal issues, policy chops he says are a key part of his Senate qualifications. "This reminds everyone that Chris Van Hollen is the person who has been battling the Republican budget and putting the meat on the bones of Democratic principles for years, from the budget alternative to his economic action plan," said a Van Hollen ally. "He is an effective messenger and a strong fighter for things that the entire caucus believes in. The budget debate dovetails nicely with what he'll be arguing for as he runs for Senate."
(RELATED: Mikulski, Progressives Furious About Reid's Meddling In Maryland)
Edwards' supporters see it differently. Van Hollen's role as the party's budget attack dog, they say, doesn't mean he reflects liberal values on all fiscal issues. The main point of contention is Social Security, where some on the left believe Van Hollen's past positions have been too amenable to cuts as part of a deficit reduction deal.
"There was an attempt last week by Congressman Van Hollen to paper over the differences between the two candidates on Social Security," said Democracy for America's Neil Sroka, an early Edwards backer. "For us, there still remains a really clear distinction."
At issue is Van Hollen's past support for the Simpson-Bowles deficit reduction plan as a "framework" to avert automatic spending cuts. Included in the plan were cuts to Social Security, which Van Hollen has said he opposes. He voted against Simpson-Bowles when it hit the House floor in 2012, and last week signed onto a plan to expand Social Security.
Still, some progressives believe he's only taken such positions after being chastened for his early support. "Congresswoman Edwards from day one has been fighting to expand Social Security," Sroka said. "She's been long in this fight. [Voters] want someone who's not just going to be there with them when it's easy."
(RELATED: Van Hollen Senate Run Would Scramble Race to Succeed Pelosi)
Other liberals agreed. "It's not enough for Van Hollen to say he'll never cut Social Security. Donna's been saying she'll expand Social Security," said an activist with another group that backs Edwards. Still, he admitted the policy distinctions between the two may be slight. "Are there going to be huge policy fault lines? I don't know, maybe not. ... Van Hollen has a perfectly good record on progressive issues, but Donna has an amazing record on progressive issues."
Edwards' campaign declined to comment for this story.
Van Hollen's backers say such attempts to find daylight between the two are ill-conceived, citing his high marks on many progressive groups' voting scorecards. And his front-and-center role in the budget battle, they say, illustrates the gravitas he'd bring to the Senate.
But even as the budget fight dominates Washington headlines, Edwards' backers are skeptical it will resonate in the Senate race. "I don't necessarily think that the budget fight is going to advantage any one particular candidate," Sroka said. "Those of us in Washington are focused on the interesting things in the budget battle, but even in Maryland, which is not too far from D.C., folks just aren't paying attention to that sort of granular minutiae."