Ben Carson Is Not Going to Talk About Gay Marriage Anymore
"I'm just not going to fall for that anymore," Carson told Sean Hannity on Wednesday.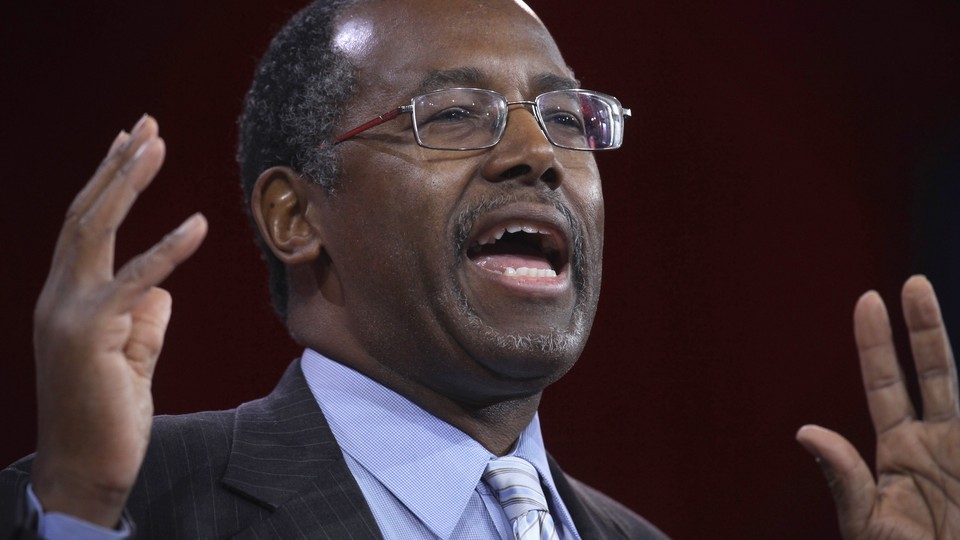 Nearly immediately after announcing an exploratory committee to run for president, Dr. Ben Carson was mired in flack for comments on gay marriage he made to CNN.
Appearing on CNN's New Day Wednesday, Carson asserted that homosexuality is a choice, a point he illustrated by talking about men who go to prison.
"A lot of people who go into prison go into prison straight and when they come out they're gay. So, did something happen while they were in there? Ask yourself that question," Carson said.
Carson is hardly the first Republican to reference prison rape in his political rhetoric; Mike Huckabee titled a chapter in his latest book, "Bend Over and Take it Like a Prisoner!"
Later on Wednesday, Carson appeared on Sean Hannity's radio show, and Hannity brought up the CNN exchange.
"You were asked a question—and it's gonna come up, these questions are going to come up all the time—this one happened to be about gay rights. And you said that you believe that it is a choice: you know, nature, nurture, all that sort of thing," Hannity said. "Why don't you explain what you said?"
"First of all, it was a 25-minute interview. They chopped—and you see what part they emphasized," Carson replied. "We talked about some really important things. None of that was brought out. But I did learn something very important: for certain networks, never do a pre-taped interview. Always do it live."
Carson added that he is not against rights for gay people, only their ability to get married.
"Here's the point: I believe in traditional marriage between a man and a woman. I also believe that our Constitution protects everybody regardless of their beliefs, and that includes people who are gay," Carson told Hannity. "I have no problem with them doing whatever they want to do. I'm just not willing to change that position on marriage for anybody, because once you do that, you have to change it for everybody else who comes along. And why would we want to do that? We have something that's worked just fine for thousands of years to create a nurturing environment for raising children, and I think that's where we ought to leave it."
Carson ended his defense by saying he has a new strategy to avoid attracting the Gaffe Police: he isn't going to talk about gay marriage anymore.
"I simply have decided I'm not going to really talk about that issue anymore because every time I'm gaining momentum, the political press says, 'Let's talk about gay rights.' And I'm just not going to fall for that anymore," Carson said.