At AIPAC, Sen. Menendez Goes Head-to-Head With the Obama Administration on Iran
The New Jersey senator, and ranking Democrat on the Foreign Relations Committee, takes his Capitol Hill fight to AIPAC and vows not to back down—even from his allies.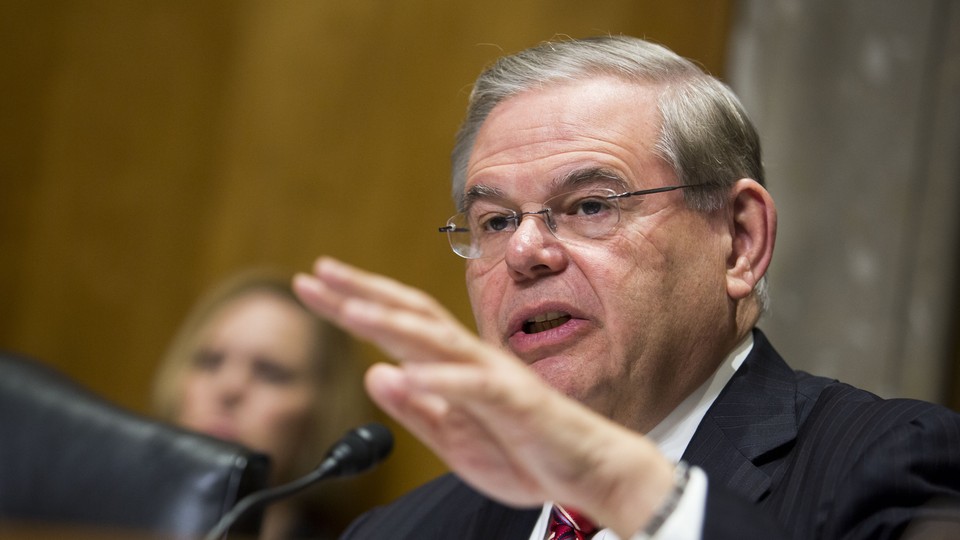 Sen. Bob Menendez takes joy in being on the wrong side of Tehran, and he's not afraid of being at odds with his own party's White House.
"When it comes to defending the U.S.-Israel relationship, I am not intimidated by anyone—not Israel's political enemies and not by my political friends when I believe they're wrong," Menendez declared to an energized crowd at the AIPAC policy conference Monday evening.
A call to action for his fellow members of Congress, Menendez vowed never to back down from a brawl to defend the U.S. and Israel's "sacrosanct" and "untouchable" relationship.
"As long as I have an ounce of fight left in me, as long as I have a vote and a say and a chance to protect the interest of Israel, the region, and the national security interests of the United States—Iran will never have a pathway to a weapon," Menendez says. "It will never threaten Israel or its neighbors, and it will never be in a position to start a nuclear-arms race in the Middle East. Not on my watch."
(RELATED: Menendez Will Give Up Foreign Relations Post)
Menendez's speech marked a crescendo in a long and—at times—tense relationship with the Obama administration. As the White House seeks to negotiate a nuclear deal with Iran, Menendez has been the leading Democrat questioning the process. While President Obama has demanded cooperation from Congress, the Foreign Relations Committee's top Democrat sponsored legislation in December that aimed to bog Iran down with more economic sanctions. His intent was to put more pressure on the country to cooperate with the United States, but the White House claimed it undermined its months-long discussions.
Menendez backed off of his push for additional sanctions in January, saying he would wait until March 24—the negotiation deadline—before advocating again to bring them to the Senate floor. But Menendez has continued to carry the torch publicly against a "bad deal."
"It is not a good deal if it leaves Iran as a threshold nuclear state or if Iran decides to kick out inspectors," Menendez said Monday night. "It's not a good deal if Iran proceeds on a covert path and we have no more than a year to respond. It's not enough time for us to do anything other than exercise a military option."
If the deal falls apart or no deal is obviously imminent, Menendez has promised to take action immediately. He has also sponsored bipartisan legislation that allows Congress to vote on a deal if it includes provisions to roll back congressionally issued sanctions.
(RELATED: Robert Menendez: "I Am Outraged" Over Federal Corruption Charges)
Menendez has been forced to straddle the line between his two political allegiances: one as Democrat and the other as a member of the Senate. Over the last several months, Menendez has made his frustrations with the Obama administration public. Shut out of foreign policy negotiations, Menendez has urged the Obama administration to work closer with Congress. It is not just Iran where Menendez and Obama differ: He has also derided President Obama's decision to normalize relations with Cuba. And in a subcommittee hearing on the the U.S.-Cuban geopolitical shift, Menendez sounded more like Republican Sen. Marco Rubio than an ally of the president's when he said, "The deal achieved nothing for Americans."
"How much more are we willing to give? How much more are we willing to do to help the Castro regime fill the coffers of its military monopoly while the Cuban people still struggle to make ends meet?" Menendez said at a February hearing.
When it comes to his criticisms of America's interest in negotiating with Iran, Menendez has been anything but subtle. He has accused the president of getting his foreign policy messaging "straight out of Tehran." That tendency toward loud disapproval, Menendez says, is something he is proud of.
"I know there are more than a few people here in Washington who say that I'm outspoken in my defense of Israel—and, frankly, I'm not only proud of it. I'm fully prepared to stand on this stage today—or on any stage anywhere, anytime—to carry that message to both the friends and enemies of Israel around the world," Menendez said.
(RELATED: Sen. Robert Menendez Just Got Indicted. Here Are the Charges)
The senator also took an overt shot at Obama's national security adviser, Susan Rice, who spoke to AIPAC just before he did, saying, "I take issue with those who say the prime minister's visit to the United States is 'destructive to U.S.-Israel relations.'" Rice called the visit and the politics around it "destructive" in an interview last week with PBS.
Republicans in the Senate say Menendez has been a rare but powerful leveraging partner: someone who can take their concerns and find even greater impact than they can at times. Instead of criticisms being dismissed for being partisan, Menendez's concerns make headlines.
"He has honestly looked at every proposal from the standpoint of 'Will this work? Does it make us safer? Can you trust them?'—and most times, he has come up with flaws in what has been negotiated by the administration," says Senate Intelligence Committee Chairman Sen. Richard Burr. "I don't want to put Bob in a box, but I have trust that he will make an independent decision moving up to the 24th, and after that, he'll make a decision that he thinks is in the best interest of the American people."
Defense hawk Sen. Lindsey Graham, R-S.C., says Menendez is seen among colleagues as someone who can go to bat for Congress when the administration isn't listening to their concerns.
"He stood up to his own party, his own administration, when he thought they were wrong," Graham says. "He is a breath of fresh air."
Even Democrats who have disagreed with Menendez's positions on Iran sanctions in the past acknowledge Menendez's clout.
"There are some difficult politics here," says Democratic Sen. Tim Kaine of Virginia. "None of us are up here just to be in line with anybody else. We are here to do what we think is best. [Sen. Menendez] has had a long standing concern and expertise on this issue, and I respect that."