Arkansas Republicans Want to Make It Easier for Tom Cotton to Run for President
A state legislator is pushing legislation that would allow the Republican to run for the Senate and the White House at the same time.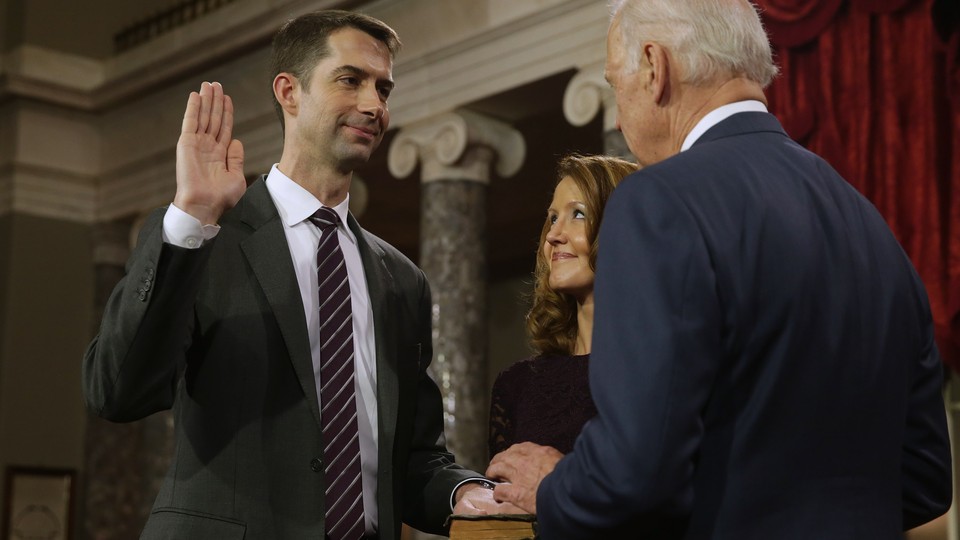 The Arkansas state Legislature wants to make it easier for Republican Sen. Tom Cotton to run for president in 2020.
The AP reported Wednesday morning that the state Senate is looking at a bill that would allow its congressional and Senate candidates to also appear on the state's ballot as presidential or vice presidential candidates. The bill's author, state Sen. Bart Hester, says he did not consult with Cotton about the bill, but Hester said the legislation is directed specifically at Cotton, whose first term is set to expire in 2020.
Cotton is only in the third month of his Senate career, and he's made no mention of a White House run. Indeed, should a GOP candidate win in 2016, Cotton would likely not even consider a run until 2024, rather than challenge an incumbent in a primary.
(RELATED: Tom Cotton: The New Ted Cruz?)
Still, the party is excited about his political future: The Senate's youngest member, Cotton is a Harvard-educated combat veteran with support from both the Republican establishment and the counter-establishment. He has quickly made waves in the Senate, positioning himself as a chief antagonist to the White House's foreign policy plans. This week, Cotton penned a letter to Iranian leaders warning against the strength of any nuclear deal struck with President Obama. The letter, signed by 47 senators, enraged Cotton's Democratic colleagues, who called it a direct attempt to undermine U.S. negotiators.
The idea of clearing the path for in-state talent to seek higher office while holding onto their current gig isn't unique to Arkansas. A similar effort to allow Gov. Mike Pence to run for both a second term and seek the White House in 2016 failed in Indiana, and Republicans in South Dakota are currently looking to repeal the "Daschle law" from 2002 that they believe could stand in the way of Sen. John Thune's political rise. Sen. Rand Paul of Kentucky is exploring a variety of options to circumvent a state law preventing him from appearing on the ballot twice, for reelection to his Senate seat and as a presidential nominee.