Ahead of Paris Climate Talks, U.S. Promises Up To 28% Emissions Cut by 2025
The White House hopes the pledge will create momentum on the road to Paris.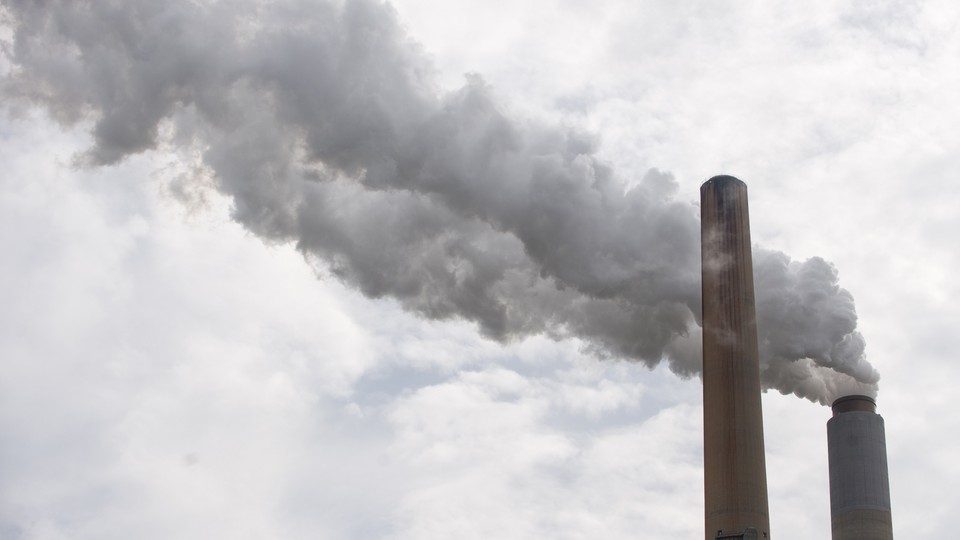 The United States announced on Tuesday that it will curb greenhouse-gas emissions up to 28 percent below 2005 levels by 2025, a major step in the fight against climate change.
America's pledge will serve as a key guidepost for other nations—and the White House hopes its commitment will build momentum for the United Nations climate negotiations set to be held in Paris later this year.
The White House announced the pledge on the online publishing platform Medium, reiterating a commitment made last fall to cut emissions by 26 percent to 28 percent below 2005 levels by 2025.
President Obama has increasingly acted to shore up a legacy on climate change. A stringent Paris climate pact could play a key role in heading off the worst impacts of global warming and would bolster his green track record.
The pillar of the climate pledge rests on the administration's regulatory regime aimed at reining in greenhouse-gas emissions, including vehicle fuel-efficiency standards and regulations to limit carbon pollution from power plants.
Tuesday's pledge met the start of a rolling deadline for nations to announce climate action ahead of the Paris talks. So far, Mexico, Norway, Switzerland, and the 28-nation European Union have also set out pledges to cut emissions.
Many developing nations are not expected to submit a pledge until much closer to the Paris conference, which starts at the the end of November.
White House senior advisor Brian Deese called the pledge "ambitious" and "achievable" during a call with reporters on Tuesday, highlighting the fact that the administration intends to rely on "laws already on the books" to fulfill the promise.
The administration plans to lean heavily on the Clean Air Act to craft regulations tht will limit emissions in the transportation and power sector. Additional laws will be relied upon to extract emissions cuts in the building and construction sector.
Environmentalists cheered the U.S. announcement. "This important commitment sends a powerful message to the world: Together we can slash dangerous carbon pollution and combat climate change," Rhea Suh, the president of the Natural Resources Defense Council, said.
But it won't be an easy road to Paris.
Obama has worked to shore up a climate deal without support from Congress. And Republicans are already plotting to undo the president's green legacy before he has time to cement it.
Senate Majority Leader Mitch McConnell along with other Republicans—including 2016 GOP contenders Ted Cruz, Rand Paul, and Marco Rubio—have been highly critical of administration attempts to rein in emissions. McConnell is urging states not to comply with the White House rule to curb carbon pollution from power plants.
McConnell called the pledge unworkable on Tuesday and sought to undermine confidence in the agreement, saying that "our international partners should proceed with caution before entering into a binding deal with the U.S."
Meanwhile, nearly every element of Obama's environmental regulatory agenda is expected to face intense legal scrutiny.
Nevertheless, Environmental Protection Agency Administrator Gina McCarthy expressed confidence on Monday that the administration's regulations can survive any challenge.
"I don't need a plan B if I'm solid on my plan A," McCarthy said during an event hosted by Politico. "We know how to do regulation under the Clean Air Act. ... Everything that the president is looking at in terms of the U.S. commitment, he has the authority to do it."
Obama has also found support from congressional Democrats: 34 Senate Democrats and 83 House Democrats sent a letter to the White House on Tuesday applauding the greenhouse-gas pledge.
Scientists warn that the planet could suffer disastrous climate consequences if global temperatures rise by more than 2 degrees Celsius above preindustrial levels, a key threshold that negotiators hope to avoid blowing past as they set the terms of a Paris deal.
This story is breaking and has been updated.