After Hours of Voting, the Republican Senate Passed a Budget. Now the Real Work Begins.
It took until nearly 4 AM, but the vote-a-rama is over.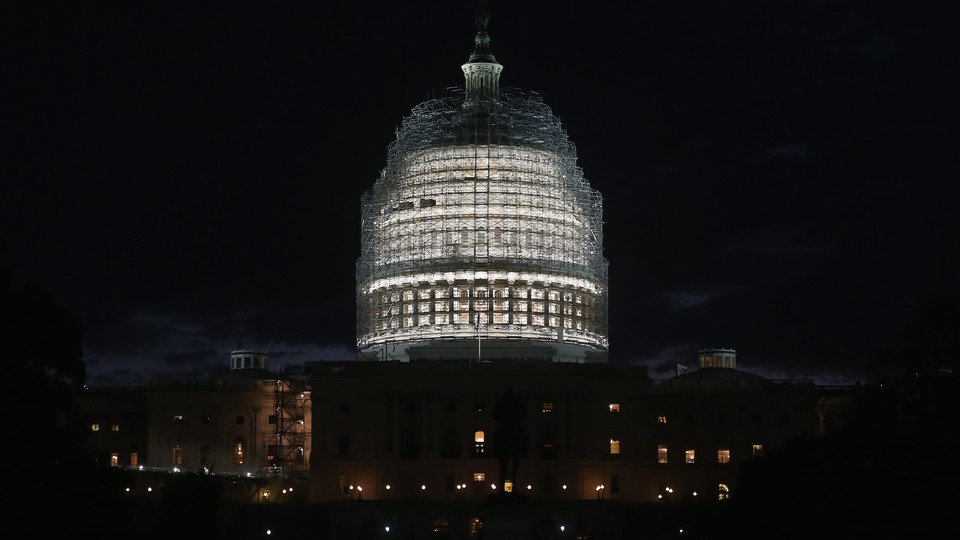 Despite the objections of two of the party's presidential candidates, the new Republican majority in Congress is halfway toward passing its first real test: agreeing on a budget resolution.
After the House passed its budget on Wednesday, the Senate narrowly agreed to its own budget blueprint early Friday morning after an all-day vote-a-rama that kept senators in the chamber for more than 15 hours, voting on more than 40 different amendments.
The entire Senate Republican conference supported the budget blueprint, with the exception of Sens. Ted Cruz and Rand Paul, both of whom had been cagey about their views of about the legislation over the past week. Sens. Lindsey Graham and Marco Rubio, two other potential White House contenders, voted in favor of the Senate GOP budget.
For the two top Republican leaders in Congress, there's no question the budget process was hard. The House had to use a rare two-pronged "Queen of the Hill" procedure to get its budget adopted, and the Senate passed its budget just before 3:30 a.m. Friday, after hours of debate, on a 52-46 vote (with two Democratic senators absent).
(RELATED: The Biggest Winners in Senate Budget Votes? Political Operatives.)
"After five days of consideration and 50 hours of debate [on] our budget resolution, truly everything that can be said has probably been said by everybody who can said it," Senate Budget Committee Chairman Michael Enzi said after the vote. "I don't think anybody has said this yet: I want to thank the people that voted for final passage ... and we now move on to conferencing."
A conference committee is expected to reconcile the relatively few disagreements between the two budgets after a two-week congressional recess.
"I know it wasn't easy. But it's a good balanced budget that everyone should want to support," McConnell said early Thursday afternoon.
It's about to get a lot harder.
The budget document isn't law; it's a symbolic and often fuzzy outline of the party's goals for the remainder of this Congress. That Republicans had such a difficult time attracting sufficient votes from their own members on what amounts to a messaging bill does not bode well for those priorities in the future.
Many of the concessions leaders made to their members in order to pass the budget are effectively IOUs. And over the next few months, rank-and-file members will come calling to cash in.
(RELATED: The Tiny Little Budget Provision That Could Destroy the Sequester)
Both Republican budgets call for repeal of the Affordable Care Act, drastic cuts to nondefense discretionary spending—and, perhaps most significant, they raise spending for defense while making massive (but as-yet undefined) cuts to entitlements.
But  to actually do any of that, congressional leaders and appropriators will be tasked with creating new legislation that can attract at least six Democratic votes in the Senate and earn President Obama's support. That's no small task.
As Democratic Sen. Chuck Schumer gleefully noted Thursday afternoon, budget-writers haven't laid out a very clear path for how to get there, leaving appropriators to fill in a lengthy list of blanks in both budget documents to achieve the financial cuts Republicans desire.
"They're just kicking the can down the road. They're going to have huge trouble with this budget. They had enough trouble dealing just with Republicans. Wait until they need to have a compromise with Democrats," Schumer said. "They're 30,000 feet. When they say cut $900 billion, then they're going to have to show how they get there."
Members of the two chambers' Budget Committees have made it easier on themselves when it comes to the Affordable Care Act. Both chambers have agreed to deal with repeal through reconciliation—meaning they won't need to attract any Democratic votes to pass it. The bill is certain to earn a presidential veto and will not have the Democratic support to overcome one. But in the past several weeks, Republican rhetoricians have lowered the bar for victory, arguing that they will soon fulfill their election-year promise of getting a repeal bill to Obama's desk regardless of what POTUS does with it.
(RELATED: Republicans Push Climate Change Cuts at CIA, Defense Department)
The real trouble will come with defense and entitlement spending. Congressional Republicans were able to raise the defense spending in their budgets in a work-around move that will not require Democratic approval—raising the limits for Overseas Contingency Operations accounts. But many members are still hopeful that they'll be able to further add to the Pentagon's budget, raising the defense caps under the Budget Control Act before another round of sequestration cuts hits in January. And that will require Democratic approval.
Republican Sen. John McCain counts himself as one of those members. McCain on Thursday called the additional OCO spending the "first step" that would forecast support for altering the defense caps in the future.
The outlook isn't great. A budget amendment from Sen. Marco Rubio to do just that failed, 32-68, with just one Democrat, Sen. Claire McCaskill, voting in support. Another, sponsored by Sen. Rand Paul, failed 4-92. And these votes were for an amendment that, like the budget itself, would merely lay the groundwork for raising the defense caps; actually raising them would require a separate law.
But there were issues with the Rubio and Paul amendments that McCain and other hawks hope could be fixed in a future agreement. For one, Rubio's wasn't paid-for, turning off conservatives in the party's right wing. Paul's was offset, but through cutting funding for prized Democratic programs as well as foreign assistance, losing him support among defense hawks. And neither raised any of the caps for nondefense funding—a demand of most Democratic members.
(RELATED: Yet Again, House Republicans Are Stuck)
Democrat Tim Kaine offered his own amendment early Friday morning that would alleviate both the defense and non-defense spending caps and pay for them through closing certain tax loopholes. The amendment passed with 50 votes, but an additional 10 supporters would be needed to pass a law.
McCain said he and other members are hopeful that discussions over the next several months will result in a solution that will be acceptable to at least 60 members in the Senate and a majority in the House as well. Already, he and Sens. Kelly Ayotte and Lindsey Graham are engaging in conversations with Democrats to craft just such a bill.
"I think that there's every possibility that we could sit down and do the same thing that we did with Ryan-Murray," McCain said Thursday. "I've had those discussions ad nauseum."
Senate budget-writers have laid the groundwork for just such a deal, and Rep. Paul Ryan, now chairman of the House Ways and Means Committee, said Thursday he would be willing to pitch in. But in the House the prospects for passing legislation that busts through the BCA caps on defense and non-defense spending are much tougher, particularly with a stronger contingent of fiscal conservatives in the lower chamber who have spent the past few months flexing their muscles against leadership.