Aaron Schock Will Resign From Congress
The Illinois Republican, who has been dogged by scandal, is expected to leave Congress at the end of the month.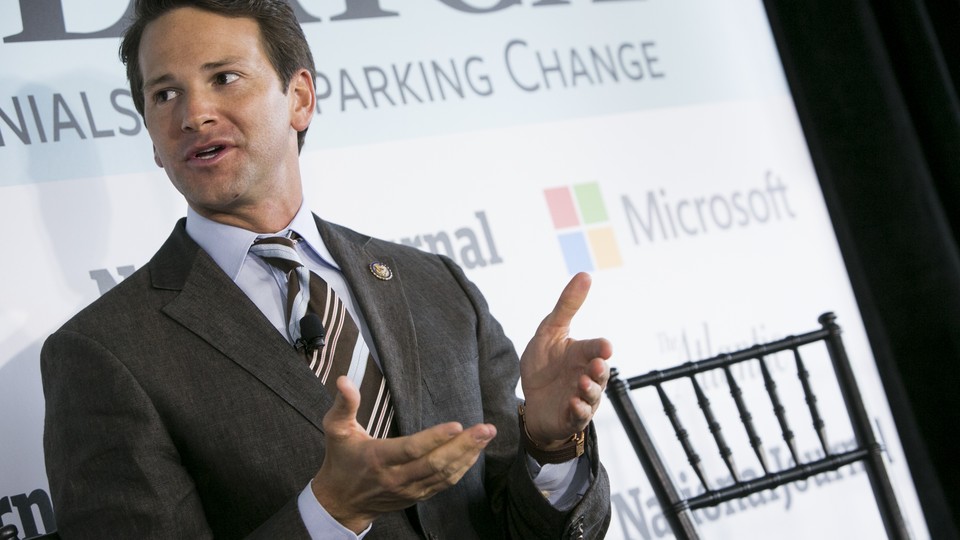 Rep. Aaron Schock, R-Ill., will resign from Congress effective March 31, the congressman announced in a statement Tuesday.
"I do this with a heavy heart. Serving the people of the 18th District is the highest and greatest honor I have had in my life," Schock said.
(RELATED: The Perils of Blaming the Liberal Media)
"But the constant questions over the last six weeks have proven a great distraction that has made it too difficult for me to serve the people of the 18th District with the high standards that they deserve and which I have set for myself."
Schock's fall comes at the nadir of growing ethics scandals—which news outlets, including National Journal, turned up seemingly every few days. What began as an early February Washington Post story on the congressman's Downton Abbey-themed office has since spiraled into media investigations of Schock's spending and a slew of possible ethics violations.
The lavish office, Politico reported last month, was just the beginning: Schock reportedly employed a personal photographer, chartered private planes, and stayed in five-star hotels. It was also discovered that Schock sold his home to a donor for more money than it was worth. A National Journal public records review last week also determined that an outside group had paid for a companion of his to travel to India, in possible violation of House ethics rules.
The latest scandal to emerge is a Tuesday Politico report that Schock charged the government for about 90,000 more miles than he actually logged on his personal Chevy Tahoe. Though he was reimbursed for 170,000 miles, when he sold the car in July 2014, it only registered about 80,000 miles. The story was published shortly after the congressman's resignation announcement.
(RELATED: Just How Much Trouble Could Aaron Schock Be In?)
When Schock was first confronted by reporters about his questionably ethical Downtown Abbey styled office in early Februray, he responded simply "Haters gonna hate."
"With this decision, Rep. Schock has put the best interests of his constituents and the House first," Speaker John Boehner said in a statement following the news of Schock's resignation Tuesday afternoon. "I appreciate Aaron's years of service, and I wish him well in the future." Schock had not notified House Republican leaders before he released his resignation statement to Politico, according to GOP sources. Some members of Schock's own staff were surprised by the announcement, CNN reports.
Schock was not present in the Capitol on Tuesday, as his votes were not recorded during an early afternoon House vote series.
The ongoing investigations into Schock's spending weren't a definite death knell for his political future. The congressman has been a prolific fundraiser, and he has shared the wealth with Illinois Republicans, which locals believed would save him from an electoral backlash after news of his questionable spending.
"Part of the reason this was so surprising today is I thought he enjoyed a surprising level of support from people who were very suspicious of these charges," says Illinois State Rep. David Leitch (R), who recruited Schock to run for the state House in 2004. "I think people seemed to be looking for reasons not to believe these charges."
(RELATED: Another Bad Trip for Schock)
But he had made enemies with tea party leaders. Red State blogger Erick Erickson called for Schock's resignation on March 10. And while the Club for Growth did not immediately have plans for a more conservative successor, spokesman Doug Sachtleben said Schock's resignation isn't a bad thing.
"He has a 56 percent lifetime score with us, so there definitely is room for improvement," Sachtleben said after the news came out Tuesday.
First elected at 27, the congressman gained national attention not for his policies, but for his abs. Named "America's fittest congressman," Schock was the subject of a New York Times profile in 2010 calling him the "youngest—and arguably the buffest—member of Congress, and he and his six-pack graced the cover of Men's Health magazine in 2011.
In true millennial fashion, his popular Instagram feed also came into the spotlight over the past month. As a Politico slideshow pointed out, it was often hard to tell whether his feed, which featured him tangoing in Buenos Aires and selfie-ing with pop singer Ariana Grande, was from a congressman.
Politico was first to report the news of Schock's resignation Tuesday. Per Illinois law, the state's governor, Republican Bruce Rauner, has to order a special election to replace Schock within five days, which has to take place within 115 days of the order. Rauner issued a sharp, short statement in response to the resignation. "This is a sad day for the people of Illinois and the 18th District," it read in its entirety.
---
Daniel Newhauser, Jack Fitzpatrick, and Lauren Fox contributed to this article