The Dramatic Demise of Aaron Schock
The Illinois Republican representative and notorious fan of Downton Abbey is resigning amid ethics inquiries.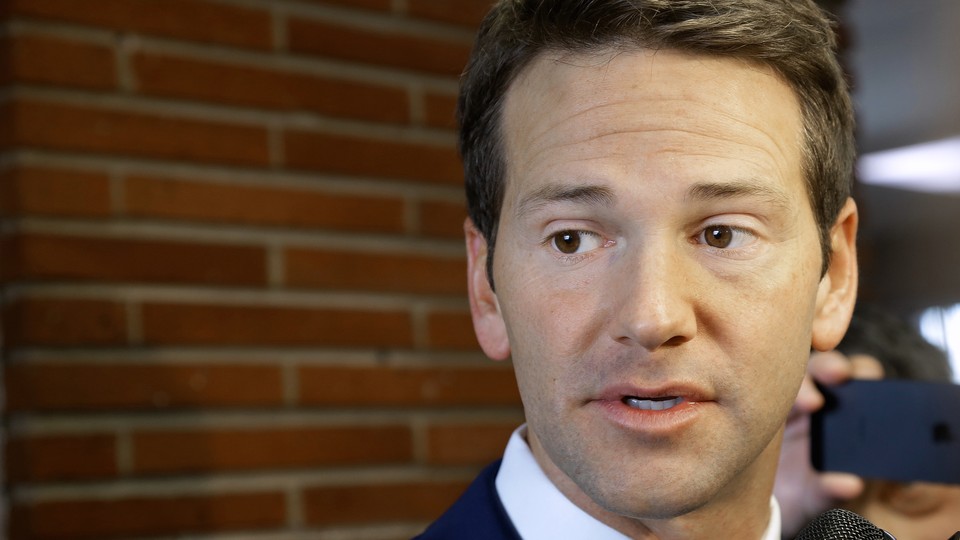 It just goes to show, never get too wrapped up in a British television drama. Six weeks ago, The Washington Post's Ben Terris revealed that Representative Aaron Schock had redecorated his congressional office in a gaudy style inspired by Downton Abbey. The ensuing events owed less to that popular show than the slapstick of Fawlty Towers, and on Tuesday the Illinois Republican announced he was stepping down from his seat.
It's a sadly ironic end for a congressman who always courted publicity. Inaugurated at 27, he was one of the youngest members of Congress in recent history. He became famous for his shirtless pictures and outspoken personality. Yet when Terris got wind of the office decor story, Schock's communications director tried to keep him from running it—effectively whetting reporters' appetites.
First, there were reports about the spokesman's past racist comments on social media, and the aide resigned. Then reporters started digging into Schock's records—aided in part by analysis of metadata on his hyperactive Instagram stream. A steady drip-drip of revelations began: questionable real-estate transactions involving donors. Lavish trips for staffers, on the taxpayer dime. Katy Perry tickets for interns, paid by his political action committee. Even, allegedly, a $5,000 podium modeled on the president's. On Monday, it emerged that the Office of Congressional Ethics had begun investigating him. And Politico, which broke news of the resignation, said it had submitted questions to him about tens of thousands of dollars in questionable mileage reimbursement claims he'd submitted to his campaign and the government.
"Today, I am announcing my resignation as a Member of the United States House of Representatives effective March 31," Schock said in a statement. "I do this with a heavy heart. Serving the people of the 18th District is the highest and greatest honor I have had in my life."
Schock, now 33, represented a district in western Illinois, including Peoria, and served for more than six years, having won four elections. His district is heavily Republican, and the GOP is expected to hold onto it easily. The resignation takes effect at the end of March.