Women Aren't the Problem in Politics
In a column headlined, "Do Dems have a women problem?" a pundit worries Clinton and Pelosi are "scaring off all the good male candidates."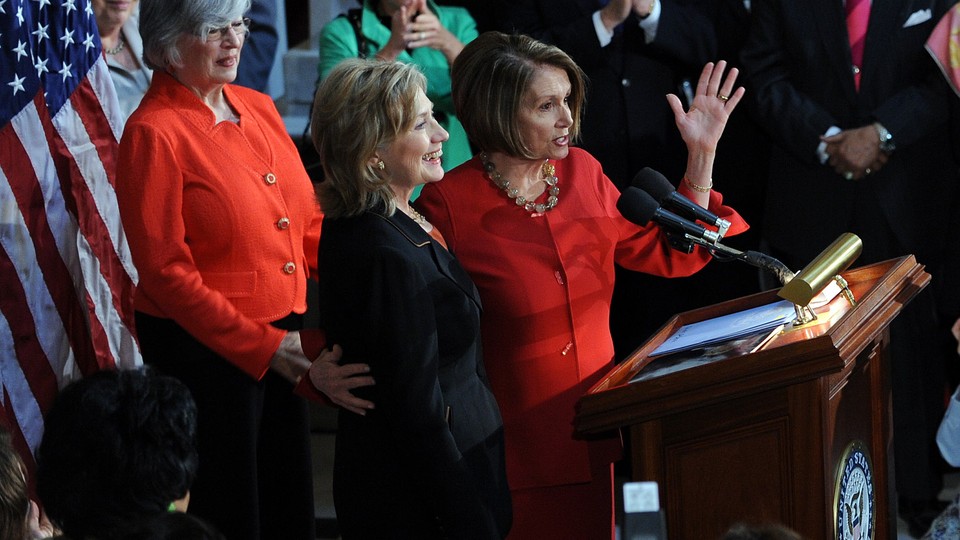 There aren't enough white men running for political office. That's the takeaway message from a column by Rutgers political science professor Ross Baker, a regular contributor to USA Today. "Democrats do have a gender problem," he writes in a Monday column. And the problem, according to Baker, lies in party leadership where women "have assumed dominant positions and have scared off serious male challengers."
The biggest offenders are Hillary Clinton and Minority Leader Nancy Pelosi, "two towering and intimidating figures, who have sucked the oxygen out of the spheres they dominate."
Never mind that women make up about half the U.S. population but less than 20 percent of Congress. That's 20 seats in the Senate and 84 voting seats in the House. And never mind that the top three leadership positions in both parties in both chambers of Congress are uniformly held by men with the exception of Pelosi. (Why is Harry Reid, the other most powerful Democrat in Congress, not seen as scaring off good female candidates?)
Baker's concerns about women in power don't stop there, however. He wants to know why, when the new Congress convened in January, no one challenged Pelosi for her position as minority leader. Was it because she raised $80 million for her party in the last election cycle and more than $400 million in more than a decade as party leader, a feat making her one of the top Democratic fundraisers in history?
Nope. Baker's pretty sure it's because she's a woman.
"True, they have successfully promoted the candidacies of women, championed issues that appealed to women, and generally been rewarded with their support," he writes of Pelosi and Democrats in Congress. "But the very elevation of these extraordinary women has placed male Democrats in the position of being unwilling to challenge them. The mantra 'it's her turn' has broad appeal among Democrats."
Next, Baker turns to prospective Democratic candidates in 2016, observing that Clinton doesn't have particularly strong challengers in former Maryland Gov. Martin O'Malley or Sen. Bernie Sanders of Vermont. This he attributes not to their personal weaknesses or even to Clinton's lengthy resume and name recognition but to the fact that she's a woman. "The one candidate who generates any enthusiasm at all as a challenger to Clinton," he notes in an aside, "is another woman, Massachusetts Sen. Elizabeth Warren."
Democrats, then, are victims of their own belief that "it would be a good thing if more women were elected to Congress" (actually, only 60 percent of Democrats believe that, but it's a higher number than Republicans' 23 percent). And such ideals have very real consequences for all the white males who dominate American politics, media, and discourse, particularly when it comes to the presidency.
Pay no attention to the fact that Clinton is likely to be the only woman on either side of the 2016 ticket, with the possible exception of Carly Fiorina. The dozen-plus men who've been floated on the Republican side—including Jeb Bush, Marco Rubio, Rand Paul, Chris Christie, and Scott Walker—don't matter.
He's still worried there won't be nearly enough men running for president. "There is still no shortage of qualified male candidates who will probably not step forward in 2016," he writes.
So who might those super-qualified male candidates be? To start, he lists Sens. Sheldon Whitehouse of Rhode Island, Sherrod Brown of Ohio, and Jeff Merkley of Oregon, all of whom have considerably less experience than Clinton, who has served not only as a senator in her home state of New York but also as a secretary of State and first lady.
Baker is also very concerned that Jack Markell, the governor of Delaware, the second-smallest state in the country, is being snubbed. "None of them has given the slightest hint that they might consider a run," Baker laments.
For a number of socially and politically complex reasons, women choose to run for public office in considerably lower numbers than men. But you won't find any concern about that in Baker's column. What you will find is concern about how the women who do successfully seek power may be affecting men at the highest levels.
"The advancement and championing of women has been a source of justifiable pride for Democrats since they put Geraldine Ferraro on the ticket as a vice presidential candidate in 1984," he writes. "But their very success raises the question of whether it has saddled them with the burdens of political deference to women in leadership positions."
Jess McIntosh, spokeswoman for EMILY's List, a group dedicated to electing more women to office, says the numbers make it hard to empathize.
"Since every single president and vice president of our wonderful country has been a man, and eight in 10 congressional lawmakers are men, I have to say I'm having a hard time summoning up the outrage over this particular crisis in male leadership."