Why the GOP Is Tied in Knots on Gay Marriage
With a Supreme Court decision looming, Republican presidential candidates must appeal to primary voters without alienating the general electorate.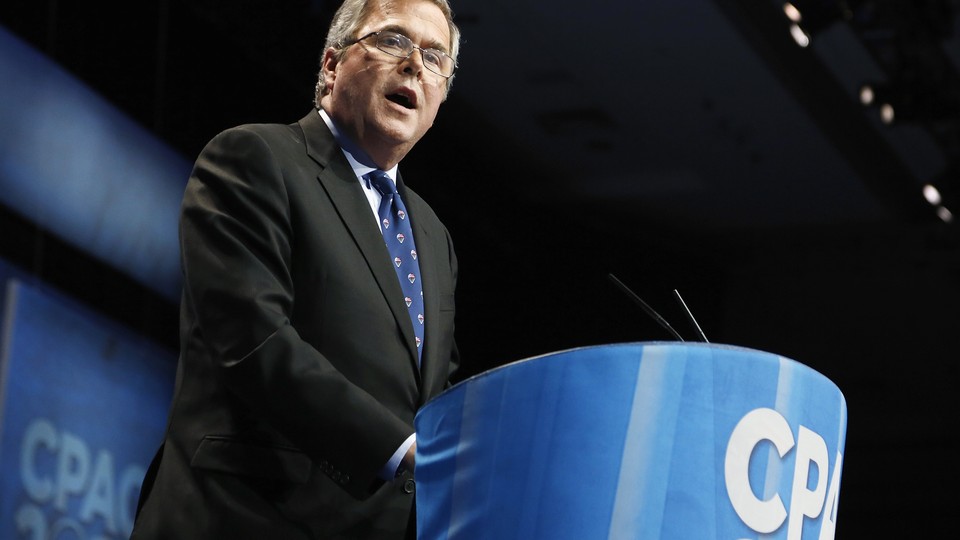 "I kinda know how a Republican can win, whether it's me or somebody else," Jeb Bush told an audience of CEOs in December, "and it has to be much more uplifting, much more positive, much more willing to be, 'lose the primary to win the general' without violating your principles. It's not an easy task."
Bush was advocating for a candidate who wouldn't kowtow to the extremes of the party's conservative base at the risk of alienating the broader, more moderate electorate. He was apparently alluding to Mitt Romney's tendency to embrace divisive rhetoric during the 2012 primary, as he sought to ingratiate himself with socially conservative voters in states like Iowa and South Carolina. While Romney's call for illegal immigrants to self-deport may have helped him with immigration hard liners in the primary, they almost certainly contributed to his dismal performance with Hispanic voters that fall. Despite his campaign manager Eric Fehrnstrom's now infamous comments that Romney could, like an Etch-A-Sketch, reset his views for the November election, Romney won just 27 percent of the Hispanic vote.
Threading the needle by appeasing the conservative base—which tends to supply the majority of primary voters—without coming across as too extreme for moderates is a challenge for any presidential candidate, but it has been especially difficult for Republicans since the rise of the Tea Party in 2010. With the 2016 primaries fast approaching, nowhere is this challenge clearer than on the issue of same-sex marriage, where popular opinion has shifted dramatically in its favor, while the Republican right remains overwhelmingly opposed.
According to a May, 2014 Gallup poll, support for gay marriage doubled between 1996 and 2014, from 27 percent support to 55 percent support. Much of the shift appears to have been generational, with 78 percent of 18-29 year olds now supporting gay marriage as opposed to just 42 percent of those over the age of 65. Meanwhile, support among Independents is at 58 percent, with self-described moderates polling slightly higher at 63 percent. Republican support hovers around 30 percent.
Perhaps in response, GOP chairman Reince Priebus has advocated a big-tent approach, emphasizing that there is room in the party for those with differing views on the issue. "I don't believe we need to act like Old Testament heretics," Priebus said in an interview with USA today. "[We] have to strike a balance between principle and grace and respect." Despite Priebus' call for a change in tone, the Republican platform leaves little ambiguity about the party's stance on the issue. "We believe that marriage, the union of one man and one woman must be upheld as the national standard, a goal to stand for, encourage, and promote through laws governing marriage," it reads. It is therefore extremely unlikely that any Republican presidential candidate will support gay marriage in 2016.
Disagreeing with 55 percent of the public on a policy many voters relegate to secondary importance hardy dooms the chances of Republican presidential candidates. The greater challenge is their stated need to build a coalition that includes the very groups most skeptical about their stance on the issue. An April, 2013 Washington Post-ABC News poll shows that 65 percent of voters under 30 think the GOP is out-of-touch with their concerns, something that likely contributed to President Obama winning 60 percent of the youth vote in 2012. With nearly 8 in 10 voters between the ages of 18 and 29 in favor of same-sex marriage, Republican candidates may find it prudent to downplay their opposition.
Unfortunately, there seems to be no good way for the GOP to talk about the issue without coming across as out of touch in the national media. Take, for example, Mike Huckabee's recent comments. He told CNN's Dana Bash that while his religious beliefs kept him from supporting gay marriage, he still has many gay friends and is accepting of people being gay. "People can be my friends who have lifestyles that are not necessarily my lifestyle," said Huckabee. "I don't drink alcohol, but gosh—a lot of my friends, maybe most of them, do. You know, I don't use profanity, but believe me, I've got a lot of friends who do. Some people really like classical music and ballet and opera—it's not my cup of tea," he continued. While labeling homosexuality a "lifestyle" was bound to provoke protest, nothing in Huckabee's remarks amounted to the Old Testament fire and brimstone against which Priebus warned. Nevertheless, Huckabee's comments were met with decidedly negative coverage in the national press. "Mike Huckabee: Gay Marriage Is Like Drinking," wrote TIME. "Mike Huckabee Has a Bunch of Awful Analogies About Homosexuality," wrote Gawker.
Further complicating the gay-marriage debate is the fact that over the last two years, court decisions overturning state same-sex marriage bans (and subsequent appeals of these decisions) have brought the issue into the national spotlight. When asked, establishment candidates such as Jeb Bush, Chris Christie, and Scott Walker have largely sidestepped questions by deferring to court decisions. "We live in a democracy, and regardless of our disagreements, we have to respect the rule of law," Bush said in a statement in early January. Chris Christie and Scott Walker have similarly declared the issue settled after courts overturned same-sex marriage bans in their home states of New Jersey and Wisconsin.
However, if a major Supreme Court decision on the constitutionality of state-level bans arrives as expected this spring, it will push the issue further into the foreground, just as GOP hopefuls begin their campaigns in earnest. While some have argued that the Court's decision could offer moderate Republicans cover by neutralizing the debate, it seems unlikely that Iowa conservatives will sit quietly on the sidelines if the high court rules against traditional marriage. Instead, a ruling resolving the issue in favor of gay marriage will likely heighten tensions. Republican candidates who might otherwise be able to remain silent will be forced to answer tough questions from passionate, conservative caucus-goers.
"It's going to be more than a talking point, a lot of time in the past people have gotten by without saying much," Bob Vander Plaats, a conservative Iowa activist who organized for the last two GOP caucus winners, told NBC News. "Now, it's going to be 'what is your leadership strategy to ensure that marriage is upheld, one man, one woman for the benefit of the entire country?'"
Making it harder for moderate Republicans to sidestep the gay-marriage debate altogether will be candidates like conservative firebrand Ted Cruz, who has introduced a Constitutional amendment allowing state legislatures to ban same-sex marriage if the Supreme Court rules against the states this spring. Supporting Cruz is another potential Republican presidential candidate, Louisiana Governor Bobby Jindal. "If the Supreme Court were to throw out our law, our constitutional amendment—I hope they wouldn't do that—if they were to do that, I certainly will support Ted Cruz and others that are talking about making ... a constitutional amendment to allow states to continue to define marriage," Jindal told ABC's "This Week" on January 25. Advocating such a strong position on the campaign trail will rile the grassroots base and potentially force more moderate candidates like Bush, Christie and Walker to the right.
Whether or not GOP candidates like Jeb Bush want to talk about gay marriage, it's likely that the Republican party base and current events will force them to at least acknowledge their positions as the campaign season begins this summer. Should moderates like Bush or Christie accept a favorable Supreme Court ruling, they will risk upsetting grassroots activists and could leave room on the right for a more socially conservative candidate such as Ted Cruz, Rick Santorum or Mike Huckabee to pick up votes. Should they push back against the Court with Cruz-like rhetoric, they will likely alienate themselves from the more moderate general electorate, including millennials who overwhelming support same-sex marriage.
This is the bind in which candidates find themselves: Are they willing to risk losing the primary in order to give themselves a better chance in the general election?