Why Obama's AUMF Faces Trouble on the Hill
Republicans don't trust President Obama, and both the White House and the GOP may prefer the status quo.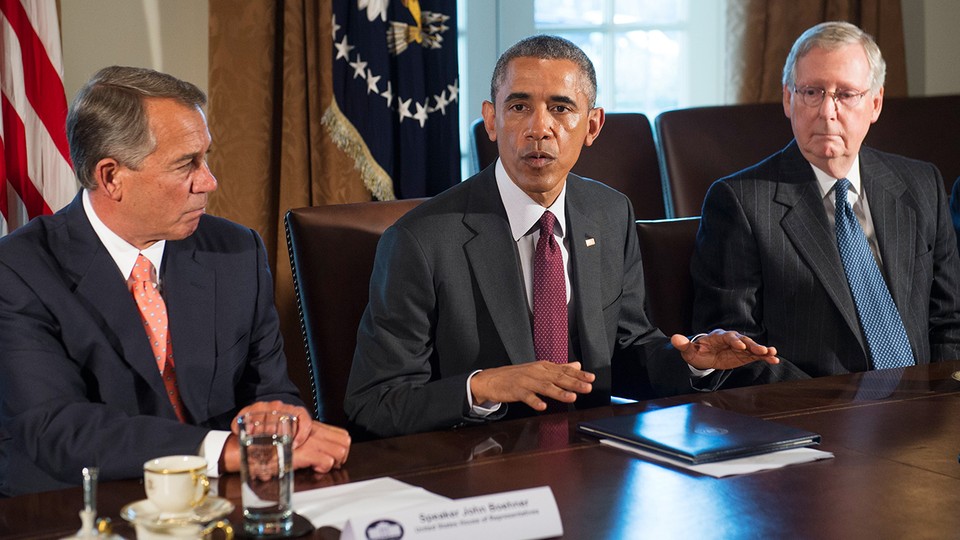 President Obama's draft authorization for the use of military force to combat the Islamic State has been on Capitol Hill for less than a day, and already it's in trouble.
Rampant skepticism from both sides of the aisle threatens to scuttle the bill in the House before debate even begins. The problem, as described by several members, including a high-ranking Republican involved in the AUMF negotiations, is that there may be no legislative text that can thread the needle between hawks who want a full-scale military campaign against ISIS; libertarian and progressive anti-war members who want no intervention at all; and members who would approve the use of force, but only if it is specifically restricted in geography, length and scope.
The result could be a failure to pass any kind of authorization, which would simply mean the status quo—and the Obama administration proceeding with its operations against ISIS.
Speaking at the White House on Wednesday, Obama seemed to go out of his way to address Democratic worries about a possible quagmire more than GOP concerns that the language is too limiting.
"The resolution we've submitted today does not call for the deployment of U.S. ground combat forces to Iraq or Syria," Obama said. "It is not the authorization of another ground war, like Afghanistan or Iraq. "¦ As I've said before, I'm convinced that the United States should not get dragged back into another prolonged ground war in the Middle East. That's not in our national security interest and it's not necessary for us to defeat ISIL."
Obama did add, in a nod to more hawkish views, that "this resolution strikes the necessary balance by giving us the flexibility we need for unforeseen circumstances."
At a private meeting of the House Republican Conference on Wednesday morning, Speaker John Boehner urged his members to "keep your powder dry," according to sources in the room, intimating that they should not outright reject the AUMF before they have a chance to change it.
He later told the press that the president's text is only the first step in what will be a long legislative process, complete with committee hearings and markups. But he added his own apprehension about what Capitol Hill sources described as a chorus of irreconcilable demands from far-flung ideological pockets of House members.
"If we're going to authorize use of military force, the president should have all the tools necessary to win the fight that we're in," Boehner told reporters. "I'm not sure that the strategy thats been outlined will accomplish the mission that the president wants to accomplish."
"The president's point is that he wants to dismantle and destroy ISIS. I haven't seen a strategy yet that I think will accomplish that," he added.
Boehner's view is consistent with the more hawkish corners of the GOP Conference, and one that is likely a majority viewpoint in the party: Many Republicans are reluctant to vote for an authorization that they see as overly restrictive and ill-defined. Asked whether the language is fuzzy, White House spokesman Josh Earnest on Wednesday said, "intentionally so."
Adding to the problem is that although members see an urgency to confronting ISIS, many do not see much urgency in passing an AUMF. There already are some 3,000 troops on the ground, and the administration is engaged in a campaign of airstrikes. They are asking Congress for permission to continue the campaign that already is being waged, yet if Congress does not pass this AUMF, prior authorizations will still allow the administration to continue its military activity. Earnest emphasized Wednesday that the administration believes it does not need a new authorization to continue its operations against ISIS.
That leads some Republicans to question whether the political will exists to push an authorization through.
The subtext to all those doubts is an overriding lack of GOP trust in the Obama administration to carry out this military campaign, and already there are signs of communication breakdowns between the White House and the House. White House counsel Neil Eggleston briefed House GOP leadership and relevant committee chairmen Tuesday night, but Republicans are taking issue with what they see as miscommunication or misinformation on the part of the administration.
"Based on a briefing last night, the White House is using a much more restrictive interpretation of 'enduring offensive operations' than expected, and that is potentially a major problem," a House GOP leadership aide said, speaking anonymously to illuminate private discussions.
Other Republicans who sit on relevant committees said there had been little to no communication from the administration in the lead-up to the text being released.
Even as key Democrats expressed their own concerns Wednesday about aspects of the AUMF, they also questioned GOP motives on the issue.
"I would hope that we could have a thoughtful conversation about what is right for the American people, without [Republicans] getting into their 'We don't trust the President' mode," House Minority Leader Nancy Pelosi said at a press conference.
Across the Capitol on Wednesday evening, Senate Foreign Relations Committee Chairman Bob Corker and Senate Armed Services Committee Chairman John McCain led a discussion with the GOP Conference on Obama's plan.
"We're a long ways from taking votes on that thing," Sen. Ron Johnson said after the meeting. "From my standpoint, the AUMF is really the last step in the process."
The first? Defining the administration's overall strategy. Some Republicans are in no rush to hurry an AUMF through the Senate.
"I don't think there's anybody who feels like their hair is on fire over this," Corker said. "The bombing's been going on for six months. [The president] had six months to send something over, he did, that's appreciated, and now we'll begin the work of going through the process."
"The most important thing for the next period of time is for the administration to be able to lay out in a plausible way how we're going to be successful," Corker said.
To some Senate Republicans, both the strategy and the end game are still unclear.
"I need to find out exactly what President Obama is trying to achieve," Johnson said. "I know he says 'degrade and ultimately destroy ISIS.' I'm not sure what he means by that. I don't think his definition of destroy and defeat is the same as mine."
---
Rachel Roubein contributed to this article