Why Free Tuition Is Such a Hard Sell
Most of her students could go to college for free. But this Baltimore guidance counselor struggles to convince any of them to take the plunge.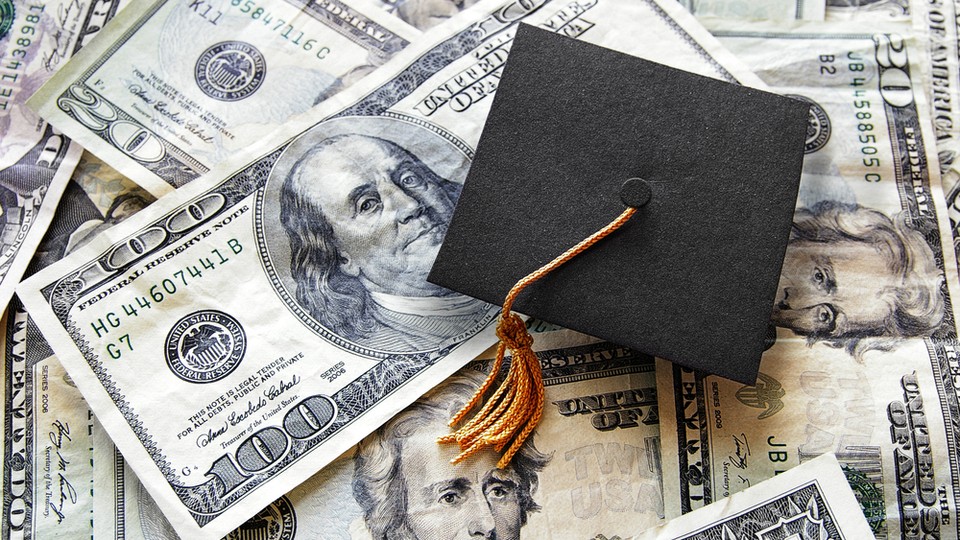 BALTIMORE, Md.—Rhonda Waller knew that one hour spent filling out a basic financial-aid application could change everything for students who have been told they'll never succeed—so she had resolved to do something about it. She is the only counselor at Benjamin Franklin High School at Masonville Cove, the girl's basketball coach, and a single mother of two. There are 64 seniors this year at the Baltimore school. Nearly all of them could attend college for free, if they gave her that one hour and followed her directions. She strode down hallways lined with red lockers and into third-period English, where seven young men and women waited in limp-noodle posture, skateboards and backpacks at their feet.
Set up your usernames and passwords, Waller, 44, told the students. She paced the room, leaning over students' shoulders and repeating, "You're in, you're in," as each signed on.
"All right," Waller said and clapped her hands once. "Everybody's in."
Here in Baltimore, and throughout the country, poor kids graduate from high school at below-average rates, and they apply to college in far lower numbers than their wealthier peers. In 2012, 82 percent of children from families in the top fifth of the national income distribution enrolled in postsecondary education after graduating from high school, compared with just 52 percent of those in the bottom fifth. Academics and politicians endlessly debate the root causes of this: early-childhood reading habits, bad teachers, poor funding, higher prevalence of asthma, crime, stress, a dearth of family support. Waller had heard all of these theories and more. By her own estimates, and according to past numbers, just six or seven seniors at Benjamin Franklin would enroll in college next year.
When asked, students often told Waller they couldn't afford college, so they didn't plan to go. But at Benjamin Franklin, 86 percent of students qualified for free or reduced lunch, which meant that many would also qualify for government aid that covered most, if not all, of their college tuition.
"I want you to click the "About Me" tab on the left-hand side," Waller said. "Go ahead and fill out those simple five questions."
Waller played a Youtube video that explained the Free Application for Federal Student Aid.
The online form requires students to enter their name and personal information, followed by about 70 questions. Parents also have to fill out their own sections, answering questions about their income, tax history, if they're on Social Security, food stamps, and roughly 30 other questions. The application takes about an hour to complete, provided you have all these documents at your fingertips. Waller knew that many parents here did not. In the past, parents had told Waller they felt the form invaded their privacy; they'd ask why on earth they should give the government such information. This was precisely why next Monday was so important.
"Next Monday, we have a FAFSA workshop," Waller said, "so please, please, bring your parents."
After class this day, the kids would walk home past prostitutes who promenade for johns; they'd pass dealers who peddle drugs near the deli. The Brooklyn and Curtis Bay neighborhoods are only a 15-minute drive from downtown Baltimore—but they're virtually an island, cut off by rivers, highways, and railroad tracks, two residential hiccups in a swamp of industrial zoning. If Waller could get her students to fill out their applications, and if their parents cooperated, it would mean one more door opened, one more barrier broken, one more step down a path free from poverty's cycle.
"Any questions?" Waller asked.
No one raised a hand.
Rhonda Waller, a guidance counselor at Benjamin Franklin High School at Masonville Cove, talks to parents and students about applying for federal loans for college at FAFSA Night on Thursday, Feb. 5, 2015. (Chet Susslin)
* * *
At least the heat worked now. For a month dovetailing the holidays it hadn't, so students and teachers bundled up inside the brick building with a cement plaque on the wall that dates to 1943. In the recently remodeled portion of Benjamin Franklin, Waller has decorated her office with posters that promise adventure and camaraderie in the military. The tech and vocational school posters offer careers. And the college posters appeal to a pragmatic desire: "College graduates earn an average of $22,000 more/year than high school graduates."
Between senior-class visits, Waller unwrapped a sandwich at her desk and estimated that this year she had a real chance to get 50 students signed up for FAFSA. "This is a good bunch. I think a lot of them will do it."
Just then, Darius Miller opened her office door. He'd talked with a basketball coach at a local community college about playing ball and needed to submit an application. Before she'd help him with that, Waller asked, "Who do you live with? Your grandma?"
"Yeah," Miller replied.
"Great—get on my computer," Waller said. "We're going to do your financial aid."
Miller sat down.
Waller said he could complete the FAFSA on his own because he is a ward of the court. But this is not the case for most students at Benjamin Franklin. She knew it would be tough to get parental participation in a neighborhood where one-third of kids live in single-parent households, and some 40 percent of households make less than $25,000. Unless it's made a major priority, Waller knew a child's education could sometimes get shunted aside by the more immediate stresses of life.
As a young girl in Princeton, N.J., Waller had friends who worried about new outfits and what cars their parents might buy them; Waller worried if her single mother's insurance sales job could keep their lights on. Waller had done OK in school and on the SATs, but not terrific. Sports interested her more than academics. Her senior year, the high school counselor never talked to her about college. "I don't know if it was because I was black, or whatever, but I just never received any information." So just as the counselor had written her off, she wrote off college.
But Waller's mother was determined.
"I don't know how it got done," Waller said of her own financial aid form. "I just know it got done."
Even now, Waller hated that her counselor had placed her in the "will not succeed in college" box. That scorn informs much of her counseling philosophy, which goes like this: "Hey, here are your options. They might not fit you, but here they are." She couldn't force students to go to college, but she could help them understand how to make it work.
It's this type of hand-holding support that can help more low-income students enroll in college. A 2014 White House report determined that just one additional high school counselor can increase four-year college enrollment by 10 percent. It also cited an experiment conducted by the National Bureau of Economic Research and H&R Block that helped low-income families fill out FAFSA forms as they filed taxes. The experiment increased college enrollment by 29 percent, and completion of at least two years of college by 8 percent.
"Hello, Miss-haven't-seen-you-in-a-minute," Waller said to April Edwards as the senior walked into the counseling office. "Did you get any letters back?"
"Yeah," Edwards said. "From [the University of Baltimore]. I didn't get accepted."
"You didn't? Why?"
"I don't know," Edwards mumbled.
"That's not it. You can call them back and ask them why. Do you really want to go?"
"Yeah, but—" Edwards said, trailing off. "It's whatever."
"No it's not. You don't just stop there."
"I don't want to beg."
Waller told her to call the university's admissions office to ask why she hadn't been accepted, and to ask if there were programs she could be accepted to. Wait, Waller told her, we'll call together.
"But I'm scared," Edwards said.
Before Benjamin Franklin opened seven years ago, this neighborhood never had a high school. The current high school is in a former middle-school building. To continue past eighth grade, students used to have to catch a bus across the river to Cherry Hill. For various reasons, one being gang affiliation, not many students made that trip, Waller said. As a result, 76 percent of neighborhood residents 25 years and older have a high school degree or less (school staffers say it's mostly the "or less"). And just 6 percent have a bachelor's degree, according to a 2011 neighborhood health profile.
Waller knows that success doesn't always mean going to college. But often she finds herself at odds with parents. Four years ago, the school's valedictorian dropped out because her parents didn't see the use of a high school diploma. Some parents put their kids on Social Security after graduation. Some parents need their kids to work full time just to pay the family's bills.
Edwards sat down and waited to make the call.
About 30 minutes later, Miller finished his financial-aid application.
"Congratulations!" Waller said. "You're the first one to submit your FAFSA for 2015. Now click 'print.'"
Waller smiled at the day's small victory. Miller was eligible for $5,700 in grants, money he would not have to pay back. Waller visited another class, then another, starting students on their financial aid forms, as she had all week.
* * *
"Jess!" Waller called to a student the next day in the library. "Jess, did you guys do your essay questions?"
"Mrs. Waller, you're killing me!" Jessica Wiest replied, feigning frustration at having to repeat once more why she didn't want a full-ride scholarship.
"I got it," said Shashawnda Campbell. "I kept these in here."
From her backpack, Campbell pulled out forms for the University of Maryland Incentive Awards Program, which provides full-ride, four-year scholarships to students from disadvantaged backgrounds. Both Wiest and Campbell were semifinalists. Only nine students in all of Baltimore win the scholarship. Part of the program requires students to attend a six-week summer transitional program, where—the girls had noticed—meals are not provided.
"College is expensive," a school staff member behind the front desk chimed in, trying to pique the girls' interest in the scholarship.
"Too expensive for me," Campbell said. "That's why I'm gonna skip it. I'm gonna skip it like I'm skipping class."
Waller argued with the two, but Wiest wanted out of Baltimore, and Campbell worried about money.
"If you go to the summer program," Campbell said, "you're in the summer thing from like 8:00 in the morning until like 7:00. How do you get time to work? That doesn't make any sense."
"And food isn't even involved!" Wiest shouted.
Both were good students. Campbell held a magazine internship. Wiest was the president of the school's agricultural club, and she had interned at an education center,and worked at Taco Bell on the weekends. Wiest's mother had grown up in Florida and had plans to attend college, but the summer after high school, she traveled to Baltimore to visit her biological father. She met a man, she got pregnant, she stayed. Now Wiest has palm trees and warm weather on the mind. She dreams of a neighborhood like the one her grandmother lives in, the one she probably would have lived in, where she can walk the street without men catcalling her, where if she craves a pizza from the shop five blocks away, she can walk by herself without first texting her brother and his friends to escort her.
"You know that happens in Florida, too," Campbell said.
"Not in the neighborhood I want to live in," Wiest replied. She looked away from Waller. "I don't want my life to be anywhere near here."
Waller left the girls in the library. On the way to her office, she spoke with the assistant principal about robocalls to remind parents of Monday's FAFSA workshop. The principal began another PA announcement.
In Waller's office hung rows of yellow sticky notes. On each note she'd written a senior's last name and grade. There was a 4.0, a 3.9, and seven others with threes at the beginning. From there it was a yellow cascade of twos and rows of ones. Probably not good enough for four-year colleges. But if students finished their FAFSAs, Waller would have a hard number to show parents and students that at least community college could be free. More education, more opportunity, more money, a better life—it could be theirs. But it all began with an application.
"It's really important," the principal announced over the speaker, "that students and parents come."
* * *
Over the weekend a storm headed toward the East Coast. Meteorologists predicted snow across Baltimore. That morning, schools closed, and Waller was forced to cancel the event. Two hours later, the schools opened after it became clear the weather wouldn't be so bad. But it was too late for Monday's parent FAFSA night.
A few days later, in the East Room at the White House, Michelle Obama presented the School Counselor of the Year award.
"One of the very first meetings that we held about Reach Higher [the first lady's initiative to get every student to complete education beyond high school] was with a group of school counselors," Obama said. "And they told us how they're working hard to keep kids from falling through the cracks, and how they're supporting overwhelmed parents. They told us how they track students down who don't think they're college material, or who don't think they can afford it. They shake them up and they tell them, 'You have what it takes, I believe in you—now fill out those FAFSA forms and sign up for those AP classes, get started on those college essays.'"
"And the more that I learned about our school counselors," the first lady continued,"the more I realized that often, America's school counselors are truly the deciding factor in whether our young people attend college or not."
* * *
Waller stood in a black pant suit the following Thursday as she welcomed people to the rescheduled parent FAFSA night. The event was catered with sandwich wraps and fruit salad. Rows of chairs lined the floor in front of her projector, which showed a cartoon man standing behind signs that pointed different directions at a crossroads. On a table beside her, Waller had optimistically laid out financial-aid information packets in manilla folders. There were 50.
"Hi, Mrs. Waller," Wiest said as she approached the front table with her mom.
A few days after their conversation in the library, Waller drove across town to pick up Campbell and Wiest and dropped the girls at a shuttle to visit the University of Maryland's College Park campus. When the two students returned, they'd changed their minds about the scholarships, and had decided they would do whatever it took to attend.
"Hello, how are you?" Waller asked Wiest, and greeted her mother.
Waller flipped off the lights around 6:00 and went through her presentation. She filled out a mock form. She told parents what records they'd need, and reminded them that this application could mean free school. Afterward, a couple of parents approached to ask questions. Only eight had shown up.
Earlier in the day, Waller had spoken on the phone with a mother who had called to ask what all this FAFSA night business was about. The mother worked two jobs and was calling on her break. Waller explained as much as she could before the mother cut in. "He knows my situation," Waller recalled the mother saying about her son, "and I'm not paying for him to go to college to take classes and play a sport." That was the point of financial aid, Waller tried to say. The mother had to return to work and she hung up.
Waller wondered how she was supposed to reason with someone like that. And yet she understood. Part of the problem was misinformation drilled into minds for years that a certain type of person went to college, and a certain type of person didn't. And another part was fear—on both ends. Fear for a student to get his hopes up about succeeding, and fear from parents that their kids will fail.
Waller picked up the 42 FAFSA folders left behind.
Then a man walked in. He grabbed a few chairs, and began to remove them from the room, when he paused and walked over to the front table. He had a 14-year-old son, and he asked Waller, "How early can a kid start, you know, if a kid wants to go to college?"
Waller looked over. She smiled. Then she explained the many ways he could prepare his son for college.
This article is the first in a series about Benjamin Franklin High School at Masonville Cove.
Next America's Education coverage is made possible in part by a grant from the New Venture Fund.