Why Democrats Won't Cave on Immigration
President Obama's executive order was supposed to be toxic. But a shutdown, Democrats believe, would be even worse for the GOP.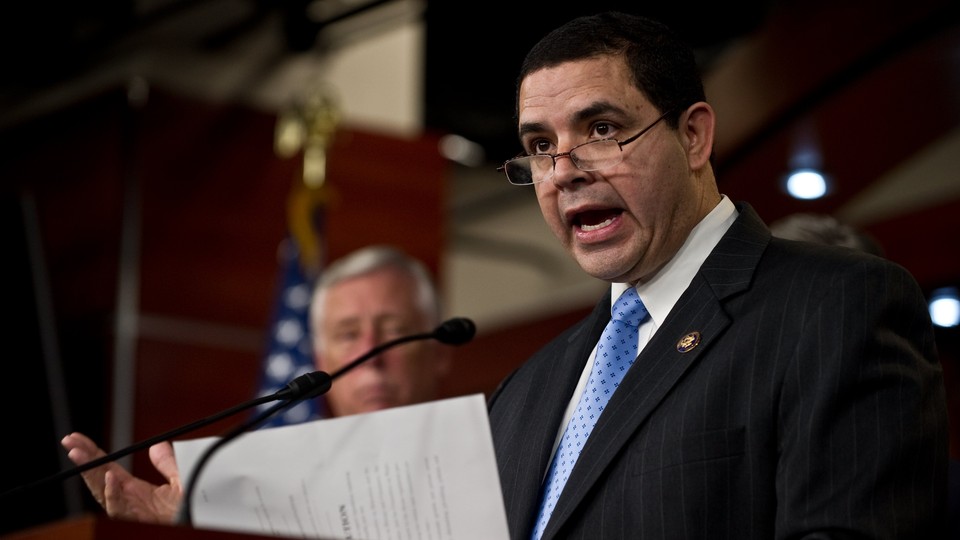 Just a few months ago, Democrats couldn't get far enough away from President Obama's immigration policy. At the behest of red-state members, leadership pushed the White House to hold off on an executive action until after Election Day, worried that it would be the noose around the necks of the party's most vulnerable members.
Fast-forward to February, and with a shutdown at the Department of Homeland Security fast approaching, Democrats in red states and blue are holding strong, voting repeatedly against legislation to defund the president's action despite incessant GOP threats that they will pay a political price.
So what changed?
For one thing, Republicans made it easy for them, Democrats say, by tying the immigration rollback to DHS funding—along with controversial amendments defunding the president's 2012 Deferred Action for Childhood Arrivals program, which remains popular among Democratic constituents.
"There's some of my colleagues that feel that the executive order might have gone too far, but they still feel that the way the Republicans want to do this is not the right approach," said Rep. Henry Cuellar, a member of the conservative Blue Dog Coalition. "When they go in and go even after the kids that's a little bit too much. Even Blue Dogs have some reservations."
Democrats also believe that the optics of another government shutdown—granted, a partial one—will favor them, giving them little reason to capitulate on the issue. Recent polling indicates that they're right.
Cuellar also pointed to polling after the 2013 government shutdown showing that voters were more inclined to pin the funding lapse on the GOP. "History would tell us that Republicans would get more blame," he said. "It's a replay of the same movie."
But even more importantly, Democrats believe that the benefits of the party's messaging on the issue—that they want a clean funding bill to prevent a shutdown—far outweigh the potential pitfalls of standing with Obama on his executive action.
"I think there were a lot of different ways to put Democrats on the spot ... on immigration and on the president's immigration policies, and this particular way of doing it is sort of the worst possible messaging," one Senate Democratic aide said. "We're seeing threats from ISIS every day. And I think tying the two together—I think that was a poor choice."
Admittedly, Democratic unity is easier because their numbers have shrunk—and many of their most common defectors lost their reelection bids. "You've still got Blue Dogs, but I'd venture to say they're not as conservative as the ones that are not with us anymore," Cuellar said.
Cuellar added that many remaining members have taken a lesson from those election results, when vulnerable Democrats who voted with Republicans lost their seats anyway. "Some of the real conservative Blue Dogs that voted with Republicans many times—it didn't matter because Republicans still went after them," Cuellar said. "They didn't get a pass "¦ Even if I vote no, the Republicans are still going to come against me and the Hispanic community might be against me. "¦ Don't let me piss my base off."
Republicans believe that Monday's decision by a Texas judge that stalled the president's executive action will form cracks within the Democratic Conference. But the ruling showed no signs this week of having any effect on Democratic resolve. Sens. Heidi Heitkamp, Angus King, Joe Manchin, and Claire McCaskill, who have all voiced concerns about the president's action, said Tuesday they would continue to stick with their leadership and oppose any DHS funding bill that is not completely clean.
The judge's decision, one Senate Democratic leadership aide said, could easily be overturned, giving members little reason to factor it into their votes. "What happened [Monday] is several layers removed away from the central question of was the president's executive order lawful," the aide said. "And it was from a judge who has a very well-known and conservative record on immigration. So in that sense, it's not a significant development in terms of the legal case."
Republicans believe Democrats' banding together to protect their president, particularly his controversial executive action, will hurt them in the end. And GOP lawmakers don't necessarily buy the idea that voters will blame the majority if there is a shutdown.
"Democrat after Democrat goes to the Senate floor to give speeches about how important the Department of Homeland Security is and yet they don't seem to be struck by the irony that it is Democrats who are preventing the Senate from taking up funding for DHS at a time when global threats are only growing," Sen. Ted Cruz told National Journal last week. " It is both reckless and irresponsible."
But showing party unity is a key part of the Democrats' strategy. After holding together on the Keystone Pipeline debate and refusing to vote for cloture before the party's amendments had been duly considered, Democrats are again showing the new majority that they can't be taken for granted. That kind of political stand will help members, including the moderates who oppose Obama's immigration action, to notch legislative victories in the future.
"I think it's about making clear really early that we're not going to play along with any of these games," the leadership aide said.
Standing unified, said one national Democratic campaign operative, also is a strategic decision electorally. "It's impressive that they are sticking together, but I don't think it's a difficult choice here," he said. "There's no doubt that these competitive seat members need to stand up on the side of national security. It surprises me that Republicans would use that as their vehicle for trying to make this point."