Why Congress Isn't That Worried About a DHS Shutdown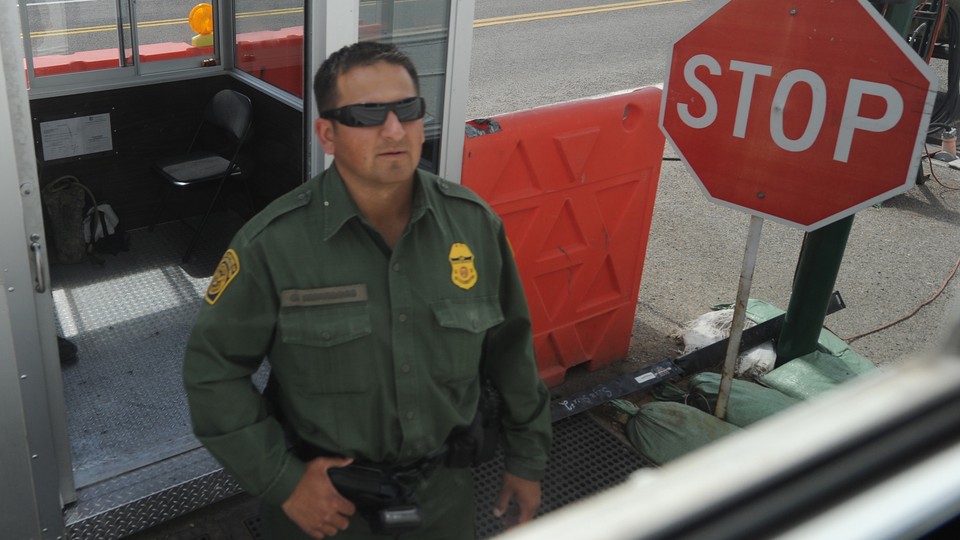 There's a reason an increasing number of congressional Republicans say they're willing to let the Department of Homeland Security shut down this weekend: Their constituents don't care.
For all the fearmongering and talk of emboldening the nation's enemies—particularly by officials at the Department of Homeland Security—members say they're not hearing much about the issue from their constituents. Compared to the sign-waving and phone-banking surrounding the last shutdown, the uproar about the potential shuttering of DHS is nearly nonexistent.
Senate staffers on both sides of the aisle say their phones are not ringing off the hook. Two aides said they heard much more about the Keystone pipeline bill—which would have created just about 4,000 jobs, per the State Department, but was vetoed by President Obama on Tuesday—than they have about DHS.
And lawmakers just returned from a weeklong recess having heard little on the subject back home.
"I was all over the state, went to Lincoln Day dinners, did all of those things "¦ and you know, I talked to hundreds of people. But as I stand here, I can't recall one ordinary person who raised this issue," Sen. James Risch of Idaho said after returning to Washington on Monday after a week at home.
Risch said that he believes the DHS crisis is much more of an issue for Washington and members of the media than for his constituents. "These kinds of things, unless they have widespread consequences, they become much more inside-the-Beltway issues," Risch said.
Risch's experience was echoed throughout the Senate. When asked whether he'd heard from constituents about DHS, Sen. Roy Blunt of Missouri shook his head and mouthed "no" while stepping into a Republican luncheon to discuss how to move forward on the issue. Sen. Susan Collins of Maine said she'd heard about the issue "a little bit" while at home, but largely in the form of complaints from Transportation Security Administration workers, whose paychecks would be delayed until after DHS funding is restored, at the airport on her way back to D.C.
"Not as incensed as a lot of other things in the past," Sen. Johnny Isakson said of his constituents in Georgia. "The biggest thing right now is probably ISIL and what we're going to do about them. That was probably two-to-one in the comments."
The members' experiences are supported by recent polling on the issue. Sixty percent of Americans in a new Huffington Post/YouGov poll say they're not following the potential DHS shutdown closely.
Part of the issue is certainly an apathetic public, uninterested in the issues before Congress and not likely to call up Sen. Rob Portman's office or attend a barbecue with Risch to talk with him about it.
Forty percent of Americans polled by CNN earlier this month said that a DHS shutdown would be a "major problem," while just 15 percent called it a "crisis." Another 45 percent said it would be either a minor problem or not a problem at all.
But if there is a shutdown beginning Saturday morning, members don't expect to hear much more from their constituents. In reality, the effects of a shutdown would have minimal effect on the lives of everyday Americans, at least to begin with. Essential employees, including most Border Patrol agents, Secret Service officers, members of the National Guard, and TSA workers would all remain in their jobs (they wouldn't be earning a paycheck, however, until the shutdown is resolved). During the last shutdown, 85 percent of DHS personnel remained at work.
"I still haven't seen the analysis of what happens in the shutdown situation, but it seems to me that the people that are considered essentially government employees on things like TSA and what have you, the operation itself would not be affected," Risch said. "People want to get on with their lives. If they can't get on an airplane, that's a different ballgame."
The same CNN poll showed that Republicans would earn a larger share of the blame for a shutdown than would President Obama, but as long as the nation's security personnel are on the job, it's unclear whether Americans will notice the shutdown at all. That has members wondering whether a shutdown would actually put pressure on their colleagues to come to a deal and restore the department's funding.
But the longer a shutdown continues, the more the department will have to cut corners to maintain its essential functions. And, as Collins noted, once payday comes along for those DHS workers, they're unlikely to stay quiet for very long. "We're going to have a lot of unhappy DHS workers who will have to work and won't be getting a paycheck," she said.