Why Bobby Jindal and David Vitter Hate Each Other
Louisiana's two most powerful Republicans are are also bitter enemies, and it's hurting both of their careers.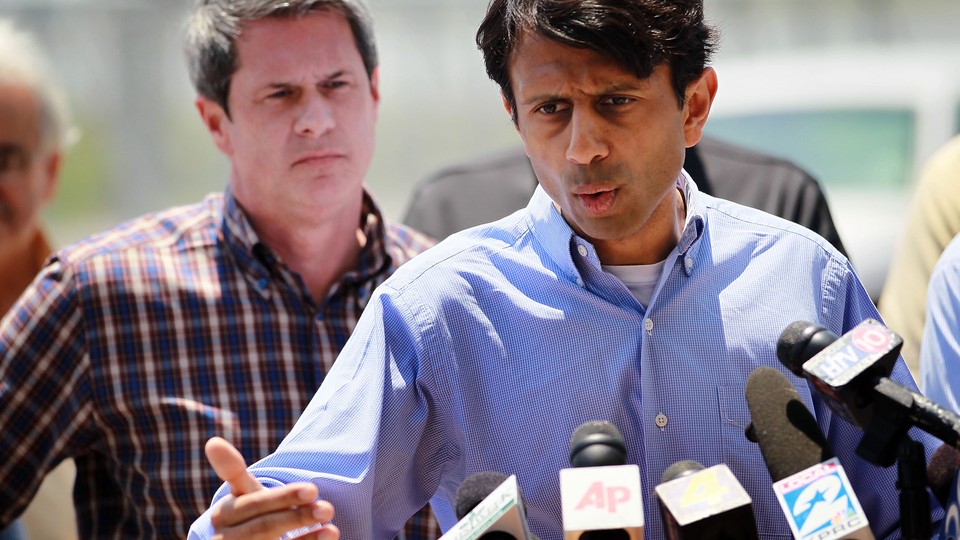 Bobby Jindal and David Vitter have every reason to be friends. Jindal would love to have Vitter praise him as he looks to make the leap from Louisiana Governor's Mansion to the White House. Vitter, meanwhile, would benefit from Jindal's support as he campaigns to take the outgoing governor's job. But none of that is happening. Instead, years' worth of bad blood between the two is spilling out, hurting both Republicans as they attempt to leap to higher office.
Vitter is ripping Jindal's Louisiana legacy at a time that Jindal is hoping to use it as a springboard his presidential campaign. Jindal is refusing to endorse Vitter—he says he won't endorse anyone in the primary—and members of his political team are instead throwing in with one of the senator's Republican rivals.
The pair's poor relationship dates back to 2007, when Jindal was in the midst of his second run for governor and Vitter was caught up in the D.C. Madam prostitution scandal. Jindal made no effort to defend Vitter then, and three years later, the rift was cemented when Jindal declined to endorse Vitter during his 2010 bid to keep his Senate seat.
In a recent interview with National Journal, Jindal offered a rare public acknowledgement of the root of his feud with Vitter. After first defending himself from criticism over Louisiana's budget shortfall, Jindal said, "If you turn [your recorder] off, I'll tell you what I really think about him.
"I made it very clear we wouldn't endorse. I didn't endorse the senator the last time he ran, and he was upset about that. He was publicly upset about that.
"But the bottom line is, I made it clear I'm not endorsing [in the governor's race]. I don't generally endorse in a Republican primary," Jindal continued. "It'll be up to the candidates to make their case to the voters. I'd hope that the candidates will be honest with voters if they intend to raise taxes, and be honest with voters over where they stand on education reform. I'd hope they wouldn't go backwards on school choice and other things we fought so hard to get done."
Vitter's office responded with a statement that dismissed the importance of the 2010 non-endorsement and made what appears to be a swipe at Jindal's long-standing national political aspirations. "As I've clearly said, this will be my last political job—elected or appointed—period," Vitter said in the statement. "I'm running for governor to confront Louisiana's biggest challenges head-on, not to avoid them or play politics with them. I'm running to build a brighter future for Louisiana, and any previous races aren't particularly important."
Despite Jindal's refusal to make a public endorsement, he has close ties to Louisiana Public Service Commissioner Scott Angelle, a Democrat-turned-Republican who is one of the highest-profile rivals to Vitter, the favorite in the race. Jindal appointed Angelle to a number of political jobs in his administration, including secretary of natural resources, the governor's legislative liaison, and interim lieutenant governor in 2010.
Jindal's primary in-state fundraiser, Allee Bautsch, is working for Angelle, as is Jindal's former media consultant, Roy Fletcher. OnMessage, the GOP consulting firm for Jindal's top political adviser Timmy Teepell, conducted a poll for Angelle last spring when he was considering the race. Angelle's campaign manager, Ryan Cross, said Angelle has since replaced OnMessage with McLaughlin and Associates as his primary pollster. Teepell is open about his firm's past work for Angelle and described him in an interview with National Journal as "a good friend."
Politics is full of onetime rivals who put political differences aside when it becomes politically advantageous to do so. And, once upon a time, Jindal and Vitter got off on a great foot. Before their falling out, Vitter used to offer up a sunny anecdote about his first meeting Jindal in 1992. Vitter sat on the committee responsible for interviewing local students for Rhodes scholarships, and one of those students was Jindal. After Jindal's interview, as Vitter told it, "I came home and told my wife, 'I just met somebody today who makes me feel both stupid and old.' "
So why can't Jindal and Vitter bury the hatchet?
For one thing, alongside the personal animus, there's a long-standing and ongoing policy fight between them. Jindal's camp looks to cement his legacy with a successor who will stay the course, and Vitter is making no such promises. With the state facing a $1.6 billion shortfall, Vitter recently went on the record criticizing Jindal in The New York Times for a "broken fiscal policy."
Vitter has also been working since at least 2007 to position himself as a kingmaker among Louisiana Republicans, and he has had success in putting candidates into office—including some who have clashed with Jindal. Vitter that year formed the Louisiana Committee for a Republican Majority, a PAC that is widely credited with helping the GOP win control of both chambers of the state Legislature. The Vitter-backed candidates in the Legislature are known as the "fiscal hawks," and they've at times bucked Jindal as he has tried to enact his agenda.
"There's a wing of Vitter supporters who have tried to make it very difficult for Jindal from the beginning, especially the ones that are in the Legislature, and setting it up for Vitter to come in and save the day were he to be governor," said one Louisiana Republican consultant.
Jindal has also attempted to get involved in state races, but his success there has been limited, with several of his preferred candidates losing. "Even when [Jindal and Teepell] tried to be kingmakers, it hasn't worked for them," said Robert Mann, the communications director for former Democratic Gov. Kathleen Blanco. "But I think it's mostly because Bobby just hasn't shown much interest in being the guy who really builds the Republican Party in Louisiana and plays that role. He's been much more interested in trying to put together a national platform."
The feud's staying power also stems from the fractious nature of Louisiana politics. The state has an open-primary system, in which, if no candidate wins an outright majority. the top two vote-getters compete in a runoff, regardless of their party affiliation. That, combined with an electorate leaning to the GOP, has created a situation in which Republicans rarely have the need to present a united front against Democrats.
"Louisiana is an ope-primary system where the party apparatuses are pretty weak, and so, largely, it becomes sort of a tribal politics," said one state political operative. "So it's the Vitter team, the Jindal team, the [Lt. Gov. Jay] Dardenne team, and now you'll probably see a [Sen. Bill] Cassidy team emerging."
But while Jindal and Vitter have both successfully operated independently thus far, the disunity is coming back to haunt them—especially Jindal, as he tries to find an opening in an ultracompetitive Republican presidential primary field.
"I never thought it would be in Jindal's best interest to have a bad relationship with your fellow Republican United States senator. And I don't know if anyone's ever done that in any of the other states. You just don't do that," said Bernie Pinsonat, a Louisiana-based pollster with Southern Media & Opinion Research. "I don't know what caused Jindal to do it. I don't think it worked out very well for him."
CORRECTION: Jindal's gubernatorial run in 2007 was his second bid for the office, not his first.
---
Josh Kraushaar contributed to this article