Why Are Hand-Drawn Portraits of Women in Congress Popping Up Across Washington?
A public art exhibit seeks to draw attention to the underrepresentation of women in Congress.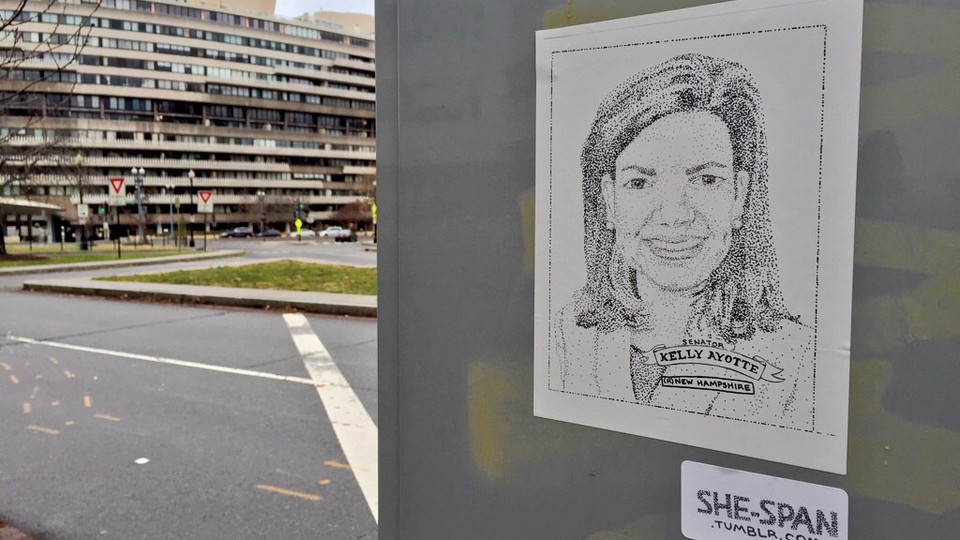 Elizabeth Warren has been on the corner of Massachusetts Avenue and 9th Street NE, in Washington, for nearly a month.
And she's not alone. As part of a public art project celebrating female lawmakers, hand-drawn portraits of the Massachusetts senator and the other 100 female members of the 113th Congress spread throughout the capital at the start of this year. Tacked to garbage cans, telephone poles and bus stops, the 8.5 by 11" sticker replicas of the portraits commemorate the women in Congress—and bemoan their lack of equal representation.+ House Minority Leader Nancy Pelosi is on the corner of 14th Street and Park Road NW in Washington. (Stephanie Rudig)
Artist Stephanie Rudig, a designer for National Geographic Kids magazine, spent the last two years drawing portraits of every female member of Congress for her project, which she named SHE-SPAN. In January, after the end of the 113th Congress, she and a cadre of friends put up stickers of those lawmakers in all corners of D.C. It's a way to "pay homage to their accomplishments," she told National Journal.
"To stumble upon one of those portraits, and to see one individual woman, puts a face to the problem," Rudig said. "I like making it not only about the women as a group but zooming in on each woman in particular, and giving an identity to this larger issue of political representation."
Inspired by a controversial congressional hearing on birth control that featured mostly male witnesses, Rudig started the project shortly after the 113th Congress convened, in 2013. That a panel of men were debating a women's health issue, she said, left her "very frustrated and angry. And I wanted to articulate that in some way. But I wanted to put a positive spin on it."
To celebrate the record number of women in the 113th Congress, she decided to draw pen-and-ink portraits of each of them, giving herself a deadline of the end of the session to finish. She worked on the project consistently for two years, and, with "a couple late nights" as the session waned, finished just under the wire.
For the most part, each senator or representative went up on the street named after the state she represents—hence Warren's posting on a utility box on Massachusetts Avenue. Rudig thought it fitting to give D.C. Delegate Eleanor Holmes Norton a prime view of the Capitol itself, on North Capitol Street near Union Station, while the California delegation—which numbers in the double digits—is more spread out. That's why you'll find House Minority Leader Nancy Pelosi on the corner of 14th Street and Park Road NWt (find a map of where each lawmaker is located here).
As Rudig put up the stickers, she made sure to tweet photos to the lawmakers. Some even responded:
With 20 percent female representation, the newly sworn 114th Congress has even more women than the last. But Rudig, who spent at least five hours on each piece, hasn't decided whether she'll update the project with the new members; she's focused now on getting the original portraits into a gallery in the District. And the message she hopes to convey still stands, even if some of the women she drew, such as former Louisiana Sen. Mary Landrieu, lost their seats.
"I'm really just hoping that it calls attention to the issue of gender representation," she said. "And that it might cause some people to take a minute and say, 'Oh, gosh, there's only 20 percent representation of women in Congress? That's clearly not enough.'"