Where You Can Legally Light a Joint in the Nation's Capital
Despite opposition from Congress, the District of Columbia will let residents smoke pot in their homes, but not on the street.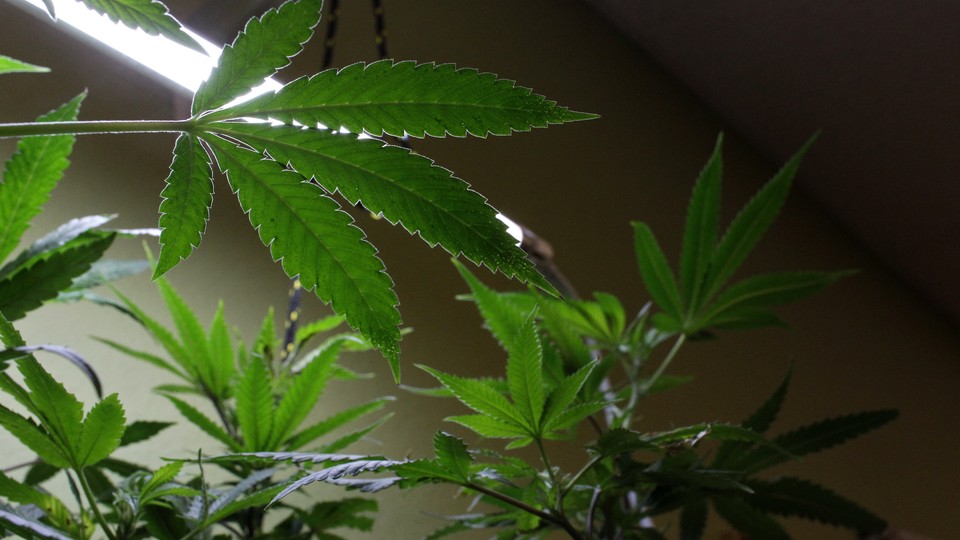 As the executive director of NORML, Allen St. Pierre has been one of the nation's most visible advocates for reforming marijuana laws for more than two decades. He's smoked plenty of pot over the years. But when he lights up in his own home one minute after midnight on Thursday, he'll get to do it legally.
Despite opposition from its overseers in Congress, the government of the District of Columbia will begin implementing a legal pot law approved by city voters in November—with some significant limitations. Residents still won't be able to smoke a joint outside the White House, on the Capitol steps, or anywhere in public for that matter. And they can't legally buy marijuana except for approved medicinal purposes. But anyone over 21 will be able to smoke it, and grow it, for private recreational use.
St. Pierre, who has worked at NORML for 24 years, plans to celebrate the new freedom by sowing his first legal cannabis seeds (from some leftover, not-so-legal weed) as soon as the law takes effect on Thursday. And because of D.C.'s interminable battle with Congress over whether citizens in the nation's capital can govern themselves, that may be one of the few officially sanctioned ways for people to take advantage of Initiative 71, as it's more formally known.
Congress in December tried to block the recreational pot law from taking effect by passing a provision prohibiting the District from spending any funds to "enact" it. But the city's administration, under new Mayor Muriel Bowser, effectively decided to ignore the restriction on the grounds that voters had already "enacted" the measure by approving it a month earlier. And in January, the D.C. Council formally alerted Congress that it planned to carry out the new policy. Under federal law, Congress has 30 days to block the measure, and that window closes on Thursday. Preoccupied with a looming shutdown of the Department of Homeland Security, House Republican leaders have no plans to vote on the D.C. pot law this week.
City officials initially wanted to authorize, regulate, and tax the sale of marijuana in accordance with the ballot initiative, but following a recommendation from the D.C. attorney general, Bowser is moving ahead only with limited legalization to avoid a more serious confrontation with Republicans on Capitol Hill. "That really would be pulling the tail of the tiger," St. Pierre said.
The result is a more gradual—and potentially confusing—transition than many envisioned, particularly since the D.C. Council already voted to decriminalize marijuana last year. Residents can carry up to two ounces on the street, for example, but they can't smoke it outside their home. And because the federal government occupies so much real estate in D.C. under the jurisdiction of the Secret Service, the Capitol Police, and other national law enforcement agencies, people should probably be wary of carrying weed around town. They can share up to an ounce with their friends, but they can't sell them any. Residents are also barred from smoking up in public housing, because it's federally subsidized, officials say. Like citizens in Colorado, Washington State, and now Alaska, people in D.C. adhering to the local law likely don't have much to fear from the DEA, which has not interfered with the states that have legalized recreational marijuana.
To cut down on the confusion, the D.C. government is promoting the slogan, "Home grow; home use." And on Tuesday Bowser's office released a two-page sheet of questions-and-answers about the policy. "Is D.C. going to become like Amsterdam?" reads one helpful query. The answer: "No, our law allows home use by adults 21 and over. Marijuana cafes are not permitted and neither is the sale of any amount of marijuana." Legalizing the possession but not the purchase or sale of recreational pot is "like the immaculate conception," St. Pierre joked. And despite his own plans to dabble in horticulture, he predicted that aside from "the frugal and the aficionados," relatively few Washingtonians would be turning their apartments or houses into cannabis gardens. "Frankly, myself and my peers will still be buying marijuana illegally, probably for years," he told me.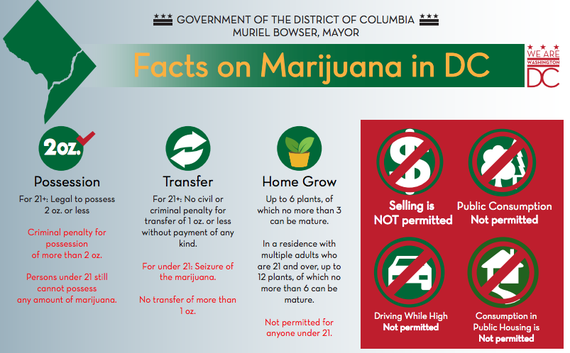 Yet while the law may take effect as planned, the battle with Congress likely isn't over. Ask House Republicans, and the D.C. government violated the law just by spending money to produce and distribute its literature on the policy. "Congress took clear action to stop enactment of legalization of marijuana in D.C.," Representative Andy Harris, a conservative from neighboring Maryland, said by email on Tuesday. The Republican in charge of oversight for the District, Jason Chaffetz of Utah, told CNN earlier this month the dispute could wind up in the courts. Late Tuesday, according to the Washington Post, he fired off a letter to Bowser warning that the city's move to legalize marijuana would be "in knowing and willful violation of the law."
Speaker John Boehner's office wouldn't comment, but a Democratic congressional aide predicted that Republicans could try to halt or reverse the law by inserting more explicit language into an appropriations bill later this year. In the meantime, Washingtonians who have long lamented their lack of representation in Congress will have one more form of legal protest against lawmakers on Capitol Hill: They can go home and light up a joint.