When Senators Don't Control Their Own Political Destiny
In a presidential election, it's going to be very difficult for swing-state senators to distance themselves from their party's presidential nominee.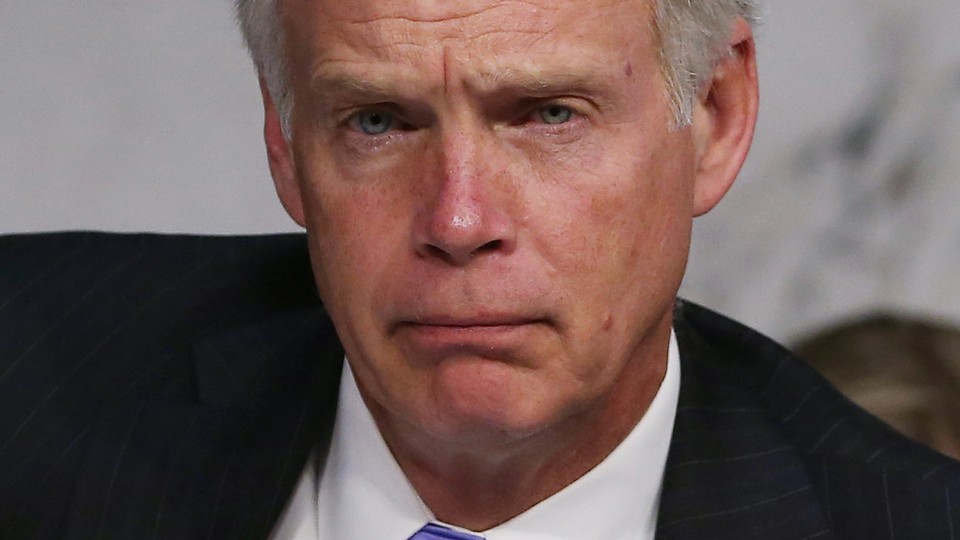 Swing-state senators up for reelection are facing the all-too-real likelihood that their reelection prospects are dependent on many factors out of their control. With the presidential race taking center stage, it's becoming increasingly difficult for members to distance themselves from their party's nominee for the White House.
The last presidential election showcased how difficult it was for many senators to distance themselves from the top of the ticket. When Ohio Sen. Sherrod Brown started his reelection run in 2011, he was in decent shape politically, even after the Republican wave of 2010 had swept over Democrats and damaged President Obama's standing. Forty-five percent of Ohio voters approved of Brown's job performance while just 25 percent disapproved, according to a Quinnipiac poll at the time.
By the time Election Day rolled around two years later, though, Brown's personal numbers had completely converged with the top of the ticket. Obama won reelection and carried Ohio with 50.6 percent of the vote. Brown won his second term with 50.7 percent of the vote.
(See a graphic explaining the effect of a presidential campaign on a Senate candidate's chances.)
It's a cautionary tale for this year's class of senators up for reelection (including Brown's Ohio colleague, Republican Rob Portman), who face a bracing reality in 2016: It's becoming harder for Senate candidates to outrun their party's presidential nominees, especially in battleground states. The average Senate Democrat ran within 2 percentage points of Obama in 2012, while the average Republican actually ran about 3 points behind Mitt Romney.
What's more, a great number of next year's most important Senate races are in major presidential battlegrounds—mostly ones that have tilted against Republicans in recent White House campaigns.
"It indicates the challenge that a lot of senators will face in a presidential election year," said Paul Lindsay, a spokesman for American Crossroads, a Republican super PAC. "But I don't think it's anything anyone is unaware of or isn't prepared for."
After a 2010 election when Democrats like Colorado's Michael Bennet and Nevada's Harry Reid outran the national tide and Republicans in Pennsylvania, Illinois and New Hampshire defied their states' Democratic leanings in recent elections, senators from both parties will have to contend with the stronger pull of the concurrent presidential race in 2016. Candidates in North Carolina, Ohio, Florida, and other states also will have the presidential campaign right on top of them. In Ohio, Portman starts his reelection cycle in a position very similar to Brown's several years ago, but both parties' presidential campaigns and their surrogates are sure to descend on his state once again next summer and fall.
Some senators are still capable of bending a state's election away from the presidential trend—Democrats also won Senate races in states Mitt Romney carried easily in 2012, like Montana and North Dakota. But it's becoming rarer and rarer, especially in battleground states.
"There is no doubt that there is more straight ticket voting than there used to be, especially at the federal level," Jim Hobart, a Republican pollster, wrote in an email.
Senators' close connection with Obama in 2012 is all the more telling because some of them already had well-established personal brands but still ended up mimicking the dynamics of the presidential race. In addition to Brown, Pennsylvania Sen. Robert Casey, whose father was a two-term governor, outran Obama by only 1.7 percentage points. Virginia Sen. Tim Kaine, himself a former governor, also outran Obama by just 1.7 percentage points.
Meanwhile, Rep. Shelley Berkley, the Democrat who lost the Nevada Senate race, had ethics trouble and ran more than 7 percentage points behind Obama. But despite the advantage that gave Republican Sen. Dean Heller, he remained firmly tethered to Romney. Heller ran less than a point ahead of his party's ticket-topper but eked out a win thanks to Berkley's troubles.
Florida was the one presidential swing state in 2012 where the Senate race seemed to take place independently. Veteran Democratic incumbent Bill Nelson won comfortably, by double-digits, over Republican Connie Mack IV, while Obama barely eked out Romney in the state.
There was a little more variation outside the states where the presidential campaign dominated the TV airwaves and the campaign talk. Democratic candidates carried four states that Romney won easily—Indiana, Missouri, Montana, and North Dakota—helped along by some Republican missteps but also Democratic campaigns that established distance from Obama and the national party.
Looking forward to 2016, Bennet and Reid may have more to fear if things go south for Democrats. There are only five Democratic senators left in presidential red states, while Republicans have been able to keep more than 10 Republican senators in place in states Obama won in 2012. But Senate Republicans have more White House battlegrounds to defend in 2016, and if their presidential nominee isn't doing well in them, it's likely that their Senate candidates will end up in trouble, too—no matter how well prepared they seem this year.