When a Clinton 'Ally' Isn't an Ally at All
Dozens of freelancing Democrats are posing as Clinton confidants, and it's mess-making for her real team.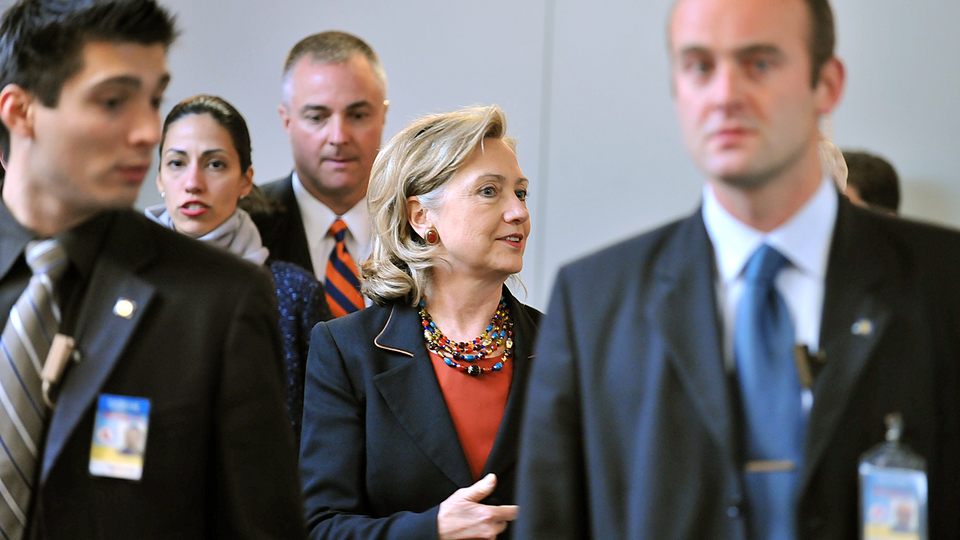 There are Clinton "insiders" and Clinton "allies." Clinton "loyalists" and Clinton "confidants." People "familiar with Clinton's thinking" or "in Clinton's orbit."
No doubt, Washington is filled with Democrats who have worked for, advised, donated money to, or rubbed elbows with Hillary or Bill Clinton over the duo's three decades in politics. But as the former secretary of State prepares a 2016 campaign, these "allies" are posing a problem for Clinton's real team.
Ever eager to voice opinions on everything from the timeline of Clinton's announcement to her 2016 message to how her "hipster black-rimmed glasses" fit with the optics of a Brooklyn-based operation, self-labeled advisers are going rogue. And by freelancing, they're taking the Clinton story out of Clinton's hands, even as she tries to build a team that's more leak-proof and less willing to air dirty laundry than in 2008.
"There are three parties to this equation: We're one, the source is two, and the media is three. And arguably we have the least amount of influence on any of this," said longtime Clinton aide Philippe Reines. He conceded, though, that there's no real way for her team to control it. "We just have to sit back. We just have to grin and bear it."
The issue is singularly frustrating for people who work and have worked in Clinton's press operation and dealt with the issue first-hand—enough so that several of whom, like Reines, were willing to give rare on-the-record interviews for this story.
"This is a constant problem," said Howard Wolfson, who served as Clinton's communications director in 2008. "There is an enormous number of people who have had, or claim to have had, an association with the Clintons over the years—and many of them claim to have some degree of knowledge of her plans or activities that they don't in fact have."
Unlike on the Republican side, where a crowded field makes candidates and their staffs happy to dish to reporters about big hires, early-state plans, and behind-the-scenes machinations, movements to and within Clinton's growing operation are closely held. Indeed, Republicans have used a running tally of the "no comment" responses from the Clinton camp to paint the former senator and first lady as out of touch—"OFF THE RECORD: no comment," read the headline on one recent Clinton-related release from the Republican National Committee.
So with Clinton's staff keeping public comments to a minimum, the quasi-"insiders" largely have the floor to themselves.
Certainly, former staffers eagerly offering up their own takes or speculation isn't unique to Clinton, but for her it's magnified by the amount of time she and her husband have spent in the public eye. There are decades' worth of former staffers to contend with: the Arkansas people, the Clinton White House advisers, New York Senate staffers, 2008 campaign aides, Clinton Foundation associates, and State Department aides, among others.
Asked how the campaign could get a handle on all the anonymous outside chatter, Reines placed much of the blame on the media for being willing to grant anonymity to sources who don't know what they're talking about. Unless the unnamed "advisers" stop talking to reporters, or reporters stop quoting them, Reines added, there's no way to get the issue under control.
"What gets lost is, there are no consequences for [the source or the media] when they're wrong—there just aren't," he said. "If you were to go back and look at the last three, four, five, six months of coverage about Secretary Clinton, you're going to see certain reporters who cover her closely whose accuracy rate is less than 50-50."
Any reporter covering the Clinton beat knows it's tough to navigate the sphere known as Clintonworld. A source who offers up good information for one story might be totally wrong on another. And most Democrats are understandably squeamish about talking on the record about anything Clinton-related, because nearly all of them are hoping for jobs with her. (More than a dozen people contacted for this piece said they were happy to discuss it—but only on background.)
The thing is, a Clinton "ally" could be anyone: a top donor or a former staffer in the know, sure, but also a Democratic strategist on the outside who is just sharing an opinion, wants to feel important, or is hoping to settle a score. What's more, it's far harder for the campaign to chastise someone for saying things they shouldn't—or stop telling that person privileged information—if they're quoted anonymously and you don't know for sure who said what.
"Any time someone actually says their name and publishes a quote, it's easy for the campaign to call them up and say, 'Please don't do that anymore,' " said Michael Trujillo, who served as a senior staffer for Clinton's 2008 campaign in California, Texas, and North Carolina. But with anonymous quotes, you don't know where they're coming from.
(Reines warned it's not difficult to figure out: "It's not like you read something and say, 'Oh my gosh, that could have been 97 people.' You tend to know. Not 100 percent of the time, but ... I think sources would probably shrivel up if they knew that when these things happen, there's usually a four-minute conversation about, 'Oh, that was probably X,' ... I think people would be mortified. I don't think they realize how much that happens.")
Mike McCurry, Bill Clinton's White House press secretary in the 1990s, also pegged the problem not to the campaign but to reporters who "hyperventilate" about 2016. "I love Mrs. Clinton and hope she decides what is best for her. But anyone that would quote me 'on background' would be misleading their audience because I have no real idea what they are thinking," he wrote via email. "I believe 75 percent (conservatively) of what I read about the political strategy inside the Clinton camp is from people who want to be in the 'inside circle' but probably aren't."
The dynamic in 2008 is just a preview of what the chattering "allies" will be like this time around. Trujillo said more than once he and his team were stunned at news reports about Clinton's plans in each of those states—which often had sources who were directly contradicting what was actually happening inside the campaign.
"To read that in the paper and know it was the complete opposite ... it's never helpful, it's never asked for," said Trujillo, now a Los Angeles-based senior adviser for Ready for Hillary. "You're not being helpful by pontificating on what she is or isn't going to do."
So what's the eventual Clinton campaign to do? No one reached for this story had a good answer. Some suggested the outside "allies" would be given less status once it's clear who's actually involved in the campaign and who isn't. Others said that John Podesta, the expected campaign chairman, might be able to instill order among the older generations of Clinton loyalists, many of whom he's worked with in the past.
Ben LaBolt, the press secretary for the Obama 2012 campaign, said the eventual Clinton campaign needs to make it very clear to reporters who is actually on the campaign and in the know—and who isn't.
"Campaigns should bend over backwards to limit the number of people that speak officially for the campaign and to make sure the media understands exactly who serves on that team," he wrote in an email. "Otherwise, you're forced to apologize for, correct, or condemn statements by people who don't actually have anything to do with the campaign."
But sometimes, Wolfson said, the 2008 staff took a step back and just laughed about who some anonymous sources could have been. "In the '08 campaign, we used to laugh and say, 'OK, that was the shoe-shine guy.' 'That was the guy who ran the sandwich shop down the street,'" he said. "There was, in my experience, a very elastic and loose definition of who constitutes a 'Clinton loyalist,' 'Clinton insider,' 'Clinton confidant.' "
The reporting and speculation about her intentions and campaign plans, Reines said, often baffle even Clinton herself: "When you're talking to the person whose life is being written about and they're like, 'Where do they get this stuff?' It's really sobering."