Watch Jim Inhofe Throw a Snowball on the Senate Floor
Aide confirms the underhand toss was caught by a page.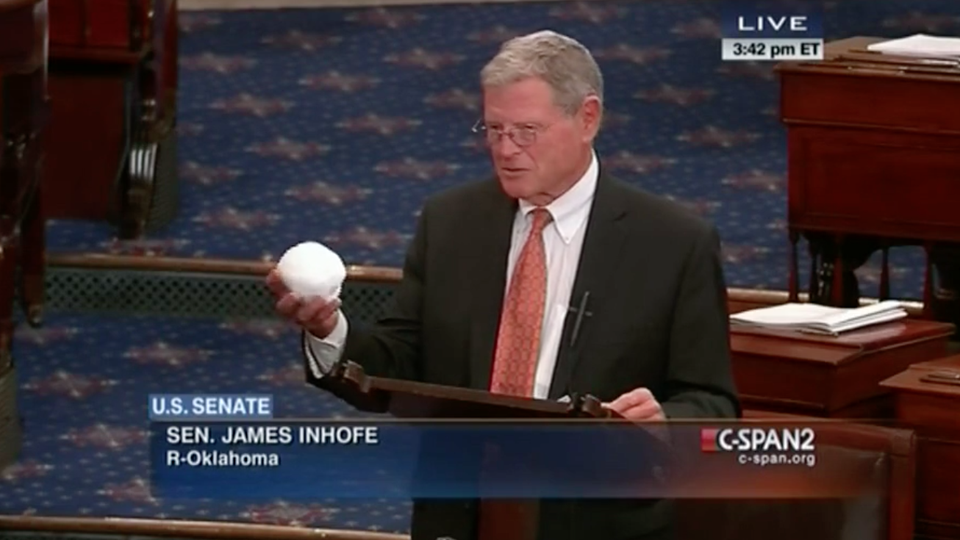 The debate over funding for the Homeland Security Department wasn't the only thing that froze over in the Senate Thursday
Sen. Jim Inhofe, who chairs the Environment and Public Works Committee, tossed a snowball on the Senate floor as part of a speech expressing skepticism about the reality of climate change. The Oklahoma Republican opened by showing pictures of an igloo his daughter's family built during a snowstorm five years ago, when he said "the hysteria on global warming" began.
Then Inhofe reached into a bag he had brought with him and pulled out a robust snowball.
"Do you know what this is? It's a snowball," he said to freshman Republican Sen. Bill Cassidy, who being from Louisiana may not be familiar with snow. "It's just from outside here, so it's very, very cold out, ... very unseasonable."
"Mr. President, Catch this," Inhofe said before tossing the snowball underhand. An Inhofe aide said it was caught by a page.
"We hear the perpetual headline that 2014 has been the warmest year on record, but now the script has flipped," Inhofe said. He went on to lambaste the Obama administration for focusing on global warming rather than terrorism.
NASA and the National Oceanic and Atmospheric Administration said last month that 2014 was the warmest year on record, and data showed that last January was the second-warmest on record, despite heavy snow in the Northeast.
The snowball's fate is not known, although a parody Twitter account was posted shortly after the speech. The inaugural tweet read:
This story has been updated with additional information about the snowball's parody Twitter handle.
---
Ben Geman contributed to this article