This Is How Senate Democrats Think They'll Win the DHS Shutdown
The party boldly believes it can't lose in a shutdown if it talks up national security threats.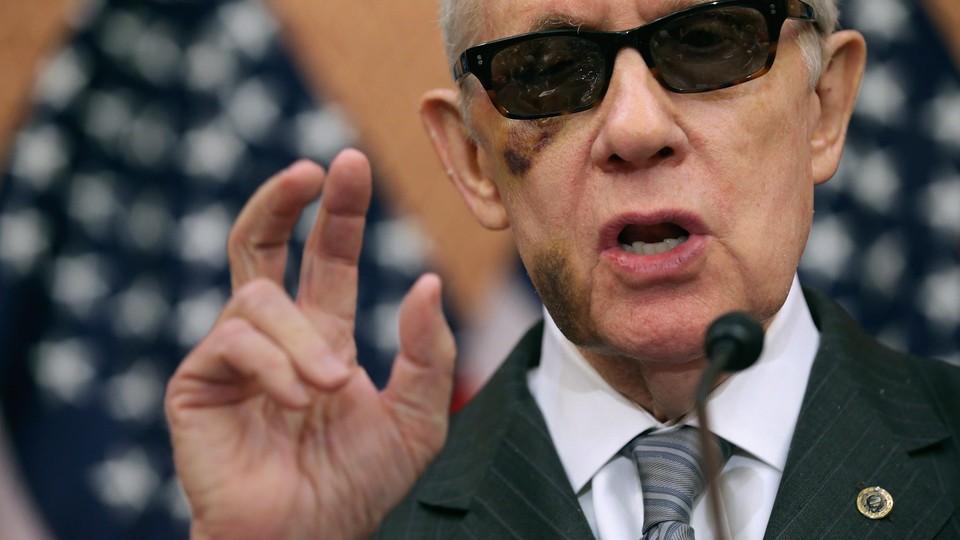 As Republicans and Democrats in the Senate spiral toward a potential Homeland Security Department shutdown Friday, Democrats are confident they have the winning messaging strategy. Even as Democrats blocked the House-passed DHS funding bill four times over the last several weeks due to a provision in the bill that would halt President Obama's executive immigration actions, the party has maintained Republicans are the ones holding hostages.
While some Republicans have tried to downplay the severity of a DHS shutdown, arguing the impact would be minimal and more than 80 percent of department employees would still be required to work, Democrats have embraced the more fatalist view that a DHS shutdown would be a disaster in the wake of recent terrorism threats.
Sunday morning, the DHS funding debate hit home for Sen. Amy Klobuchar of Minnesota. A video emerged of terrorist group al-Shabaab calling for attacks on shopping centers, like the Mall of America in her own backyard.
"This is the time when we should be stepping up our security, not stepping down our security," Klobuchar said during a press conference Tuesday with two dozen of her colleagues.
A wall of Democrats echoed the sentiment Tuesday, recounting horrifying security breaches around the globe as evidence of why Congress cannot punt the debate any longer.
"We have said for going on five weeks that it is extremely important ... that we have a fully funded Department of Homeland Security," Minority Leader Harry Reid said at the presser. "ISIS is funded. We see that every day on TV."
While Americans may be divided on whether Obama overstepped his bounds on immigration, Democrats are betting that the American public still prioritizes safety over all else.
"The American people care about a lot of things, but at the top of their list, they know our homeland needs to be secure," Reid says. "They can't take out of their minds any better than I can watching a video for 22 minutes while someone in a cage is burned to death, 21 Christians in Egypt are beheaded."
Democratic Sen. Chuck Schumer of New York said after the press conference that the majority of Democrats planned to continue objecting to a stand-alone immigration bill Senate Majority Leader Mitch McConnell announced on Monday, which would just block Obama's 2014 immigration order, separate from DHS funding. McConnell's move Monday was viewed by some as a wink to Democrats, a first step to detangle the policy provisions from the funding bill and ultimately a way to save face with conservatives while potentially preventing a shutdown. But Democrats appear unwilling to talk about any immigration bill until they have assurances that a clean DHS bill is on its way.
"We are not going to do hostage-taking. We are not going to say, 'Oh well maybe we'll pass Homeland Security after we debate this bill, maybe it will help Speaker [John] Boehner,'" Schumer said. "We are not doing that. The onus is on them. They dug this hole."
In order to move McConnell's bill along, Republicans need support from six Democrats. It's unclear if they can manage that.
Some of the seven moderate Democrats who spoke out against Obama's immigration orders immediately following the White House announcement in November appeared a bit more willing to compromise. Democratic Sen. Joe Manchin of West Virginia said he was willing to vote against Obama's immigration actions in a stand-alone bill as long as he was "guaranteed" a clean funding bill was next. McConnell has not made those assurances publicly yet.
Democratic Sen. Jon Tester of Montana, another moderate who expressed concern about Obama's executive action months ago, would not say whether he would support blocking Obama's most recent actions in a stand-alone bill.
Democrats, overall, however, appear poised to win the war of words if a shutdown comes Friday. A poll from CNN last week suggests that would be the case, with 53 percent of Americans saying they'd blame Republicans if DHS shutters and only 30 percent saying they'd blame Obama. With security uncertain, Democrats are prepared to watch Republicans squirm in their new majority.
"Those who are blocking action have a clear choice. Are they going to prioritize politics or are they going to prioritize national security?" Democratic Sen. Jeanne Shaheen of New Hampshire said.
---
Sarah Mimms contributed to this article