This Is How Justice Reform Can Actually Happen This Year
Chuck Grassley's power will change the dynamics of sentencing reform. But there's still a bipartisan way forward in the Senate.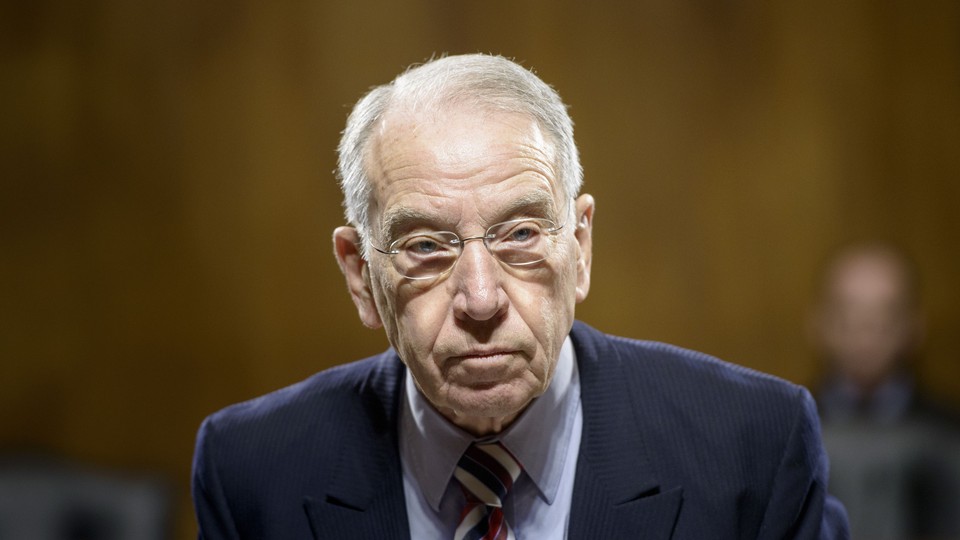 The rise of Sen. Chuck Grassley to the head of the Judiciary Committee has made a lot criminal-justice reform advocates nervous.
Four months ago, before Republicans took back the Senate, it appeared that reducing mandatory minimums had overcome crucial hurdles. The Smarter Sentencing Act, which would reduce mandatory minimums for some drug offenders, passed out of committee in January 2014 and attracted a roster of high-profile backers, from former GOP vice presidential nominee Paul Ryan to progressive leader Elizabeth Warren of Massachusetts. Potential 2016 presidential candidates such as Sens. Rand Paul and Ted Cruz had decried mandatory minimums. Even President Obama and the Koch brothers, who have spent millions against him, agreed the sentencing requirements had to be reduced.
But, like many conservatives who came to power in an era when Republicans branded themselves as the "tough on crime" party, Grassley has made it clear that he sees the steady reduction in violent crime in the United States over the last 30 years as a direct reflection of more-effective policing strategies. And he believes that mandatory minimum laws that ensure criminals stay locked up have been key to that progress.
Grassley's posture toward mandatory minimums has given some advocates pause.
"I do think we can work with him," Sen. Jeff Flake, R-Ariz., a member of the Judiciary Committee, said of Grassley. "He knows some changes need to be made, but it does influence how far you can go if the chairman stands opposed."
In a Democratic-controlled Congress, many saw a clear path for reducing mandatory minimums. A handful of vocal GOP supporters have continued to say justice reform should remain a key priority in the new Senate. But with Grassley in charge, the path forward for criminal-justice reform will likely look very different.
And we may get our first true glimpse of it next week—when GOP Sen. John Cornyn of Texas introduces a rare bill that could actually get through Congress and be signed by the president.
That legislation would be similar to what was known as the Recidivism Reduction and Public Safety Act in the 113th Congress. That bill was also bipartisan but far less contentious than the Smarter Sentencing Act among the Republican rank-and-file. Even Grassley voted it out of committee last year, where it passed 15 to 2. Many of the same members are still sitting on the committee with a few GOP additions, including Thom Tillis of North Carolina and David Perdue of Georgia.
The bill next week will focus on transitioning prisoners back into the community after they have served their time. It requires that each inmate undergo a risk assessment to evaluate his or her propensity for recidivism. Then it allows those deemed medium- and low-risk to earn credits for participating in programs such as job training or substance abuse counseling. Certain well-behaved and low-risk offenders could then use those credits to serve out the final days of their sentences under some kind of community supervision.
Grassley's office insists that it is early, and no decisions have been made on what bills will make it through the committee. There is an attorney general to confirm and more on the committee's docket that comes before discussions about far-reaching justice reform. But, shuffling down the hallways of the Dirksen Senate Office Building in January, Grassley rattled off his top three goals for the committee. "Juvenile-justice reform, patent trolling, and ... prison reform," he said. "There are some things where there is a pretty good shot of getting some bipartisan agreement."
And, if the Senate GOP's No. 2 introduces the bill, it will make it harder for Grassley to ignore.
That bill could be the opening advocates are looking for: In a more open Senate where Majority Leader Mitch McConnell allows hosts of amendments, it's likely that mandatory minimums wouldn't be shut out of the process, regardless of Grassley's position. Even if mandatory minimums, a piece of the legislation that was once hailed as a bipartisan bright spot in an otherwise obstinate Congress, looks like it may be moving to the back burner, it still has a path forward, too.
"I think the prison reform bill has the biggest consensus of bipartisan support, so that ought to be the base bill. But other people have ideas, and they are entitled to offer them," Cornyn said, opening up the potential for changes to mandatory minimums or other, related provisions being attached as amendments.
Grassley has said that he is willing to have a conversation about mandatory minimums but that he has "a little different view than some other members have.
"The importation of heroin and cocaine isn't a major problem and ought to have high mandatory minimums, with the violence that comes from it?" Grassley asked. "They want to reduce that. I don't believe in that."
His own voting record indicates he is more amenable to Cornyn's bill, which was cosponsored in the last Congress by Democrat Sheldon Whitehouse. In fact, members say Grassley is looking forward to working on it.
"Senator Grassley has said he'd like to see it relatively soon, and so has Senator Cornyn," Whitehouse said. "Does that mean next week? I doubt it. Does that mean before the August recess? I very much think so."
Grassley has taken the helm of the Judiciary Committee just as the politics and attitudes surrounding criminal justice have shifted. The fallout from the 1988 presidential election, where the escape of inmate Willie Horton helped seal the victory for George H.W. Bush, is squarely in the rearview mirror, and even older-guard Republicans have changed their tune on the issue.
"I was one of those who early on, because judges were being too easy on some of these harsh criminals, did these mandatory sentences, but I think it's gone way too far," said Sen. Orrin Hatch, R-Utah.
Today, a new generation of Republicans sees reducing mandatory minimums for drug offenses and helping assimilate former prisoners back into society as a way to cut costs and make inroads with minority voters.
"We don't tell anyone they should do this for political reasons, but if good policy is good politics, then so be it," said Marc Levin, the policy director for Right on Crime, a conservative group pushing for criminal-justice reform legislation.
For budget-slashing Republicans, there is a practical urgency for reform. The federal prison population has ballooned from 25,000 inmates in 1980 to 219,000 in 2013. But without mandatory minimums being addressed, some advocates worry that justice reform may not make a substantial impact.
They warn that passing a bill aimed at reducing recidivism without accompanying legislation to reduce mandatory minimums won't do enough to cut prison costs or overcrowding. Today, drug offenders represent 42 percent of the population in federal prisons, and everyone from the Congressional Research Service to the Urban Institute believes that mandatory minimums are partly to blame.
"A prison-reform bill that doesn't fix mandatory-minimum sentences isn't fixing the real problem. We spend billions of dollars to lock up thousands of nonviolent drug offenders for decades because of outdated mandatory-minimum sentencing laws that only Congress can change," said Molly Gill, a lobbyist at Families Against Mandatory Minimums. "Giving a few prisoners 10 days off their sentences here and there is not going to downsize prison populations fast enough or get prison costs under control. Sentencing reform will."
But other advocates say that any step forward could help build momentum for broader action down the road.
"The Cornyn bill wouldn't be something that was just window dressing," Levin said. "It would have a significant impact. We don't expect to get everything in one session."
What advocates may find is that Grassley's willingness to work on criminal-justice reform may be more extensive than first expected.
"Don't use the word legacy," Grassley said. "I am not the chairman of a committee to have a legacy. I am chairman of a committee to get things done."